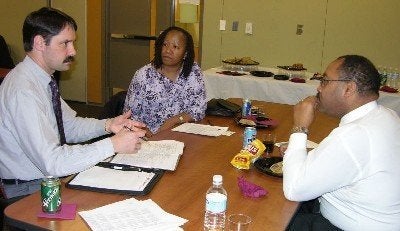 Michigan Community Resources has provided legal services to area non-profits for 13 years, but some of its clients probably wouldn't recognize the legal aid organization by name. Formerly known as Community Legal Resources, the organization recently renamed itself because the old title no longer fit.
"Our programs grew so much and we added so many additional services that our name became confusing and it excluded some of our clients and other stakeholders," Sarah Baker, MCR's communications and development manager, told HuffPost.
Baker said the newly-adopted name makes more sense because MCR now services the entire state and offers planning, technical and educational support in addition to legal aid. Its clientele has expanded, too. Many of the groups MCR assists are 501(c)3 nonprofits, but the organization also helps groups like block clubs and neighborhood associations.
Baker says MCR's new framework allows nonprofits to get several types of related services from one central source.
"Instead of just focusing one issue or one area for delivering one type of service, we can literally deliver a wraparound service to community organizations that help them better deliver their services and make a greater impact on the life of their communities," she said.
In practice, this work might include giving legal and logistical advice on a possible merger or space-sharing arrangement with another group, or helping an urban farm navigate the zoning requirements of setting up a farmer's market.
For example, MCR gave free aid to the Detroit Greenways Coalition, a network of nonprofits interested in building urban trails, writing up the legal paperwork needed to build an interconnected greenway in Detroit. The organization has also helped pool legal and logistical resources to organize the Detroit Vacant Property Campaign, which assists neighborhoods struggling with the city's vacant property crisis.
Baker said MCR has grown from four to 14 staff members since she started in 2007. She believes the expansion is the result of the organization's flexibility.
MCR adapts itself to the groups it serves, supplying them with the resources and know-how they say they need. The model has proved successful, allowing the organization to reach across the entire state and attract additional resources from foundations, and from lawyers and law firms who often volunteer to satisfy the pro bono requirements of the state bar exam.
Although the group has a network in place, Baker said MCR still needs fresh faces. She promises a "quality volunteer experience" to anyone interested in lending a hand. To find out more about Michigan Community Resources visit their website at www.clronline.org.
As 2011 comes to a close, HuffPost Detroit looks to honor those who made an impact in our city this year. The 2011 Detroit Impact series will profile one organization per day until the end of the year. There are 11 organizations included in the series (see them all in the slideshow below), but there are dozens more doing good in and around Detroit. For full coverage of the people and organizations helping others, visit HuffPost Detroit Impact.
PHOTO GALLERY
Detroit Impact 2011
BEFORE YOU GO