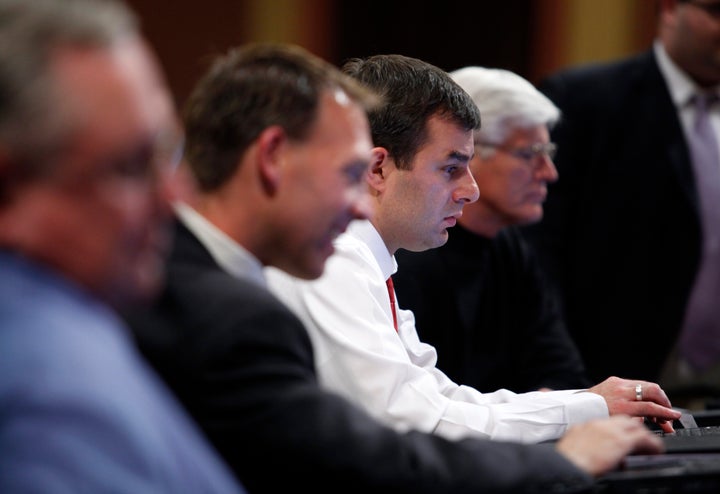 UPDATE 2:55 p.m. -- Michigan's House approved the revised H.B. 4770, but said the Senate amendment exempting public colleges and universities from the domestic partner benefits ban was irrelevant. House Republicans said their version of the bills defined "public employees" through the Public Employees Relations Act, which includes employees of universities, MIRS reported.
Since Michigan's constitution allows for public colleges and universities to have autonomy and policy-making power, a challenge to the bill, if signed, would be likely. State Sen. Mark Jansen had tried to include language exempting university employees in an attempt to bolster the bill against a constitutional challenge.
DETROIT -- The Michigan Senate voted overwhelmingly Wednesday in favor of two bills that would prohibit public entities in the state -- including local school districts and municipalities -- from offering domestic partner health care benefits to employees.
The state of Michigan currently provides domestic partner benefits for employees, as do 10 public universities, three local school districts, and five city and county governments, including the City of Detroit. The Michigan Civil Service Commission just approved state employee domestic partner benefits in January. Michigan prohibits marriage for same-sex couples, and a 2004 amendment to the state constitution defines marriage as between one man and one woman.
Emily Dievendorf, director of policy for the state's largest LGBT advocacy organization, Equality Michigan, said if signed, the bills would "make Michigan a more hostile state for gay and lesbian couples."
The two bills, H.B. 4770 and H.B. 4771, would affect not only LGBT couples, but any unmarried couples eligible for domestic partner benefits under the current laws.
The Senate passed H.B. 4770 by a 27-9 vote on Wednesday, with only Democrats voting in opposition, the Associated Press reported. One Democrat, Sen. Tupac Hunter, who represents Detroit, voted with Republicans in favor of the bill. H.B. 4771, which prohibits collective bargaining for partner benefits for state entitites, also passed.
The package now returns with changes to the House, which approved the original bills earlier this year.
If the bills pass the House again, as is expected, they will be sent to Gov. Rick Snyder. In the past, Snyder has said he prefers not to focus on social issues, instead pushing for economic reforms in Michigan.
Snyder spokeswoman Sara Wurfel said the governor had not yet made a decision on whether to approve or veto the legislation if it did come to his desk.
"He's not been focused on the social issue aspect; he's been focused on what the voters have mandated, on fixing Michigan's economy and making sure we have more and better jobs," Wurfel said. "Now that it is getting closer we're going to have to take a closer look and ensure constitutionality and those things."
Proponents of the original legislation said it would save the state $8 million per year -- but that figure included estimated savings from public university benefits that are no longer part of the current package.
But since the state's public universities are granted policy-making power under Michigan's constitution, there were concerns that portion of the bills would jeopardize the entire package. An amendment to the Senate version passed that exempts public universities from the legislation.
Richard Fitzgerald, a spokesman for the University of Michigan, said the university system's concerns were addressed in the amended legislation.
"However," he said in an email to HuffPost, "we continue to believe that these benefits are a critical component for all public and private employers to retaining and attracting the very best talent that is so important to the continued economic recovery in the state of Michigan."
Critics of the legislation have said it would have a broader negative impact on Michigan's economy. During House testimony on the bills, Jay Kaplan, a staff attorney for the American Civil Liberties Union, said the bills were "a cynical, mean-spirited attack," and might cost the state more money in related court costs.
Elsewhere in the Midwest, the legalization of same-sex marriage has proven a boon to local economies. A recent study from the California-based Williams Institute, for example, found that wedding arrangements and tourism by same-sex couples and their wedding guests added between $12 and $13 million to Iowa's economy in the last two years.
Equality Michigan's Communications Director Michael Gregor said his group is putting pressure on the business community and on Snyder to recognize the negative economic impact the legislation could have.
"It might be more difficult to attract companies that have more progressive HR policies and value diversity more in a state where we make a statement that our public entities cannot do that and cannot treat their gay and lesbian employees fairly," Gregor said.
He added Equality Michigan would ramp up pressure on Snyder to veto the legislation.
"We are asking voters to contact the governor and tell him why they care about treating gay and lesbian employees fairly," Gregor said. "He has a great opportunity here to show the people of Michigan that he will move beyond extremist partisan politics and support equality."