The issue of censorship is one that we as Americans often associate with images of backwards political bodies in third world nations, mass protests dripping with the sweat of revolution and the historical burning of books, magazines and other literary works during the early 20th century. It is a force that works such as Fahrenheit 451 and 1984 have exposed, and while it is universally understood to be powerful, many of us fail to realize that--right under our noses-- it has infiltrated the walls of our high schools, colleges and universities, instilling fear in the hearts of those in student media. It is a principle promoted by power-driven administrators and detested by free speech advocates, and within the last thirty years it has spread to every corner of every state. Michigan, unfortunately, is no exception.
Earlier this year, the faculty advisor to Northern Michigan University's college newspaper was outed for encouraging her students to file public records requests and draw attention to acts of secrecy performed by university administration. Noting that public records requests are legal and even encouraged as per Michigan's Freedom of Information Act, it is unnerving to know that the accomplishments and reputations of our nation's finest journalism educators can be undermined in the name of image control. But the Marquette-based college is not alone; the Rochester Talon, the nationally recognized and award-winning student newspaper of Rochester High School in Oakland County, has been subjected to prior review by school administration since January, when--in an attempt to raise awareness about changing smoking trends among students of legal smoking age--it ran a photo (shown below) of a teenager (lawfully, and in an off-campus location) smoking a hookah pen. The school administration's swift retaliation made certain that no journalist would again dare attempt to inform the school community about an issue of social concern.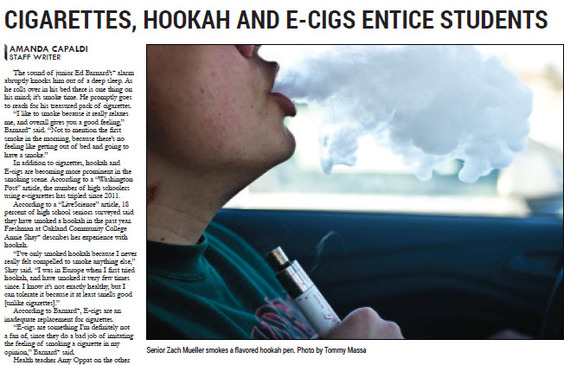 The absurdity behind both of these decisions is crystal clear to those who believe in the First Amendment and in the potential wielded by a strong academic journalism program: just as it is ridiculous for an organic chemistry professor to be evicted from her department for demonstrating acid base chemistry to her students, it is ridiculous for a journalism professor to be removed for encouraging ethical reporting, or for journalism students to be punished for doing said reporting. Yet such practices have been tolerated for years. Why?
The answer lies in the Supreme Court's 1988 landmark decision of Hazelwood School District v. Kuhlmeier. The case came to litigation after Hazelwood's administration, without informing the student editors of the school newspaper, The Spectrum, retracted pages from an edition containing interviews concerning teenage pregnancy and divorce. The school removed not only the aforementioned articles--in which the names of those students interviewed had already been changed for the sake of privacy and anonymity--but other articles as well, bringing to court a question about the First Amendment rights of high school students and the degree to which public schools can censor student media. In a 5-3 vote, the Supreme Court upheld the school's right to censor the two articles.
Hazelwood, as indicated by the Student Press Law Center (SPLC), a D.C based, nonprofit organization dedicated to protecting students' First Amendment rights, was a dramatic deviation from prior court decisions that had, over the course of two decades, given student journalists extensive First Amendment protections. Indeed, the ruling has since established an awkward and arbitrary line between what can and cannot be censored, giving rise to unethical practices such as prior review and administrative intimidation, despite the fact that Sixth Circuit federal appeals court, which includes Michigan, decided in 2001 that college student media is a public forum for student expression where colleges cannot control content. Because court rulings have left the legal rights of student journalists and their advisers in a state of uncertainty, Michigan needs state legislation -- a "New Voices Act" -- to establish common-sense boundaries.
The principle behind the New Voices Act is simple: every state should have legislation that protects student speech and student media in our high schools, colleges and universities. The Act would not only limit the extent to which school administrators can stick their noses in student produced media -- offering students greater responsibility in the publication process and establishing an educational environment that better mimics the world of professional journalism -- but also protect media advisors and teachers from being arbitrarily removed.
While the list of instances of censorship and/or prior review occurring in the state of Michigan alone is exasperating to read and frustratingly impossible to comprehend, the rejuvenating New Voices Act, which recently passed in the politically crimson plains of North Dakota and has been endorsed by renowned media organizations such as the Journalism Education Association (JEA) , points to a larger issue at hand: the diminishing value of journalism education in the eyes of administrators. Strong journalists are taught and trained to ask challenging questions in the name of sparking a greater conversation about public issues. By punishing students for challenging the world around them, administrators are stunting young people's civic growth. Journalism is a craft, a catalyst for change and an agent of information-spreading that everyone can use but few can teach well.
Some politicians may argue that free student media laws will encourage libel and otherwise injure people if students publish without tight administrative control. But extensive research by the Student Press Law Center has shown that there is no evidence of any greater incidence of libel, invasion of privacy or other injury in those states that already have such laws, including California, which has had such a law for nearly 40 years. Indeed, lawsuits against student media are vanishingly rare, to the point of statistical insignificance.
Michigan's legislature has already recognized the need to curb schools' incursion into what students publish by enacting, in 2012, one the nation's best social media privacy protection laws. The New Voices Act is in many ways a natural "piggyback" to this privacy law, protecting students' ability to safely exchange ideas without fear of punishment. Curing Michigan's campuses of Hazelwood won't be easy, but the experience of 12 states with student-press-rights laws or regulations proves it is possible. If North Dakota can do it, so can Michigan. And if Michigan can do it, then so can the United States.
To inquire about or get involved with the New Voices Act campaign in Michigan, please email newvoicesmichigan@gmail.com
REAL LIFE. REAL NEWS. REAL VOICES.
Help us tell more of the stories that matter from voices that too often remain unheard.