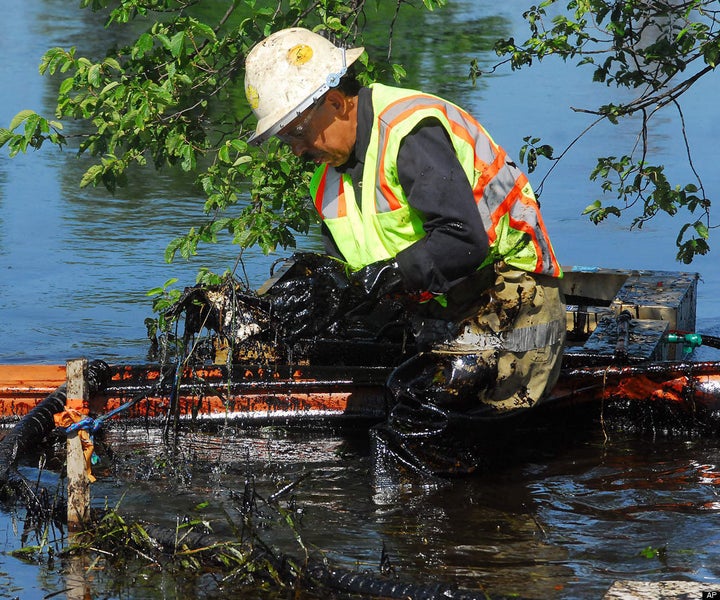 A state of emergency has been declared in southwest Michigan's Kalamazoo County as more than 800,000 gallons of oil released into a creek began making its way downstream in the Kalamazoo River, the Kalamazoo Gazette reports.
The trouble began Monday at 9:45 a.m., when an oil pipeline owned by Enbridge Liquids Pipelines sprung a leak in Marshall Township. Enbridge Energy is a subsidiary of Calgary, Canada based Enbridge Inc., the Detroit Free Press reports. According to the company, it is the largest transporter of oil from western Canada.
The cause of the leak is under investigation, and the pipeline has been shut down--but not before it did some serious damage. U.S. Rep. Mark Schauer called the spill the "largest oil spill in the history of the Midwest." Officials are suggesting all water activities in the Kalamazoo River be put on hold until the situation is resolved--and some are fearing contamination of local water supplies:

Besides the noxious fumes coming from the river, health officials already are worried that the oil spill could have lasting health effects. While he said that the site of the spill was a wetland -- which has a natural clay barrier that prevents water from seeping too far into the ground -- Calhoun County Health Officer Jim Rutherford said there was a concern that the magnitude of the spill could spell trouble for the area's water supply.

"It's not going to show up right now, but over time there is a real possibility that it will leach into the water supply," Rutherford said. "I think it's inevitable that, with as much as has leaked, that it will get into the water supply."
Residents living near Battle Creek and the Kalamazoo River valley have also reported strong odors and oil-soaked wildlife in the area.
Michigan politicians have vowed to hold Enbridge responsible for the spill. Skimmers and booms were deployed at the source of the leak in an effort to contain the spill Tuesday, the Free Press reports.
"I am deeply concerned about the effects of the oil spill near Marshall, including the environmental impact and the disruption to residents and businesses," Michigan Sen. Carl Levin said in a statement. "It is also deeply worrisome that the oil from the spill has made its way into the Kalamazoo River."
Enbridge Energy President Terrance McGill told the Free Press the company would do all it can to minimize the spill's impact on communities.
"The horrific pictures coming in of the oil spill in Calhoun County area underscore just how imperative it is for Michigan to move toward clean, safe energy sources like wind and solar instead of relying on outdated fuels like oil," Clean Water Action Michigan Director Cyndi Roper told the Gazette. "Sticking with outdated fuel will only hurt job growth and continue to harm the health and safety of our communities."
WATCH local coverage of the disaster here:
Related
Popular in the Community