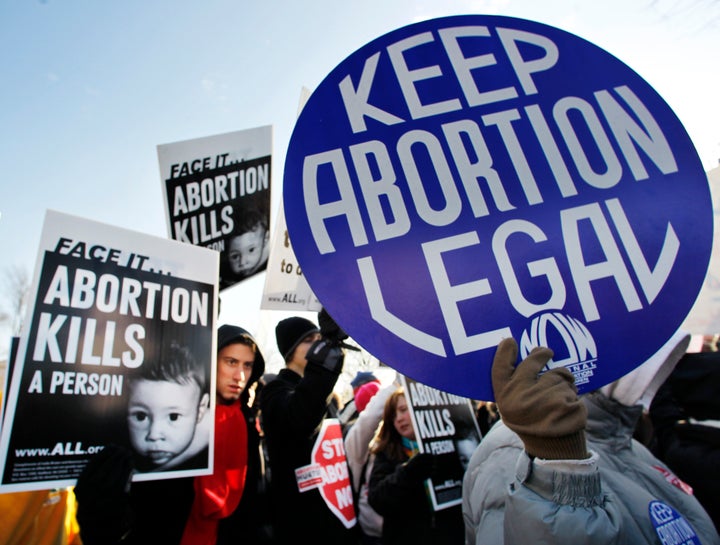 WASHINGTON -- Michigan lawmakers passed legislation last week that will ban "partial-birth" abortions, which have been federally outlawed since 2007 and have not occurred on record since then.
The state-level ban -- sponsored by Republicans -- is modeled almost exactly after the federal ban that George W. Bush signed in 2003 and that the Supreme Court upheld in 2007. Doctors who perform the procedure, in which the fetus is partially delivered before being aborted, would face up to two years in jail and a $50,000 fine unless they can prove the mother's life is in danger. Democratic opponents of the measure tried to amend it to include exceptions for cases of rape or damage to a woman's health, but those proposals were voted down.
Since the federal ban was upheld in 2007, there have been no charges of partial-birth abortions in Michigan or any other state, according to the American Civil Liberties Union. Only a handful of doctors in the country will perform the procedure to save a mother's life, and none of them reside in Michigan.
Opponents of the Michigan law say the ban is a purely political attempt for Republicans to mobilize their base by evoking a highly sensitive, emotionally charged issue.
"It's a very gruesome thing to talk about, so it really riles up their base," said Shelli Weisberg, legislative director for the ACLU of Michigan. "They use this description of a procedure as a basis for getting their people to get invested and give money and call their legislators in ways we can't seem to do on our side, in terms of protecting a person's freedom for medical choice."
State Rep. Phil Cavanagh (D-Redford) said on the House floor that while he agrees that partial-birth abortion, as described, is a "horrific procedure," he wishes his conservative colleagues would focus on jobs and the economy instead of banning something that is already illegal.
"House Bill 4109 and 4110 represent all that is wrong with our political system," he said. "Instead of working on legislation to bring jobs back to our state, diversify our economy, promote public safety or improve the quality of life in our communities, we are wasting time enacting legislation that duplicates existing federal law so that House Republicans can have talking points come next election cycle."
But the bill's sponsor, state Sen. Goeff Hansen (R-Hart), said the duplicate law was necessary to establish sentencing guidelines for offenders and to help Michigan's prosecutors and local police departments enforce the law, since the FBI does not have the resources to do so.
The result, Weisberg told HuffPost, is that Michigan prosecutors could begin to more aggressively poke into women's private medical decisions and that doctors will be reluctant to perform life-saving abortion procedures for fear of being sent to prison.
"Our fear is that it will embolden some overzealous prosecutors to begin trying to monitor operating rooms, or to go after women that have already had abortions," she said. "We certainly have overzealous prosecutors in Michigan, so we are worried about this further encroaching on women's medical privacy and reproductive health rights."
The bill now heads to the desk of Republican Gov. Rick Snyder, who has indicated that he will likely sign it.
Support HuffPost
The Stakes Have Never Been Higher
Popular in the Community