In interviews conducted on Monday, PPP showed Santorum leading Mitt Romney by a five percentage points (39 to 34 percent), a margin that represents a net seven-point reversal from the pollster's interviews conducted on Sunday, which gave Romney a two-point advantage (39 to 37 percent).
PPP's full two-night poll shows a near dead-heat, with 38 percent for Santorum, 37 percent for Romney, 14 percent for Ron Paul and 9 percent for Newt Gingrich.
According to the PPP statement, self-identified Democrats were a major factor in the apparent swing to Santorum. "Romney leads with actual Republican voters, 43-38," PPP reported, "but Santorum's up 47-10 with Democratic voters." The number of self-identified Democrats increased significantly as a percentage of PPP's sample as the survey progressed. They was just 5 percent of the Sunday calls, but increased to 8 percent of the combined Sunday-Monday sample.
TalkingPointsMemo reportedon Monday that the Santorum campaign itself was placing automated "robocalls" to Democratic voter households throughout Michigan, urging them to "join Democrats who are going to send a loud message to Massachusetts Mitt Romney by voting for Rick Santorum for president."
So the PPP results may be a sign that Santorum campaign's efforts to mobilize Democratic voters are working. They may also indicate that the universe of voters willing to respond to an automated, recorded-voice survey overlaps considerably with the universe of voters willing to listen to an automated, recorded-voice telephone message and treat it as credible. We will know better when the actual votes are counted on Tuesday night.
When updated with the new PPP results, the HuffPost Pollster chart, based on on all available public polls, shows a slightly narrower Romney margin over Gingrich (37.4 to 35.7 percent) than the results reported earlier today (below).
UPDATE: This article was updated at 12:09 a.m. Tuesday with the above to reflect the final PPP poll.
Five new polls in Michigan, all conducted on Saturday or Sunday, point to a close finish between Mitt Romney and Rick Santorum in the state's Republican primary on Tuesday. Although Romney has gained over the last two weeks, the results of the final round of polling are inconsistent, both as to which candidate is leading and whether either candidate will benefit from a late uptick.
Three of the five surveys, by Rasmussen Reports, Public Policy Polling (PPP) and We Ask America, show Romney ahead of Santorum by two to four percentage points. The two others, an automated poll by Mitchell Research and the one live-interviewer survey by the American Research Group (ARG), show Santorum ahead of Romney by one to two percentage points. All five show Ron Paul and Newt Gingrich running far behind. All but the ARG poll were conducted using an automated, recorded voice over the telephone.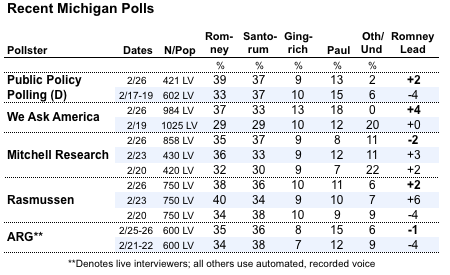 The individual polls are also inconsistent about whether a late upward trend is breaking for either Romney or Santorum. Three of the polls (by Rasmussen, PPP and We Ask America), show Romney picking up a point or two over the last few days, while the other two (by Mitchell and ARG) have Santorum gaining slightly.
Of course, both the small single-digit leads and the similarly minor shifts fall well within the margins of sampling error for each of these polls. In other words, the final trends and final levels of support are indistinguishable from mere statistical noise.
Can we get to a more precise estimate by combining the polls? That is the goal of the HuffPost Pollster chart, which uses all of the recent public surveys to derive a single set of trend lines (shown below). The chart indicates a late trend toward Romney, whose support has increased roughly eight percentage points over the past two weeks. The chart's current estimate gives Romney a roughly two-point lead over Santorum (37.4 to 35.3 percent), followed by Paul (11.6 percent) and Gingrich (9.1 percent).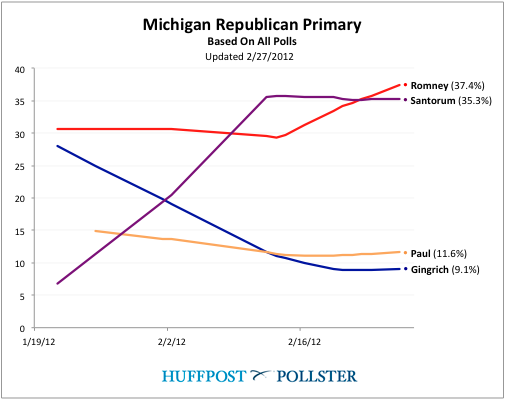 The trend line in Romney's favor reflects his clear gain in the polls generally after Santorum led in the week following Santorum's Feb. 7 victories in Colorado, Minnesota and Missouri. But the smoothed trend line may be a bit misleading about whether the upward trend for the Michigan native has continued over the last few days.
If we increase the sensitivity of the HuffPost Pollster chart to try to capture the most recent trends (see the dotted lines below), we see either a plateau in Romney's gains over the last few days or perhaps a slight movement back in Santorum's direction. The more sensitive trend lines narrow Romney's margin over Santorum to little more than one percentage point (36.9 to 35.8 percent). Of course, the more sensitive lines are more jagged, suggesting that they are also picking up more random noise.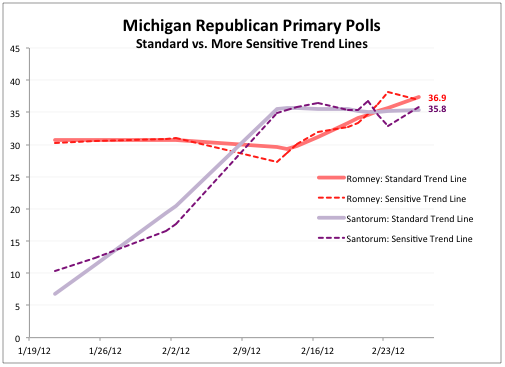 Whether it's one or two percentage points, the current Romney lead falls well within the real-world margin of error for pre-election polling averages, particularly in primaries. None of these polls perfectly models the roughly 1 in 8 eligible adults who are likely to vote in Michigan's Republican primary on Tuesday, and all of the final weekend surveys are missing the nearly one-third of Michigan adults who lack landline phone service.
If the two-week uptick in Romney's favor is continuing, he could easily win by a larger margin than these final polls suggest. On the other hand, even if Michigan voter preferences have stabilized in recent days, polling may still be understating Santorum's support -- as it did in multiple low-turnout caucus states. With the final polling averages showing Romney ahead by just a percentage point or two, it would take only modest understatement to put Santorum in the lead.
So on the eve of the Michigan primary, the outcome remains very much in doubt.

Calling all HuffPost superfans!
Sign up for membership to become a founding member and help shape HuffPost's next chapter
BEFORE YOU GO