WASHINGTON -- Rick Santorum's improbable polling lead in Michigan appears to be narrowing a week ahead of the state's Republican presidential primary. While pollsters differ on the rate of change, all now agree that the race between Santorum and Mitt Romney is close.
Polls have been less consistent about whether Santorum's earlier lead is fading and, if so, by how much. Two of the surveys -- PPP and Mitchell Research -- show his advantage contracting by 11 points, but the new Rasmussen Reports poll shows no significant change.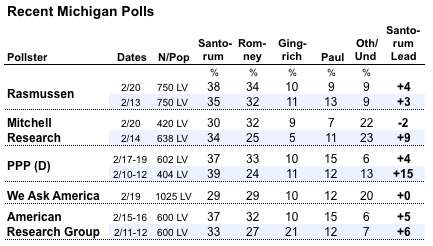 The range in the polls' reading of the Santorum-Romney margin has been large, particularly in the immediate aftermath of Santorum's sweep of the Colorado and Minnesota caucuses and the Missouri primary on Feb. 7. Polls conducted that week produced Santorum leads ranging from 3 percentage points (Rasmussen) to 15 (PPP). Some of that variation may owe to differences in methodology.
The HuffPost Pollster chart, which attempts to smooth out random variations as well as "house effects" in all of the public polling data, illustrates the apparent narrowing of Santorum's lead over Romney, from roughly 5 percentage points last week to less than two points (33.4 to 31.9 percent) on Tuesday. Ron Paul (10.8 percent) and Newt Gingrich (9.0 percent) are running far behind.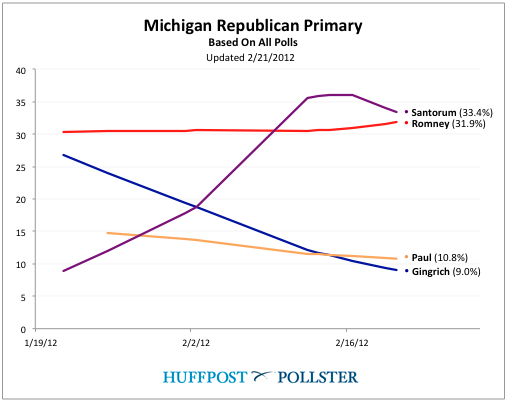 The polls in Michigan have been unusual in two ways. First, all but a handful of the surveys so far used automated, recorded-voice methodologies. The only live-interviewer polls conducted in Michigan in February came from the American Research Group (ARG) and the Detroit News and Detroit television station WDIV. The most recent of these, an ARG poll fielded Feb. 15 to 16, shows Santorum leading Romney by five points (37 to 32 percent) and indicates no significant change in Santorum's margin from a previous ARG poll conducted earlier last week.
Second, all of the February surveys, including those that used live interviewers, were limited to voter households with landline phone service. None sampled cellphone numbers, an omission that could affect the results. The Centers for Disease Control and Prevention's National Center for Health Statistics reports that, as of a year ago, nearly 3 in 10 adults in Michigan (29.2 percent) lived in households served only by wireless phones.
The Feb. 28 Michigan primary and the same-day Arizona primary are important not just for the delegates they will allot but also for their impact on Republican voters elsewhere. As Gallup reported on Tuesday, "the pattern established this year" in national polls is that "the results of each event have a good chance of further affecting the relative standing of the GOP candidates in the eyes of Republicans nationally."
Despite a recent Santorum surge, most polls in Arizona continue to show Romney leading there, including a new CNN/ORC International poll released on Tuesday.
So Romney would likely rebound in national polling if he holds that lead in Arizona and takes back the top slot in Michigan. Can he overtake Santorum in his home state? The close result on the most recent polls, combined with the downward trend in Santorum's support, suggests that he will. But caution is in order: The Romney campaign last week enjoyed an enormous spending advantage in Michigan, which may narrow significantly in the coming week before Michigan voters cast their ballots.
Last week, the Romney campaign had the sort of spending edge in Michigan that it had enjoyed in Iowa and Florida. Next week may be closer.

Calling all HuffPost superfans!
Sign up for membership to become a founding member and help shape HuffPost's next chapter
BEFORE YOU GO