 WASHINGTON -- What's happening in Michigan? President Barack Obama appears to enjoy a narrow lead over Republican challenger Mitt Romney, but recent polls have shown everything from a slight Romney advantage to a 14-point Obama landslide. The real story may be about the wild and sometimes questionable nature of polling in campaign 2012.
On Wednesday, a pair of Michigan political consulting firms that work primarily for Democratic candidates, Foster McCollum White & Associates, and Baydoun Consulting released another automated survey showing Obama with a two percentage point advantage over Romney (47 percent to 45 percent). The survey of 1,783 likely voters was conducted on June 12.
Finally, Rasmussen Reports released another automated survey conducted on June 14 showing Obama leading Romney by eight percentage points (50 percent to 42 percent).
Why the variation? Some of it is the expected difference that comes with attempting to contact a random sample rather than all voters. But not all. Random chance alone cannot explain the difference between the 14-point Obama margin on the PPP poll and the 2-point edge on the Baydoun/Foster poll.
A big hint as to what's going on can be found in the description of the methodology in the Baydoun/Foster poll. It says the firm contacted 44,999 adults in a two-hour period on the evening of June 12 in order to interview 1,783 respondents. By the pollster's calculation, that adds up to a response rate of 4 percent. (The true response rate would be smaller, since it would factor in phone numbers where no one answered ringing phone.)
But the fact that a relatively short automated call (featuring just 10 questions) produced a response rate in the low-single digits explains a lot, especially since three of the last four surveys also used an automated methodology. Presumably the other automated pollsters have obtained similar response rates.
In the case of the Baydoun/Foster poll, the low response rate helped create a skew in the completed interviews, which "skewed significantly higher" among older voters, with 46 percent age 65 or older. Baydoun/Foster opted against weighting their sample by age.
The age distribution reported by the other automated pollsters, PPP and Rasmussen, included less than half as many voters age 65 or older (20 percent and 21 percent respectively). Both typically weight their completed interviews by age. PPP also reported 14 percent in the age 18-to-29 category, compared with just 4 percent on the Baydoun/Foster poll.
These differences have consequences, since both of the automated surveys showed Romney doing far better among older voters. The former Massachusetts governor leads by eight points among Michigan voters over 65 on the PPP survey (50 percent to 42 percent) and by seven points on the Rasmussen survey (51 percent to 44 percent). Subgroup tabulations were not available as of this writing for the Baydoun/Foster survey, but it is likely that they would have shown Obama with a larger lead had the survey been weighted so that it had an age composition that resembled the other automated surveys.
Although these demographic composition statistics are critical to assessing the results, the report on the fourth poll from EPIC/MRA included no information about the age, gender or race.
EPIC/MRA did provide the full text and order of questions, however. On at least three of the four surveys the firm has released so far on the 2012 election, pollsters asked this question immediately before asking voters whether they plan to support Obama or Romney:

Thinking about Michigan's economy, do you believe the state economy ...

Has already bottomed out and is starting to improve?

Is at the bottom, but is not yet getting any better? [or]

Has not yet bottomed out and will still get worse?
Does reminding voters three times that Michigan's economy has hit "bottom," and implying that even a middle ground characterization has the economy "not yet getting any better," push a few voters in Romney's direction? We cannot know for sure, but over the last eight months, the four polls released by EPIC/MRA have Obama leading Romney by an average of just one percentage point (45 percent to 44 percent). The average of nine other polls conducted over the same period have Obama leading by an average of 10 points (50 percent to 40 percent).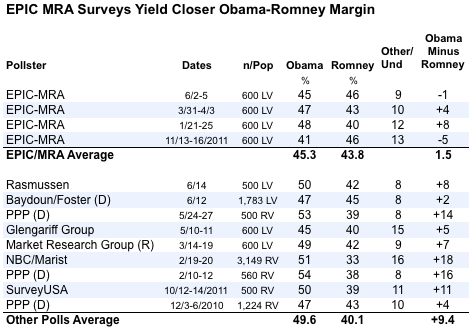 Buckle your seat belts. With nearly five months of the presidential campaign remaining, the wide variation in recent results in Michigan may well be just the beginning.
CORRECTION: An earlier version of this post misstated the date of a June Rasmussen poll and Obama's lead margin. It also incorrectly referred to Mitt Romney as the former governor of Michigan, rather than Massachusetts.
Popular in the Community