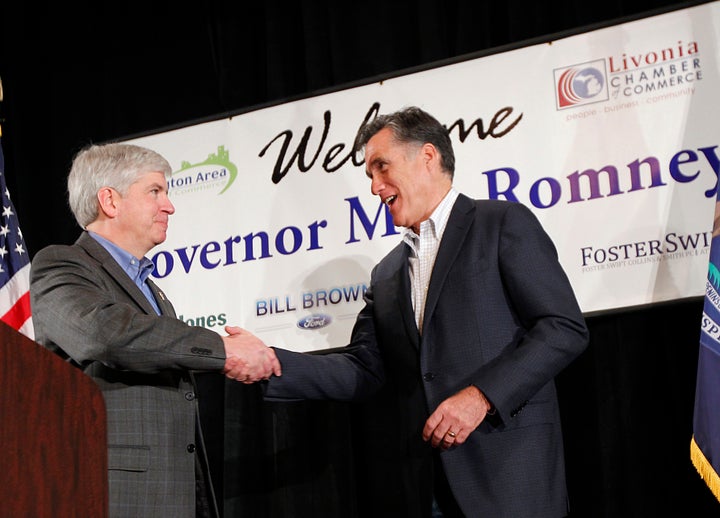 Michigan's budget surplus has been widely touted as an encouraging sign of economic recovery in a recession-addled state -- enough that Republican presidential candidate Mitt Romney added his own praise of Republican Gov. Rick Snyder's balanced 2013 budget.
"If we can do in Washington what you guys have done here, we'd be in a great position as a nation," the former Massachusetts governor said after Snyder formally endorsed him. "I hope to do in Washington as the governor has done here."
But as primary day approaches in Michigan, Snyder's critics and education experts are calling such accolades into question, saying that while Snyder may have balanced the budget, he did so on the backs of the state's children and their schools.
"I don't think having a balanced budget means very much if you do it by cutting education and putting the burden on the backs of children," said Nicole Conaway, a teacher in Detroit's Catherine Ferguson Academy.
Last year, Snyder offset a roughly $1.7 billion business tax cut by hiking income-tax and slashing education. The cuts amounted to a loss of $470 per student, and blame from teachers for exploding classroom sizes and dwindling bus routes. Conaway, the Detroit teacher, says her kids have lost textbooks and transportation options.
Before Snyder unveiled his 2013 budget earlier this month, he teased his proposal, advertising a likely increase in education funding. "We're done with cuts," he said.
And when Snyder presented his budget, that increase indeed appeared to be in the mix. Snyder said he was creating a $70 million pot of competitive aid that would be doled out to school districts on the basis of their growth in test scores. He touted this as an overall gain in school cash, even creating a specific video on the subject.
But a closer look at the numbers suggests that what was presented as an increase is actually a cut.
Mitch Bean, the former Michigan House Fiscal Agency director who retired in July and now works as a consultant, called Snyder out on his magical math, writing:
The description in the budget document is that the recommendation for FY 2013 is a 2.5 percent increase, and the "planning budget" for 2014 is a 0.8 percent increase. The problem with that description is, when you add up what the figures [are] for this year, for FY 2013 and for FY 2014, total spending for K-12 declines from $12.74 billion in 2012 to $12.69 billion in FY 2013 -- and declines again to $12.6 billion in FY 2014.
Snyder didn't distinguish between one-time and recurring funding, and so was able to present this year's funding as an increase. "When I looked at the budget presentation, I smiled," Bean said in an interview. "I knew the education community would be livid over this -- and that they wouldn't buy it."
Snyder's office did not return requests for comment.
"It's the same sad story," said state Sen. Bert Johnson (D-Detroit). "This governor says he wants to improve education and raise curricular standards, yet he continues to extract money from the system, the kind of money we know will cover large wholesale decreases in taxes for corporations." Johnson called Snyder's math trick "as good as David Copperfield."
How might the dustup affect Tuesday's Michigan primary? "Democrats are mad enough that a number of them are thinking of crossing over [to the GOP primary] to support someone they believe would not stand a chance to win the presidency," Johnson said.
Additionally, some find Romney's praise to be inconsistent with his own pronouncements on education. Unlike other Republican candidates such as former Sen. Rick Santorum (R-Pa.) who say public schools do more harm than good, Romney has stated his view that public education is a crucial ingredient for a productive economy. Yet in Michigan -- the state where Romney was born, and also where his father served as governor -- Romney voiced support for a Snyder budget that ultimately disinvested in education.
"At the end of the day, if you want quality education, there's no such thing as a $15 Ferrari," says state Rep. Harvey Santana (D-Detroit). "The question the GOP will have to answer is if you want Michigan to be a well-educated state with the jobs of the 21st century, then why are you condoning cutting the budget from where the children who are going to fill those positions are going to be educated?"

Calling all HuffPost superfans!
Sign up for membership to become a founding member and help shape HuffPost's next chapter