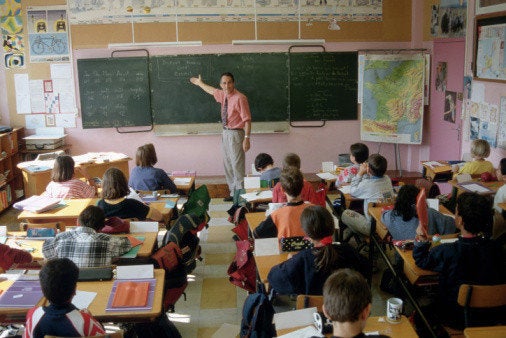 Michigan state Republicans said this week they are preparing a package of bills to privatize public school teaching -- eliciting concerns about working conditions and trading academic quality for cost effectiveness.
But few specifics are known about the bill package, which has yet to be officially introduced. And Pavlov isn't divulging much more -- for now.
"I don't mean to be vague about this," Pavlov told The Huffington Post. "I can tell you everything on Wednesday."
Pavlov did provide a general outline of the plan, but with minimal details. "This package of bills will increase choice in many facets in Michigan in a way that has been necessary for long," Pavlov said. "We want a large comprehensive choice package that includes the expansion of charter schools and dual enrollment, to really put more opportunities in front of parents and students in Michigan."
Michigan has seen major school reform this year, passing a law with bipartisan support that limited teachers' collective bargaining and made it easier to fire teachers based on performance.
In Pavlov's eyes, this newest package is the next step in Michigan's cost-cutting track. This year, Michigant cut about $500 million in public education from its budget. "We've had the conversation in Michigan for a long time about bidding for non-instructional services, food services and custodial work," Pavlov said. "People are looking at this as a front for privatization, but it's giving school districts the opportunity to exercise flexibility."
Pavlov noted that Michigan already supplies its substitute teachers through private organizations. Non-traditional teachers from sources like Teach for America and The New Teacher Project have long been serving school districts nationwide. But this measure would be the first of its kind in the country, allowing for-profit companies to compete against unions to have its teachers placed in public schools.
"I don't think it's a privatization as much as it is competitive bidding," Pavlov said.
Union leaders worry that the measure could drive down teacher pay and eliminate collective bargaining altogether. "What Sen. Pavlov seems to be talking about is handing the education of our children over to the lowest bidder and letting for-profit companies take over our classrooms," said Doug Pratt, spokesman for the Michigan Education Association, according to the Michigan Association of Secondary School Principals. Pratt could not be reached by HuffPost for comment on Friday.
"In Michigan, we're taking it piece by piece," Pratt previously told HuffPost about the state's education reform strategy. "It's a dangerous strategy, because it doesn't get everyone excited at the same time. That's the genius of how they're doing things here."
Eric Hanushek, a Stanford University teacher evaluation expert, said he doesn't think the bill -- which is not expected to go far -- has been thoroughly vetted. "You can't just legislate better schools," he said. "I think it would be more interesting if they allowed these outside companies to hold teachers responsible for their performance."
Calling all HuffPost superfans!
Sign up for membership to become a founding member and help shape HuffPost's next chapter