 Perhaps no piece of statewide legislation has been more controversial in Michigan than 2011's Public Act 4, which allowed the state to appoint an emergency manager to take over finances and day-to-day decisions of struggling cities and school districts. Critics fought back hard, collecting over 200,000 signatures to freeze the law and place a referendum on the Nov. 6 ballot. Michigan Gov. Rick Snyder, a Republican who signed PA 4 into law, is actively campaigning in support of upholding the legislation.
"I am trying to stay in my lane," Snyder said in a recent interview with The Huffington Post. "I'm not here to run these cities. I'm here to create an environment where I can help them succeed better and give them resources."
Originally written as Public Act 101 in 1988, and later strengthened as Public Act 72 in 1990, Public Act 4 of 2011 expanded the state's power over municipalities, making it even easier for the state to assess troubled bureaucracies and seize control. The law offers a broad leap to give financial managers power over books, not just budgets.
If approved by voters, PA 4 would be Michigan's most sophisticated -- and potent -- response to cities and districts that are seemingly handcuffed by financial obligations and debt. Managers would regain the authority to dismiss governmental councils and bodies and renegotiate contracts. In schools, they could shape curricula.
Critics say the law subverts democracy by stripping power from local elected officials, since emergency managers don't have to answer to citizens -- their boss is the governor. Snyder has said assuming state control protects residents from living in a city that can't afford services or schools; he also thinks the law protects the interests of all Michiganders.
"If we hadn't had an EM, I believe we would have been better off. That's the problem with the law. It doesn't fix the core issue. Property taxes have declined, you have cities with high unemployment because plants and other things left and nobody wants to create jobs in these areas. That's what it comes down to." -- Pontiac City Councilman Kermit Williams to MLive, September 2012
Of the cities under state control, Snyder says the biggest commonality is declining population -- but that's not a new problem in Michigan. "It's been a rough 50 years, let alone the last decade," he said.
Cities' pension plans and union contracts were negotiated with terms better suited to Michigan's more successful and prosperous past, Snyder says, a problem municipalities face nationwide.
"I think this is a national problem. I think cost structures in the public sector got beyond even the private sector in terms of being expensive," he said. For Michigan's municipal officials, "the path they had been on very consistently for decades was to continue going downhill. They were not successfully managing their cities. That's how they got in the crisis to begin with."
The elected officials replaced by the governor's appointed managers see it differently. They argue cities may not have fully funded their pension plans or kept their costs in check, but they didn't plan for plummeting property values and declining tax revenues brought on by the Great Recession, either.
Michigan's overall population is 80 percent white. With a statewide referendum, it's possible that majority of white voters could help affirm a law that affects the lives of 650,000 Michigan residents, the majority of whom are African-American or Hispanic.
The 'threat to democracy' can be defined as taking control away from local elected officials and investing that control in an unelected official who is not directly responsible to residents of the local unit. It could also be argued, however, that a threat to democracy occurs when local elected officials fail to manage at a minimally acceptable level, fail to be adequate stewards of the public trust, and fail to avoid a financial emergency." -- Memorandum from the Citizens Research Council of Michigan, September 2012
By strengthening emergency managers' powers, PA 4 in theory allows someone who isn't beholden to voters to make the kinds of tough choices necessary to steer cities out of a financial storm. Snyder believes citizens are the better for it. "They actually deserve better, in terms of more efficient service and better service," he said.
PA 4's early warning system allowed a state review team to assess the finances of Allen Park, the latest city to fall under state control, before the city became insolvent. "That was one of the problems with the old law," says Snyder. "It didn't have an early warning system. In some of these cases, they could simply show up and hand us the keys to the city and say, 'Good luck.'"
Many Allen Park residents blame the city's fiscal crisis on its 2009 investment in Unity Studios, a movie-making venture that failed to the tune of $31 million. Yet City Councilman Dennis Hayes told the Detroit News he felt an emergency manager appointment was inevitable, "due to the huge structural problems we have, beyond the failed movie studio. Our legacy costs and labor agreements are unsustainable, in my view."
To Snyder, PA 4 offers a necessary improvement on PA 72 because it allows his appointees to act as the sole agent of the government in any collective bargaining agreement and to restructure or amend any agreements. Those are two tasks, he argues, that cities in crisis aren't equipped to handle alone.
But while stronger emergency managers can be more ruthless, Snyder sees their oversight as a temporary fix. Emergency managers have two short term goals: navigating a municipality to fiscal stability and improving services to citizens. "The point is, get it stable so it has an opportunity to grow, and then let the community decide," he said.
Snyder believes that Ecorse and Pontiac, two cities that have each been under state control since 2009, may be fiscally healthy enough to manage themselves within six months. Detroit Public Schools, on the other hand, have been under state control just as long, and there's no end in sight.
"In some cases, they were there longer than I would have liked them to be there," Snyder said of the emergency managers in DPS. "That was part of the problem with PA 72. They didn't have clear enough authority and broad enough authority, to come do their jobs, and then get out."
Given the circumstances, fairness demands that everyone share in the sacrifices that are necessary. City workers, pensioners and residents are all feeling the pain. Why shouldn't the bondholders, to employ a widely used euphemism, get a 'haircut' along with everyone else?" -- Curt Guyette, "Underwater," The Metro Times, Aug. 8, 2012
The threat of bankruptcy is the final card on the table in the debate over how best to save Michigan's cities from insolvency. Critics of PA 4 say the emergency manager system ensures banks and investors are always repaid in full, while workers and ordinary citizens have to make do with less. But declaring Chapter 9 municipal bankruptcy doesn't let a city simply default on its obligations to bondholders.
Snyder, a former accountant and former CEO of Gateway Computers, says he's worried about the uncertainty of municipal bankruptcy law, which lags in comparison to the bounty of case law for private sector bankruptcies. "The challenge is the history and the track record is not really good," he said. "It's where you have to ask what works in theory, versus what's pragmatic."
"Theoretically, if you were able to do Chapter 9 in an efficient fashion, in a structured fashion, where you had everything lined up, you could actually address some of those issues, probably in a more total approach," he reasoned. "But the track record, so far, has been pretty dismal. And the associating stigma of what it does, trying to get people to go there in the interim, is even worse."
Instead of fighting the reality of a state takeover, Snyder said cities should focus on creating a positive, long-term vision for when they regain power. "In Detroit, in particular, I've been pounding this drum," he said. "What are the things that are going to attract and retain young people? The neighborhood plan -- how we need to revitalize the neighborhoods."
"I've actually said this quite often," he added. "But I'm only the governor."
For all of HuffPost Detroit's coverage of Michigan politics and election news, see the Detroit politics page.
Below, take a look at the other important proposals on Michigan's ballot.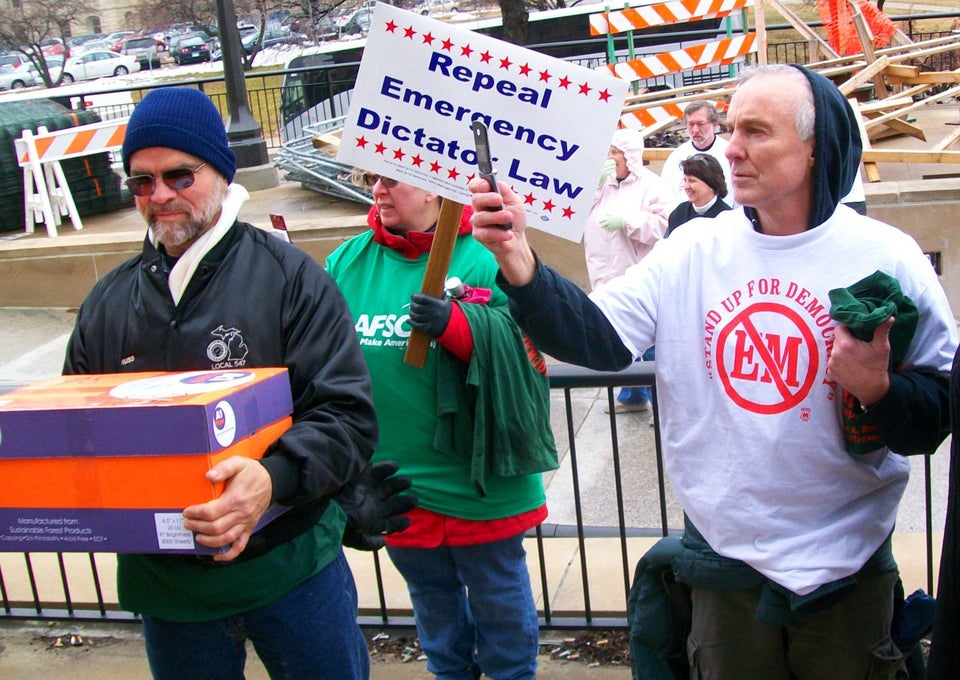 Michigan Ballot Proposals 2012
Related
Popular in the Community