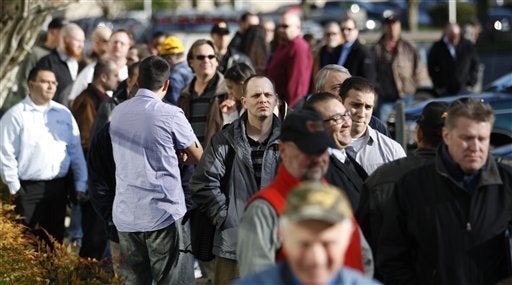 Time is running out in Washington as unemployment benefits are set to expire for nearly 80,000 Michigan workers on March 6. Members of We Are the People held rallies at eight congressional offices across Michigan Friday, Feb. 10, to urge elected leaders to pass an extension for jobless benefits.

"Federal workers and other middle class Americans should not be used as pawns in a partisan game," said Zack Pohl, spokesman for We Are the People, a statewide coalition of seniors, students and workers fighting to protect Michigan's middle class. "It's time for Congress to start working together to build an economy that works for everyone, not just the top 1-percent."

Last December, a group of about 50 protesters from WATP visited Rep. Candice Miller's (R-MI) office in Shelby Twp., Michigan, and five other congressional offices, to demanding that Republicans end the Capitol Hill stalemate and approve a 2012 extension of unemployment benefits. Miller did vote to extend the benefits last year and the group hopes she will do so again before time runs out.
She said today she does intend to extend the benefits.

"The House and Senate are currently negotiating a full-year extension of the payroll tax credit, as well as reforming and extending unemployment benefits," Rep. Miller told this blogger.
"I am watching these negotiations carefully and will support the full year extension of the payroll tax credit. I also support extending the unemployment benefits with some needed reforms and appropriate offsets so we do not increase our nation's deficit."

With the nation facing record deficits, Republicans argue extending benefits must be offset by a federal budget adjustment that pays for the price tag of an extension.

"We need to spur the economy and keep it growing," said Pohl. "Maintaining the unemployment insurance program does that. Jobless benefits go straight back into the economy--they support local businesses, help create jobs, reduce the demand for public services and cost taxpayers less in the long run."

Sara Metz, Communications Director with the Michigan State AFL-CIO, said this assistance is critical to helping families make ends meet during extended periods of joblessness, and House Republicans are proposing costly and burdensome barriers that would make it even harder for jobless Americans to find work.

Connie Cuellar is an independent writer covering politics in Michigan. If you would like to contribute as a citizen reporter to The Huffington Post's coverage of American political life, please contact us at www.offthebus.org.
Calling all HuffPost superfans!
Sign up for membership to become a founding member and help shape HuffPost's next chapter