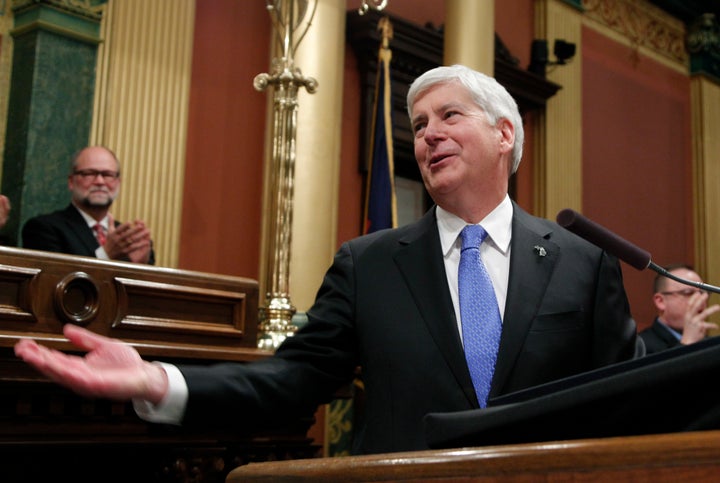 Republican legislators in Michigan are moving swiftly to weaken public-sector unions before a Democrat takes over the governor's mansion next year — part of a series of brazen legislative maneuvers this week undermining Democratic victories in last month's elections.
Unions say that the two bills are part of a lame-duck power grab aimed at reducing their membership and political clout while GOP leaders have the chance. Once Gov.-elect Gretchen Whitmer (D) assumes office in January, she will wield veto power over the Republican majorities in both chambers of the statehouse.
Under the proposal, if the union doesn't win votes from a majority of workers in the bargaining unit, regardless of how many workers vote in the election, it would lose its status as the workers' designated representative, a process known as decertification.
It so happens that the workplace elections would take place between August and November of even-numbered years — the same time frame in which unions normally work on state and federal political campaigns and get-out-the-vote efforts, typically in favor of Democrats.
"I think there's no question that's part of the timing," said Doug Pratt, a spokesman for the Michigan Education Association, one of the state's teachers' unions. "Why else would you hold them during August to November of even-numbered years? It's pretty blatant."
The other bill would ban what's known as union release time. As in other states, Michigan law allows unions to bargain an allotted amount of time in which certain members can handle union business during normal work hours. For instance, the president of a large local teachers' union might spend part of her day teaching and part of her day managing the union.
Union critics have targeted release time ― known as official time in the federal government ― for years, arguing that tax dollars shouldn't go toward union administrative work. But union officials say it helps resolve workplace disputes early and that certain locals couldn't function without it. Only about 11 percent of the state's school districts had release time as of 2015, The Detroit News reported.
David Hecker, the president of the teachers' union AFT Michigan, said that without release time, some unions would have to find teachers willing to give up their jobs or their retirements in order to run the union.
"Someone who's been teaching in the district for 10 years, they'll have to leave the district to become the president of the local. Who's going to want to do that?" he said. "It's all designed to try to weaken labor as much as possible."
The recertification bill was voted out of a committee on Wednesday; a full vote in the Senate hasn't been scheduled yet, according to the Michigan news site Bridge. The release time bill has passed the Senate and cleared a House panel on Thursday, though it must still be approved by the full House, The Detroit News reported.
Republicans in the state have targeted more than just labor unions. They have moved to gut a minimum wage hike and a paid sick leave measure that were intended to go on the ballot in November. They did so by first adopting the measures in the legislature, thereby heading off the referendums, then amending them after the elections in order to water them down. Outgoing Gov. Rick Snyder (R) has not signed the bills yet.
Michigan's Republican lawmakers are also considering stripping the state attorney general and secretary of state of their powers over campaign finance law and lawsuits.
What's happening in Michigan's lame-duck session is similar to what's unfolding next door in Wisconsin. Republican leaders there passed a raft of measures Wednesday intended to hamstring the state's incoming Democratic Gov. Tony Evers.
The Wisconsin provisions would give the legislature control of the state development agency, restrict the new governor's ability to write regulations and cut down on early voting, which tends to benefit Democrats. Outgoing Republican Gov. Scott Walker has not signed the bills yet.
One reason Michigan union leaders are so angry about the GOP's lame-duck labor bills is that the state is already right-to-work, meaning workers represented by a union don't have to pay any union fees if they don't want to. Republican lawmakers fast-tracked the right-to-work bill in 2012, and Snyder signed it. (The Supreme Court case Janus v. AFSCME made the entire U.S. public sector right-to-work this year.) 
It really only serves one purpose. And that's to force us to spend time and money on things other than representing members and enforcing our contracts.

Doug Pratt, Michigan Education Association
Michigan's right-to-work status has forced unions to spend much of their time trying to retain membership and avoid what they derisively call free riding ― workers declining to pay union fees while enjoying the benefits of the union contract. The recertification bill would make for more work for public-sector unions, requiring them to campaign for workers' support every two years ahead of workplace elections.
It's already possible for Michigan government workers to decertify a union if they want to. If 30 percent of workers in a bargaining unit petition the state to do so, they may hold a decertification vote once their contract expires.
F. Vincent Vernuccio, a senior fellow at the Mackinac Center, a conservative think tank based in Michigan, argued that it's "nearly impossible" for workers to decertify unions through that process and said union representation should be up for a vote every two years. He defended the notion that unions should be required to win votes from a majority of the full bargaining unit, as opposed to just those who take part in the election.
Theoretically, that means if 49 workers in a 100-member unit vote in favor of keeping the union and only one worker votes against it, the union would still be decertified because it failed to win a majority of the unit.
"The union has a monopoly on representation. They should have the support of a majority of the employees," Vernuccio said.
Iowa lawmakers instituted a similar measure in 2017 as part of a bigger package restricting collective bargaining rights for government workers. Public-sector unions in Iowa must hold recertification elections every two years.
The Quad-City Times of Iowa reported that the vast majority of unions so far have won their elections to continue representing teachers, municipal workers and other government employees there. The paper wrote about a union official who spent most of August crisscrossing the state and holding town hall meetings to prepare for a recertification vote.   
Pratt, of the Michigan Education Association, said he believes there are Republicans in the state House and Senate who are "not on board" with the recertification bill or the release time bill. And even if they pass, he said, his union will still survive ― but not without a cost.
"It really only serves one purpose," he said. "And that's to force us to spend time and money on things other than representing members and enforcing our contracts."
Calling all HuffPost superfans!
Sign up for membership to become a founding member and help shape HuffPost's next chapter