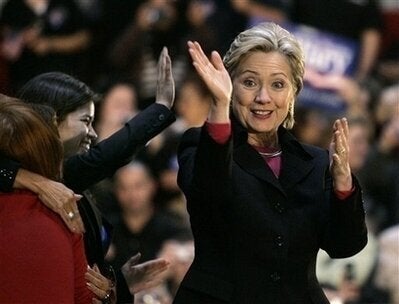 The Michigan Democratic primary was on the surface a non-event. The national party has ruled the state's delegation will not be seated. Of the major candidates, only Hillary Clinton was on the ballot, pitted against "uncommitted" in a seemingly meaningless race (she won by 15 percent).
Yet the exit poll results from this strange contest reveal some troubling trends for the New York Senator.
Among men, for example, the battle was neck and neck. Clinton got 47 percent and the anonymous/non-existent opposition got 43 percent. (Clinton did substantially better among women, winning 58-37.)
The opposition was not, however, altogether ethereal. For the most part, voting "uncommitted" was a substitute for casting a ballot for Barack Obama, or for some voters, John Edwards.
Among black voters, Clinton was crushed by "uncommitted," 26-70. If that kind of margin among African Americans continues into future primaries, she faces major problems in the heavily black January 26 South Carolina primary and in the states with large black populations going to the polls on February 5 -- so-called Tsunami Tuesday. Clinton carried whites in Michigan by a 61-30.
Clinton ran poorly among young voters of all races, losing those under the age of 30 by 39-48 percent; splitting voters from 30 to 44 by 46-48 percent; solidly carrying the 45 to 56 age group by 54-34 percent; and winning voters 60 and older by a landslide 67-31 percent.
Clinton continued to do well among the least well-educated voters and those with lower incomes. She carried voters without college degrees by 55-37, but tied among those with college degrees, 46-45. Clinton also won voters making $50,000 or less by 60-34, but tied among those making more, 46-45.
In a warning signal if she becomes the Democratic nominee, Clinton did much better among committed Democrats, winning them 57-37, than among independents, losing them 32-51.
Looking toward the future, the Michigan exit poll demonstrates the viability of the Clinton campaign strategy of winning solid majorities in states that, unlike Michigan and South Carolina, do not allow participation of either Republicans or independents in their "closed" primaries, like the February 5 contests in New York, Connecticut, Colorado and Arizona. Many very large February 5 states, however, including California, Alabama, Georgia, Tennessee and Virginia, have open primaries that will give Obama a chance to pull in independent voters.
(To see exit poll data for the Republican race, click here.)
Popular in the Community