 WASHINGTON -- Michigan is set to become the 24th state with a so-called right to work law, with Gov. Rick Snyder (R) poised to sign the controversial bill on Tuesday. The bill has been fast-tracked by the Republican-controlled state legislature, with the aim of getting it enacted by the end of the year.
Every Democrat in the Michigan House and Senate voted against the bill on Thursday. Four Republican state senators and six Republican state representatives broke with their party and sided with Democrats, citing the way their party expedited the legislation and the effect it would have on labor relations in the state.
"My district has a lot of support for unions," explained state Rep. Ed McBroom (R-Vulcan), a Tea Party member and one of the "no" votes. "I had employers even calling me saying they're satisfied with the relationships they have with unions in our area, and they said they didn't want this either. I think that there's room for some very serious reforms with union policy in our state, but I don't think it was necessary to go to this length."
"I've always rejected not being allowed to read bills before we vote on them, regardless of which party is in power," said state Sen. Tory Rocca (R-Sterling Heights). "This is obviously a pretty weighty issue. People weren't allowed to see what the language was going to be ... until it was given to us literally minutes before we started voting. I couldn't bring myself to justify making a change like this."
State Rep. Anthony Forlini (R-Harrison Township) said he's "not a right to work guy," noting the union support in his district. "There are probably other things that we can do, and we have done, over the years," he said.
State Rep. Dale Zorn (R-Ida) said in a statement that without a majority of his constituents asking for the bill to pass, he "could not in good conscience offer a yes vote."
Right to work legislation would ban automatic payroll deductions of union dues. Supporters say workers who don't want to belong to a union shouldn't be forced to pay dues.
"It's all about being pro-worker," said Snyder on Fox News on Friday. "We have hard-working people in Michigan, and it's important to give them the freedom to choose. They should be able to decide whether to join a union or not."
Opponents, however, point out that these non-payers will reap the benefits of a unionized workplace without paying their fair share.
"What this is really about is defunding unions," said Steve Cook, president of Michigan Education Association. "They're attacking the collective bargaining process. They want to force unions to basically have to provide services, benefits and the protections to non-members who will not pay a penny for them. It defunds unions. It cripples unions."
Michigan's rules require that the House and Senate wait five days before voting on each other's bills. The legislature is set to reconvene on Tuesday, when it is expected to approve final passage of the right to work legislation. Snyder could sign it as early as the same day.
This weekend, supporters of organized labor will plan right to work protests around the state. On Monday, there will be "workplace activity," although a labor official declined to be more specific. On Tuesday, unions are planning large protests at the state capitol in Lansing, even though they acknowledge that there's little chance of convincing Snyder to not sign the bill.
McBroom said he worries what the legislation will do to workplace relations in Michigan. He said he believes his fellow Republicans are sincere in their belief that right to work will help Michigan's economic climate, but his experience has shown him the opposite.
"I foresee what I already see playing out, especially at my local schools," McBroom told The Huffington Post. "What I see happening at my local schools where we gave the superintendent and the administration some additional tools to try to make decisions to help their schools move forward. Some of the superintendents -- not all of them -- have really used those tools like they're just hammers and have smashed up longtime loyal employees who have given their lives to this, who have built families and relationships and communities and vendettas are meted. I just can't forget what I've seen happen, and that's very concerning to me."
McBroom was in Wisconsin for the large labor protests in 2011, when Gov. Scott Walker (R) pushed through legislation that stripped most public employees of their collective bargaining rights. McBroom said he was disappointed that organized labor and its supporters haven't been mobilizing in Michigan.
"I was surprised that they hadn't been here for two weeks or something," McBroom said. "All these discussions were going on, I would have thought that was sending a pretty big signal. The people who were for right to work were here, just beating the drum."
But Cook said labor leaders had been talking with Snyder and GOP leaders since Nov. 26, in the sincere belief that something could be worked out.
"Our thought was so long as we were making progress with the governor's office and with the speaker and the majority leader, that we didn't want to blow that process up" by protesting, Cook explained. He said once it became clear they were being "flimflammed and bamboozled," they decided to protest on Thursday.
Snyder spokeswoman Sara Wurfel distinguished Snyder's backing of the bill from Walker's stance in Wisconsin, saying in an email, "This legislation does NOT change or end collective bargaining in Michigan. Michigan has a great history of collective bargaining, and Gov. Snyder is proud to point to his work to have successfully collectively bargained with state employees twice as governor."
Forlini didn't vote for the right to work legislation, but said he isn't as concerned about its effect on workplace relations or Michigan's economic progress as McBroom. He said he hoped, in fact, that it would make "unions a little bit more accountable" and encourage them to become less political.
A 2011 study by the progressive Economic Policy Institute found that right to work laws don't affect the performance of state economies and reduce wages for union and non-union workers by an average of $1,500 a year.
Michigan GOP leaders expedited the right to work legislation, shortcutting the normal committee process that requires public input. McBroom and Forlini both said they didn't believe extra time would have changed the outcome. But Rocca, who hasn't decided where he stands on the issue of right to work, told The Huffington Post that was besides the point.
"We're a representative body," Rocca said. "The people should be able to come in and express their opinion either for, against or neutral in the process. And that didn't happen this time."
Snyder's eagerness to sign right to work legislation reverses his longtime stance of discouraging GOP lawmakers from taking up the divisive issue.
Ari Adler, spokesman for Michigan House Speaker Jase Bolger (R-Marshall), blamed unions for putting labor issues on the agenda with Prop. 2. The ballot measure, which would have enshrined collective bargaining rights in the state constitution, was rejected by voters in November.
"The speaker said, if debate is underway, let's finish it," said Adler.
President Barack Obama opposes the Michigan bill, the White House said in a statement on Thursday.
"President Obama has long opposed so-called 'right to work' laws and he continues to oppose them now," said White House spokesman Matt Lehrich. "The president believes our economy is stronger when workers get good wages and good benefits, and he opposes attempts to roll back their rights. Michigan -- and its workers' role in the revival of the US automobile industry -– is a prime example of how unions have helped build a strong middle class and a strong American economy."
Support HuffPost
The Stakes Have Never Been Higher
Related
Before You Go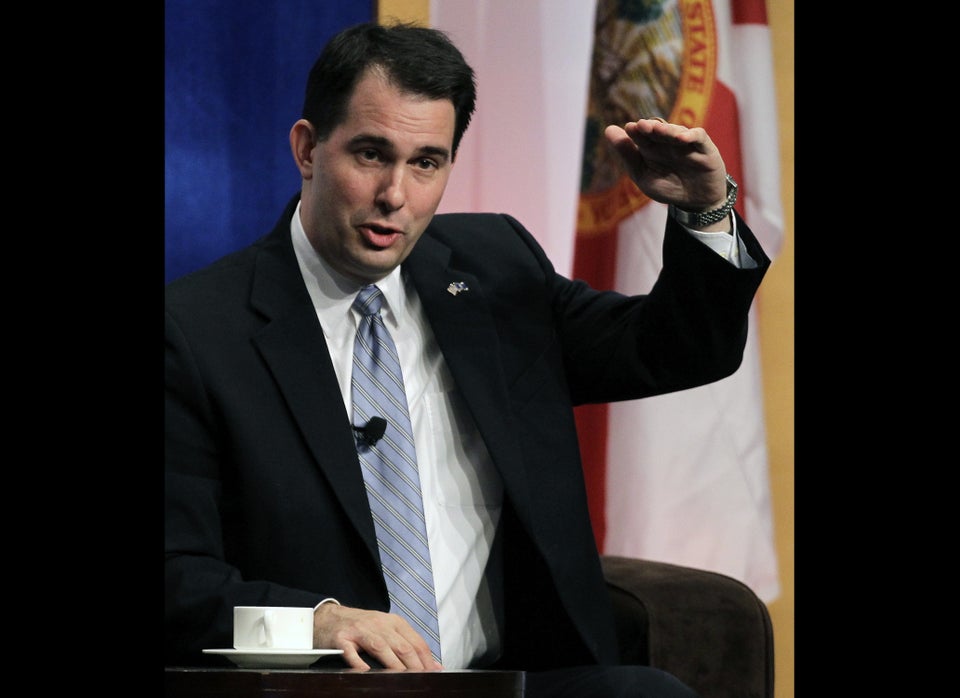 Scott Walker Survives
Popular in the Community