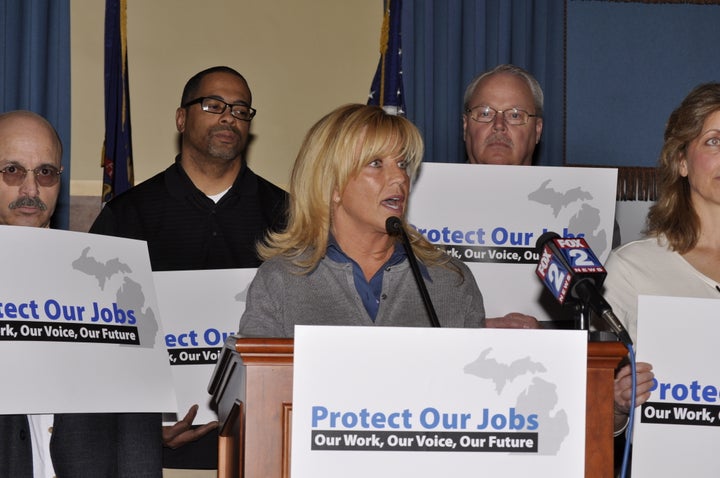 A vote by the Michigan Senate to ban payroll deductions of union dues on Wednesday sparked accusations by labor groups that the Republican-controlled senate is retaliating against teachers.

The vote on House Bill 4929 came one day after a group of teachers, nurses, construction workers and others, gathered at the state Capitol on Tuesday to launch their drive to protect collective bargaining rights guaranteed to employees under the Michigan Constitution.

"This is a clear case of political retribution from Lansing politicians who want to silence the collective voice of Michigan's teachers, bus drivers and cafeteria workers," said Zack Pohl, spokesman for ProtectOurJobs.org, which organized the protest. "It's a perfect example of why we need to protect collective bargaining rights to strengthen the middle class, and provide a counterweight to these attacks from Lansing politicians and corporate CEOs."

The spokeswoman for Senate Majority Leader Randy Richardville said Wednesday that passing the bill was not an act of reprisal against labor unions.

"It was certainly not retaliation," Richardville's spokeswoman Amber McCann said. "The bill was introduced months ago. It's something we've had on our agenda to move forward on. In no way was this vote a response to any recent filings."

The state House of Representatives originally passed HB 4929 on Sept. 15, 2011, and then referred it to the Senate Regulatory Reform Reinvention committee, where it lingered until this week.

"This blatant power grab by Lansing politicians is a perfect example of why we need to protect our jobs, our wages, and our voice at work," said Karen Kuciel, a 5th grade teacher from Warren. "It's clear politicians are more interested in punishing teachers like me than actually investing in public education or creating jobs."

Grassroots volunteers with the "Protect Our Jobs" campaign began gathering the 322,609 signatures needed to put the proposal on the ballot. They have until July 9, 2012 to file the signatures with the Secretary of State. Michigan residents would vote on the issue Nov. 6., if the drive succeeds.

The ballot initiative would add an amendment to Michigan's Constitution, outlining the people's right to "organize together to form, join or assist labor organizations, and to bargain collectively with a public or private employer" as permitted under federal statute. The new language would also prohibit retaliation by employers by protecting current laws, which establish minimum wages, hours and working conditions.

"Now more than ever, workers need the right to speak up to protect our wages, our benefits, and our voice - and that's what this proposal is all about," John Armelagos, a registered nurse from Ann Arbor and group treasurer. "Michigan workers helped create the middle class, and now we need to protect our collective bargaining rights to help rebuild our economy."

At the UAW's national conference in Washington, D.C. last week United Auto Workers President Bob King announced his union's support for the initiative.

"We hope that Michigan can lead what will then be movements around the United States to guarantee workers' rights to organize and to collective bargaining," he said.

Organizers say Michigan legislators have deteriorated collective bargaining rights over the passed year, "doing nothing to help put Michigan back to work," according to a press release.

The campaign's website lists some 80 bills pending in the state Legislature that attacks workers' rights, including Senate Bill 971 passed by the state House of Representatives last week, which bans collective bargaining rights for graduate student research employees.
Popular in the Community