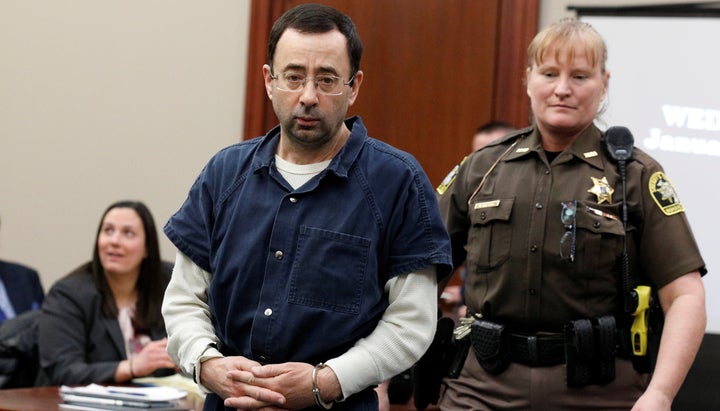 At least 14 Michigan State University staffers and representatives were warned about Larry Nassar's sexual abuse over the course of two decades and allegedly did nothing to stop it, according to an explosive new report from the Detroit News.
Accusations from eight young women about the former USA Gymnastics and MSU team doctor's behavior reportedly reached trainers, coaches, an MSU police detective and MSU President Lou Anna Simon, dating back to 1997. Simon learned about the problem in 2014 when a Title IX complaint and a police report were filed against an unidentified doctor.
"I was informed that a sports medicine doctor was under investigation," Simon told the News on Wednesday after she appeared in court for Nassar's sentencing hearing. "I told people to play it straight up, and I did not receive a copy of the report. That's the truth."
MSU has repeatedly denied covering up Nassar's behavior in any way.
"Any suggestion that the university covered up Nassar's horrific conduct is simply false," MSU spokesperson Jason Cody told HuffPost earlier this month. "Nassar preyed on his victims, changing their lives in terrible ways. As President Simon has said, MSU is truly sorry for the abuse all victims suffered, the pain it caused, and the pain it still causes."
According to the Detroit News, the people who were told of Nassar's abuse include former MSU head gymnastics coach Kathie Klages, current volleyball team trainer Lianna Hadden, current gymnastics team trainer Destiny Teachnor-Hauk, former MSU clinical psychologist Dr. Gary Stollak and officers at the Meridian Township Police Department.
The eight women who reported Nassar's abuse to the university include gymnast Larissa Boyce, runner Christie Achenbach, softball player Tiffany Thomas Lopez, Nassar family friend Kyle Stephens, soccer and tennis player Brianne Randall-Gay and gymnast Amanda Thomashow (whose sister Jessica has also accused the doctor).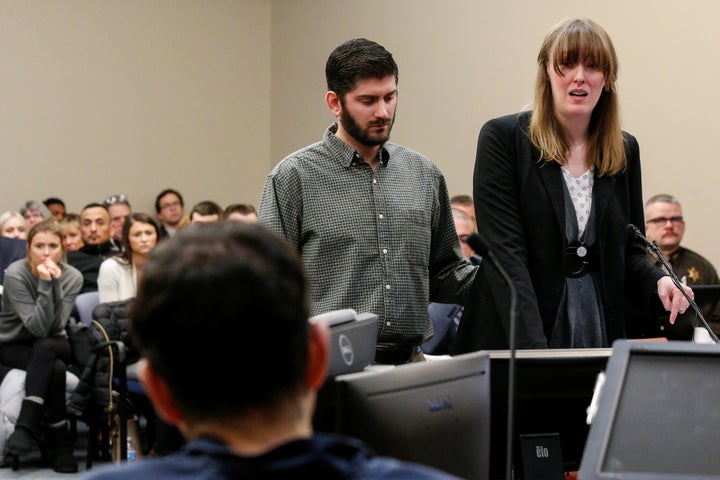 Larissa Boyce, who is believed to be one of the first victims to report Nassar's behavior, said she talked to Kathie Klages in 1997. The gymnastics coach allegedly told Boyce that she must have misunderstood the medical procedure. Now 37, Boyce said Nassar abused her from 1997 to 2001, beginning when she was 16.
"They are denying any responsibility, saying they didn't know a predator was among them," Boyce told HuffPost earlier this month. "That is like a slap in the face to the ... girls who over the past 20 years told multiple MSU employees and [they] did nothing about it. How is that not showing their complete negligence?"
Christie Achenbach said she reported Nassar's behavior to assistant running coach Kelli Bert in 1999, but nothing ever came of it. Bert told the Detroit News that she didn't recall the interaction.
"If he had done something sexual, I believe I would have reported that immediately," Bert said.
Tiffany Thomas Lopez said she told Lianna Hadden, then an MSU softball trainer, in 2000 that Nassar had sexually abused her during a medical exam. Hadden reportedly told another trainer, Destiny Teachnor-Hauk, who assured Thomas Lopez that the exam was "actual medical treatment."
During this week's sentencing hearing, Jennifer Rood Bedford, a former MSU volleyball player, said she also reported Nassar's behavior to Hadden, who allegedly discouraged her from filing a complaint.
"Everyone trusted him so I told myself I needed to trust him, too," Rood Bedford said in her victim impact statement. Now she said, "I constantly ask myself: Did I have the power to stop him?"
Since Nassar's abuse went public in 2016, many victims have alleged that MSU and USA Gymnastics employees failed to comply with mandatory reporting regulations when they were told about his behavior.
Olympic gymnast and Nassar abuse survivor Aly Raisman called out USA Gymnastics earlier this month in a series of tweets. "You are 100% responsible. It was mandatory to get 'treatment' by Nassar," she wrote, adding, "The system has to change so that athletes are safe. Enablers need to be held accountable."
"I feel like this sends a big message to victims that there are no consequences for what these people did."
Six of Nassar's accusers recently told HuffPost that they don't believe MSU and USA Gymnastics have faced sufficient punishment for their failures.
"I'm sick of MSU trying to look good instead of be good," said Jessica Smith, who alleges that Nassar abused her for a few months when she was 17.
MSU gymnastics coach Klages and MSU doctor Brooke Lemmen have both resigned in the face of mounting accusations. The dean of MSU's College of Osteopathic Medicine, William D. Strampel, took a medical leave from his position in December. The president of USA Gymnastics, Steve Penny, resigned in March 2017 after public scrutiny of the matter.
"I think that everyone that either was reported to by victims, or that had knowledge that this was going on and didn't do anything, should have been terminated immediately, and that's not the case," 18-year-old survivor Morgan McCaul told HuffPost. "I feel like this sends a big message to victims that there are no consequences for what these people did."
Head over to the Detroit News to read the full report.
Popular in the Community