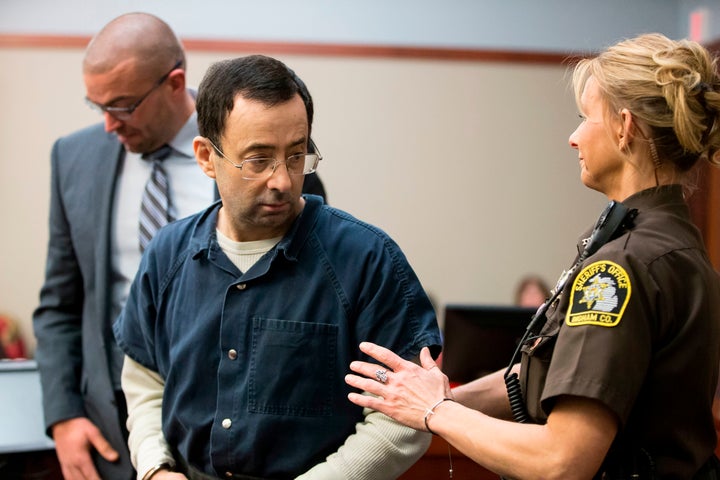 The NCAA has formally opened an investigation into Michigan State University's handling of the allegations against Larry Nassar, the school's disgraced former team doctor who has been accused of sexually abusing more than 140 women, The New York Times reported on Tuesday.
The NCAA confirmed the news in a statement late Tuesday.
"The NCAA has sent a letter of inquiry to Michigan State University regarding potential NCAA rules violations related to the assaults Larry Nassar perpetrated against girls and young women, including some student-athletes at Michigan State," the group said. "We will have no further comment at this time."
Jason Cody, a spokesman for Michigan State University, said the school's athletic department had received the letter and was reviewing it.
More than a hundred women have read victim impact statements during Nassar's week-long sentencing hearing, set to conclude later this week. The physician pleaded guilty to 10 counts of first-degree sexual misconduct and faces a minimum of 25 years in prison. He was already sentenced to 60 years in prison in December for child pornography.
Many of the women say they told parents, coaches and trainers at Michigan State University about Nassar's abuse, but that the allegations were overlooked or hidden.
Michigan State University's former gymnastics coach Kathie Klages retired last February as allegations against Nassar began to pile up. She has been accused of covering up the accusations, according to the Times.
Jessica Smith, who said Nassar abused her for months when she was 17, told HuffPost's Alanna Vagianos that many of those involved haven't faced proper punishment for overlooking the complaints.
"I'm sick of MSU trying to look good instead of be good," Smith said earlier this month.
Popular in the Community