A school in eastern Michigan has placed a teacher on leave and launched an investigation after she allegedly "snatched" an 11-year-old student who sat during the Pledge of Allegiance.
Stone Chaney, a sixth grade student at East Middle School in Farmington Hills, Michigan, told WDIV Local 4 that he didn't stand up during the Pledge of Allegiance because "I don't pledge to a flag. I pledge to God and family."
The alleged confrontation took place on Sept. 7 during Stone's first week at school. He said his homeroom teacher forced him to get up after he refused to stand for the pledge.
"The teacher consultant comes up behind me and snatches me out of my chair violently," Stone, who is black, told WDIV. "I was so confused. I didn't know what was going on."
Stone has not stood up to salute the American flag ― instead choosing to honor God and his family ― while at school without incident for several years, according to the Washington Post.
Brian Chaney, Stone's father, says he is calling attention to the incident because it violates his son's civil rights.
"We want people to know people have rights," Chaney told the Detroit Free Press. "You can't put your hands on children, or adults, for this reason."
He later added, "How many kids would be such critical thinkers and leaders to be able to walk to their own beat and blaze their own path?"
He told the board that his son was also involved in another incident with faculty during the Pledge of Allegiance, a day after the first one occurred. In the second instance, Chaney said a substitute teacher "berated" Stone for not standing during the pledge and asked the student if he was "just lazy."
Chaney works as a social worker in the nearby Pontiac School District, according to the Free Press. He told the board on Tuesday that his family was "very disappointed that when we dropped our son off into the hands of East Middle School, we thought it would be nurturing hands... where he could feel safe."
"What was done to my son was wrong," Chaney continued. "For him to be violently snatched out of his chair by a lady ... is a violation of his civil rights. It's a violation."
Stone's decision to stay seated during the symbolic pledge mirrors the protests of former San Francisco 49ers quarterback Colin Kaepernick. Last summer, the football star refused to stand for the national anthem before a pre-season game in protest of police brutality and the oppression of minorities across the country, sparking a nationwide debate over what the anthem and similar patriotic traditions represent.
In 1943, the Supreme Court ruled that it is unconstitutional to force people to participate in the Pledge of Allegiance. But not everyone agrees on what the pledge represents.
Chaney had told the board on Tuesday that, over the last 20 years, he has made the personal decision to not stand up during the pledge ― and he criticized Stone's teachers for forcing their opinions on his son.
Farmington Public Schools superintendent George Heitsch said in a statement that the allegedly involved teacher has been placed on administrative leave pending an investigation into the matter.
While Heitsch said that the district "fully supports the right of each student to participate or not in the daily pledge," the statement didn't say how the teacher would be disciplined, if at all.
At any rate, Stone just wants his teachers to respect students' civil rights.
"Right now, what we're trying to do is see change, so this will never happen again," he told the Free Press. "So all the teachers are taught to do the right thing."
Before You Go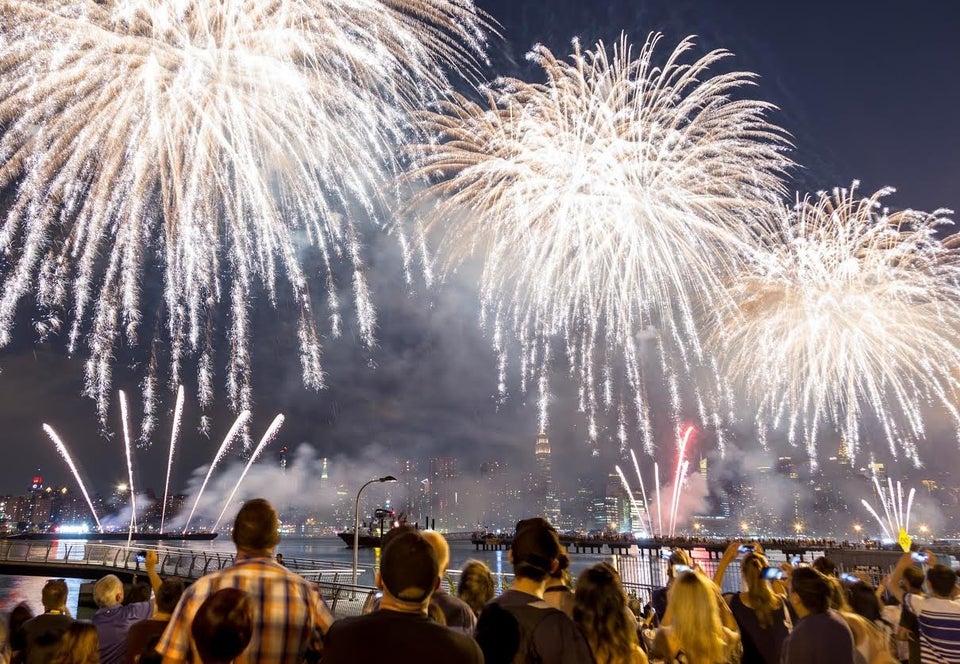 America Celebrates Its 241st Independence Day
Popular in the Community