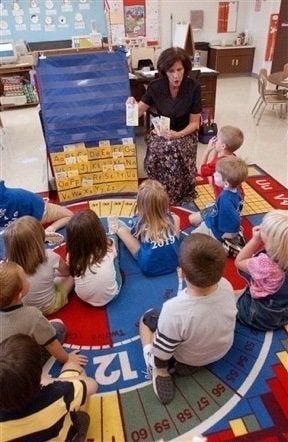 The four bills would increase the probationary period -- the length of time before a teacher is up for tenure -- from four to five years; end the practice of laying teachers off predominately based on seniority; put teachers evaluated as ineffective back on probation; make it easier to fire teachers for a broader slew of offenses; and limit collective-bargaining rights, barring unions from negotiating areas such as teacher evaluations.
The future of these measures lies in the hands of the state Senate, where the Michigan Education Association, the state's largest teachers union, hopes it can change the House's prescriptions.
"We don't think it's a lost cause," said MEA spokesman Doug Pratt. He said the MEA takes issue with the bills for stripping teachers of due process rights. According to Pratt, the reforms do not target the most cumbersome aspects of the teacher discipline process, amounting instead to changing the tenure system into one in which teachers are considered "guilty until proven innocent."
Michigan could become the latest in a long line of states to pass laws that drastically change how teachers are hired and fired. But Michigan's proposed laws are less extreme than those passed in other states, according to Charles Russo, Panzer Chair of Education and an adjunct professor of law at Dayton University.
"This seems to be straddling a fine line between giving good teachers a pass and putting the fear of God in teachers who aren't doing their jobs," he said.
In many states, firing teachers is lengthy and expensive; in Michigan, few consider the process to be perfect.
"The current system in Michigan doesn't provide for an expedited way to remove ineffective teachers," Tim Melton, the only Democratic state representative to speak in favor of the bills, told The Huffington Post. "It doesn't reward great teaching."
The Obama administration has placed low-performing, urban school districts like Detroit at the center of its reform prescriptions. In 2009, Secretary of Education Arne Duncan even called the city "ground zero" for U.S. education reform.
"Detroit is becoming a ghost town," Russo said. "It's almost a poster child for the need to reform teacher performance."
But these new bills would only worsen the city's schools, according to Rep. Harvey Santana, a Democrat who represents Detroit in the Michigan state House.
"With these bills, what you have is a situation where no teachers are going to want to come here," he told HuffPost.
"Why would a teacher come to a place like Detroit to make somewhere in the mid-30s [thousand dollars] and then the government will turn around and say, 'You'll pay 20 percent of your health care costs, get 40 to 60 kids in a classroom, and say, oh, we'll make the teacher evaluations arbitrary and capricious.' Who would want to work under these situation?" he asked. "We've shot ourselves in the foot. There are teachers who want to make it in these schools, and we're telling them, 'Nope, not welcome here.'"
Michael Adonizzio, Associate Professor of Educational Leadership and Policy Studies in the College of Education at Wayne State University, is skeptical of the reforms' potential to fix Detroit schools.
"I don't know how effective this bill will be in solving Detroit's issues," he said, adding that Detroit's schools need better principals and talented teachers to be turned around.
Pratt considers the package of bills "just a disguised way of attacking the rights of educators."
But supporters of the reform package say the unions -- not their teacher members -- are making all the noise.
"When I talk to teachers about what's in the package, most of them support it," Melton said. "It's the teachers union that quarters and threatens members and tells teachers mistruths about the bills that cause this situation to come to a boiling point."
Critics say that the legislation is backwards: while it stresses teacher effectiveness as a key factor in hiring, it fails to specify what constitutes teacher effectiveness.
"There's no definition of what a bad teacher is," Santana said. "What these bills did is provide an avenue for administrators to get rid of not just bad teachers but teachers they feel they don't want to deal with."
Melton said the House has drafted language that details criteria for teacher evaluations, with student test scores counting for 50 percent of the reviews. House lawmakers plan to introduce this legislation next week.
When asked about the draft legislation, Santana said it was news to him.
The four bills already passed by the House will be discussed in a state Senate committee on Wednesday, according to state Sen. Phil Pavlov (R), chair of the education committee. Pavlov said he's considering suggested amendments from the House, but generally supports the measures.
"We're decades late to this conversation," he said. "As we look at our education statistics in the state of Michigan, we are leaving a lot of room on the table for improvement. This legislation begins to put kids in charge of the process -- not the teachers unions."
While Pratt said the MEA hopes to influence the bill in the Senate, Pavlov said he doesn't support the union's agenda.
"It doesn't do what we need to see happen," he said. "It doesn't deal with the probationary period, it doesn't recognize quality in layoff notices, it doesn't put teachers on the career path that rewards effectiveness in a way that they're currently rewarding longevity."
Calling all HuffPost superfans!
Sign up for membership to become a founding member and help shape HuffPost's next chapter