An inventor's workshop. A movie palace. A rock club. A car park. A skate park. The backdrop for Eminem videos.
Now it's one of America's strangest parking garages, but a peek inside the Michigan Theatre reveals why it's remained a landmark -- and has a unique story that explains a lot about the importance of preserving cities' historic architecture.
The former theater is attached to the Michigan Building, a partially occupied office tower, and might look familiar to some who have sought out urban decay photos. There's something radically visceral about cars parked in the garage under the crumbling but ornately decorated ceilings of the site that in its heyday hosted legends like the Marx Brothers, Frank Sinatra, Louis Armstrong and Doris Day.
"I think it can be just sort of startling to see to see such a stark illustration of the opulence and the artistry that we've let go of in favor of the convenience of the car," Preservation Detroit's executive director Claire Nowak-Boyd told The Huffington Post.
Unlike other historic buildings in Detroit, the Michigan Theatre hasn't been torn down or left vacant, though it hasn't been restored, either. But it may have a chance for further renewal: shortly after its sale was announced, it was pulled from public auction and was purchased by developers the Boydell Group last month for an undisclosed amount, Boydell spokesman Eric Novack told The Huffington Post.
"We saw a chance to preserve its integrity and history," Novack said.
Dennis Kefallinos, Boydell's president, also owns the Russell Industrial Center, a massive building in Detroit designed by Albert Kahn. Over the last decade Kefallinos turned the Russell into a focal point for creatives, housing several hundred artists' studios and galleries. The Boydell group hopes the Michigan Building will similarly draw like-minded tenants, though geared more toward startups and entrepreneurs than artists. And they plan to expand the use of the parking garage: Novack said the space will undergo renovations and that while it will still be used for parking, they plan to repurpose some areas of it to hold events. It's an opportunity for them to showcase some of the city's astounding architecture, Novack said.
The Michigan Theatre in a scene from the movie "8 Mile," starring Eminem.
Skateboarding, which has a long history of repurposing and reclaiming city architecture, seemed like a perfect fit for the Michigan Theatre, Koehler said. Koehler runs Assemble Detroit, a group that's organized cultural events connecting people from across the city around the question of, not is there a future for Detroit, but what is it, and do residents want to build.
"How do we see repurposing as an asset instead of a liability?" Koehler asked. For him and others, the varied answers to that question reveal one of Detroit's biggest strengths.
Nowak-Boyd said that Detroit's relative lack of development in recent history has actually been a force of preservation, keeping sites like the Michigan Theatre from potentially being demolished. The city is full of jaw-dropping pre-Depression architecture, though many sites are abandoned or in disrepair.
"The Michigan Theatre is definitely a complicated story," Nowak-Boyd said. "It's not a [typical] preservation success story but a really good site for storytelling about what preservation is and why it's valuable… there's a way in which it has become sort of a landmark in its own right.
"One of the current trends in urban planning is placemaking and thinking about what… makes people feel emotions about a certain place, and I'd say the Michigan Theater, not always place for optimism, but definitely a very unique place," she continued. "When you think about one-of-a-kind sites that give texture to the landscape that you're unlikely to find elsewhere, it's definitely that."
And constant reuse has been a defining characteristic of the Michigan Theatre. The location itself has a storied past, tied up in the city's auto history -- the theater was built on the site of the garage where Henry Ford built his first automobile. According to Novak-Boyd, Ford had to knock down a wall of the garage to drive it out into the city.
Constructed in 1926, the Michigan Theatre was an opulent movie palace built in the Italian Renaissance style. "Your spirit rises and soars along the climbing pillars and mirrored walls that ascend five stories to the dome of the great lobby," went a Detroit Free Press review of the theater, according to Historic Detroit.
Though the rockers kept the space alive, they also wreaked havoc on the once-lux interior, according to Historic Detroit. And it eventually became a parking garage, with some of the interior gutted but the original structure still there, if worn by the elements.

Will it ever again look like it did in 1926? Probably not, but that doesn't mean it won't have a vibrant future.
"Creative destruction is very much a part of our history, Nowak-Boyd said, "and is perhaps more central to our story than that of any other American city… This site encapsulates that."
Support HuffPost
A No-B.S. Guide To Life
Related
Before You Go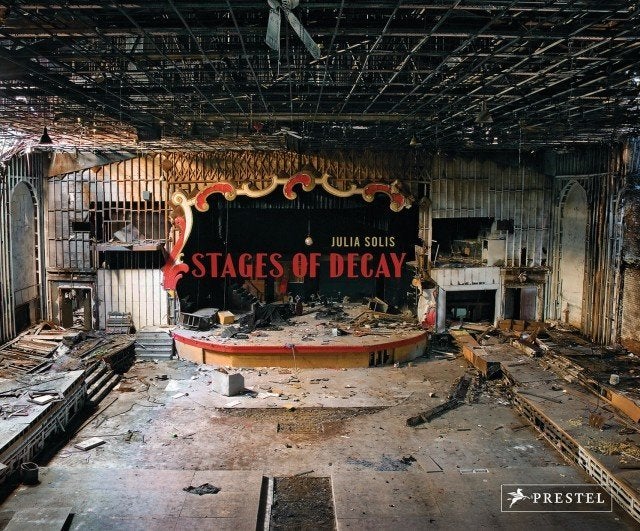 Abandoned Theaters In Julia Solis' 'Stages Of Decay'
Popular in the Community