University of Michigan graduate student Dana Greene took a knee, in his school's courtyard, the Diag, for 24 hours to protest racial injustice.
Days later, Trump's comments prompted NFL players to "take a knee" in defense of all players' right to peacefully protest racial injustice. And that's what inspired Greene to kneel in the school's courtyard. He knew it would be painful, but Greene felt the pull to protest and make a statement.
"We don't need to depend on our celebrities and athletes to do it. We can do it ourselves," Greene told HuffPost. "As long as we rise up as people like we've been doing and continue to do, we can really make a positive change in this country regardless of who holds the highest office in the land. Or any office, honestly."
His move has inspired other to kneel alongside him.
"When I started out here, I was out here for about four hours before somebody else took a knee," Greene told HuffPost. "To see so many people, so many different faces, different religions ― it was overwhelming."
Greene said he has been joined by people from all backgrounds. Muslim and Native American students have prayed for him while he's knelt. Even those who disagree with his protest have come to at least ask him why he's kneeling, Greene said.
Derrell Chapman, a junior at the school, heard about the protest through the campus' black community. Chapman said the atmosphere on the Ann Arbor campus has been tense, as a rash of hate crimes have made it hard to know what might happen next.
"We have been trying ot think of ways to protest and get the attention of UM's administration," Chapman told HuffPost. "As time went by, word started to spread that he was going to kneel on the Diag, and the whole black community wanted to support him."
Race issues have been part of an ongoing discussion on campus since the Black Student Union launched a hashtag campaign, #BBUM, in 2014 to discuss experiences of being black on campus, said The Michigan Daily's editor-in-chief, Emma Kinery.
When Kinery joined a panel marking the school's bicentennial last weekend, it became obvious to her that these issues are a reoccurring theme, she said.
"We did panels with alumni, and I was on the panel where we had a representative from each decade going back to the '40s, I believe, and it was really funny because one of the questions that they asked was, 'What was the defining moment of the decade of your journalism,'" Kinery told HuffPost.
"And it's really interesting because everyone said essentially the same thing ― that there was an issue with race relations in some sort. We're still experiencing the exact same problems; it's just in a different light."
Campus protests have come in many forms over the years, and Greene's has brought him plenty of attention. His daylong kneeling has even earned him a dialogue with the university president, Mark Schlissel.
"I want to work together with all our campus community to make U-M a more welcoming and inclusive place," Schlissel said in a statement. "I hope that despite the differences that exist here and in our nation, we can unite in the name of equality and justice for all."
Philip Lewis contributed reporting to this article.
Before You Go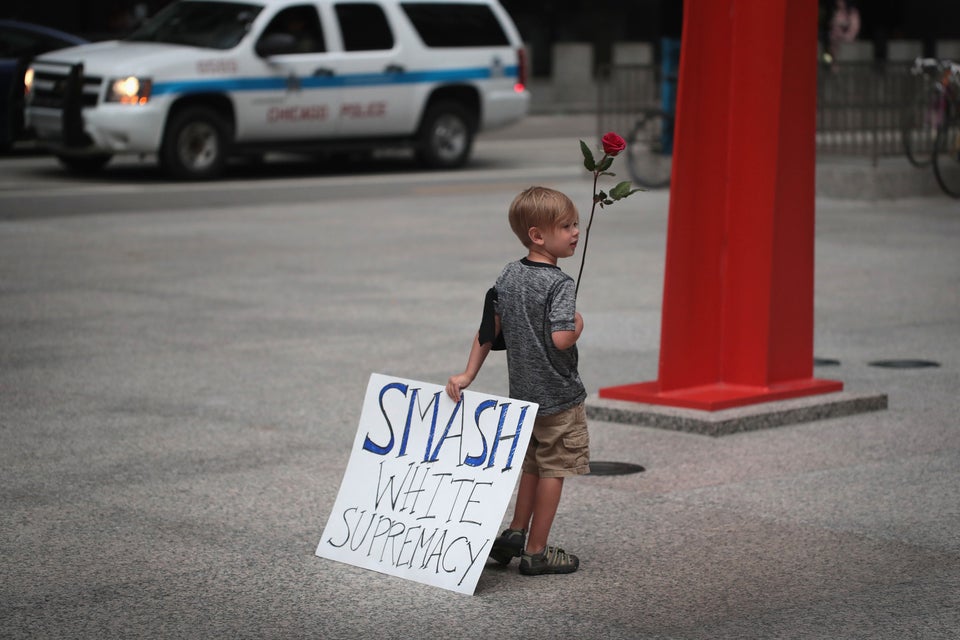 Powerful Signs From Charlottesville Protests Across The U.S.
Popular in the Community