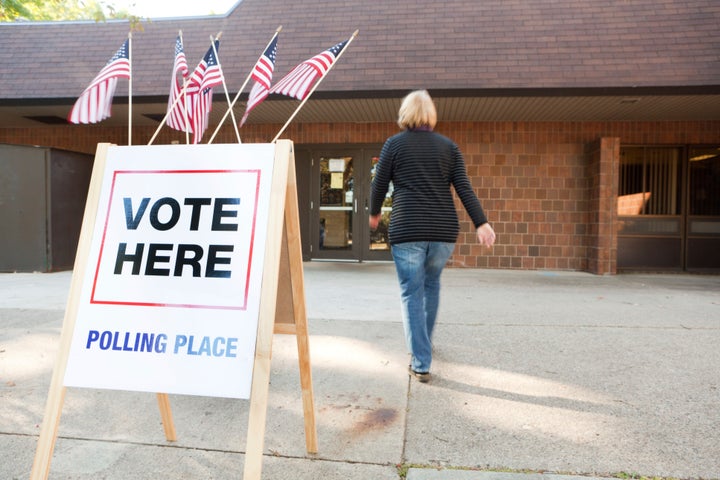 Civil rights groups in Michigan say they've collected enough signatures to allow voters in November to choose whether they want to amend the state constitution to include a series of measures designed to make it easier to vote there.
The potential constitutional amendment includes two elements that voting advocates say could significantly expand access to the ballot box: requiring the state's motor vehicle agency to automatically register people when they get a driver's license or personal ID card (people may opt out if they don't want to register) and allowing people to register to vote on Election Day. Michigan currently requires people to register to vote at least 30 days before an election, the earliest it is allowed to do so under federal law.
The measure would also allow people to use straight ticket voting, allowing them to choose an entire party's slate with a single notation. It would make explicit a right to cast a secret ballot and to have statewide elections audited. It would require that overseas and military voters receive ballots at least 45 days before an election — something advocates included after reports that some overseas voters weren't getting their ballots with enough time to return them by the counting deadline.
The proposed amendment comes amid a heightened focus on voting rights in Michigan and elsewhere across the country. A separate ballot measure designed to limit excessive partisan redistricting has already qualified to go before voters in November. The measures represent an effort to significantly change voting laws in the state by going around the elected officials who are affected by who votes and who doesn't.
Organizers of the effort, which include the ACLU, League of Women Voters and NAACP, turned in 430,000 signatures to state officials on Monday. The ballot measure needs at least 315,654 signatures to get on the ballot, and state officials will now review the signatures for it to be approved for Election Day in November.
Kary Moss, the executive director of the Michigan chapter of the ACLU, said the enthusiasm among Michiganders for the measure signaled a frustration with elected officials in the state. Looking at data from other states that enacted similar reforms, Moss estimated the proposals in the ballot measure could boost turnout anywhere from 2 to 9 percent.
"People [are] feeling a strong feeling that elected officials are not solving their problems, representing their views and that the legislature has failed to act and it's time for Michigan citizens to fix the problems," she said. "Our state is very gerrymandered. We have tried for years to accomplish these reforms legislatively, so that has not been successful. Michigan provides for citizens initiatives, and we're utilizing the tools that are available to us."
Currently, voters in Michigan who are under 60 have to provide an excuse if they want to vote absentee in the state. Not requiring an excuse, Moss said, could increase voter participation among people who can't make it to the polls on Election Day because of their jobs.
"No-excuse absentee is just a big deal in Michigan," she said. You have to be over 60, and you have to have an excuse. One of the things we're trying to do is make sure that every voice is heard and that people who work, who have two jobs, who are single parents, there's no reason to make it so logistically difficult. So that's kind of also, I think, a no-brainer."
Since 2016, 12 states and the District of Columbia have passed laws to implement automatic voter registration, and while data is limited, the early results are encouraging. Oregon was the first state in the country to implement the process in 2016 and added 375,000 voters to the state's rolls in a year and a half.
Moss said that the groups included rights to cast secret ballots and to have elections audited because of increased concern among the public about the integrity of elections. Russian-linked hackers scanned voting systems in 21 states before the 2016 elections, though there's no evidence any votes were changed. Donald Trump has consistently maintained that 3 million to 5 million people voted illegally in 2016, but there's no evidence that's true.
Michigan Gov. Rick Snyder (R) signed a law in 2016 outlawing straight ticket voting, but the law was temporarily blocked by a federal court. The U.S. Supreme Court declined to step in and allow the state to enforce the law in 2016 while the appeal was pending. Moss said straight ticket voting has been popular in the state for decades and people should have the ability to choose whether they want to vote for individual candidates or for a slate.
Anna Heaton, a Snyder spokeswoman, declined to comment on the ballot measure. Fred Woodhams, a spokesman for Michigan Secretary of State Ruth Johnson (R), said Johnson neither supported nor opposed the amendment.
Popular in the Community