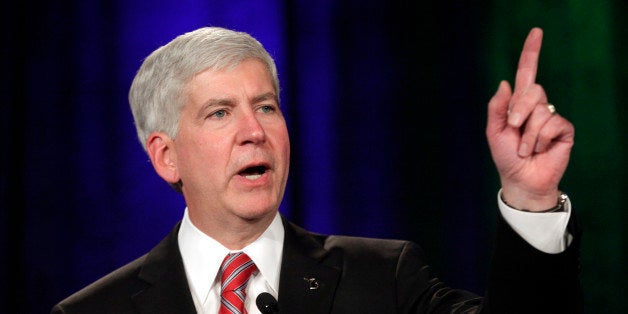 A new Michigan law that creates a suspicion-based, drug-testing pilot program for welfare recipients has been condemned by state groups and lawmakers as harmful to children.
Michigan Gov. Rick Snyder (R) signed Public Acts 394 and 395 Friday. The laws require the state Department of Human Services to create a one-year pilot program in which recipients of Family Independence Program benefits who are suspected of drug use will have to submit to drug testing.
If a test shows substance abuse, the individual will be compelled to enter a treatment program. He would only have his benefits cut off if he refuses to get treatment. If a person tests positive a second time, he becomes ineligible for assistance; however, the person can later receive benefits after passing a drug test. Refusing to take a test will make a recipient ineligible for benefits for six months.
While those in favor of the pilot program said it would protect children whose parents are abusing drugs, others like American Civil Liberties Union of Michigan Executive Director Kary Moss said it would do the exact opposite.
"While the goal may be to prevent taxpayer funds from being used for illicit purposes, these kinds of programs may instead throw families who are already in extreme distress and poverty into even worse shape, harming children who the state should help protect," Moss told The Huffington Post in an email. "Drug testing is also very costly, rife with false positives, and not a proven deterrent to drug use. What it will reveal is that the resources are not in place to help those with drug problems."
More than a decade ago, Moss and the ACLU of Michigan won a battle against a Michigan law that mandated randomized drug testing for welfare recipients. The law, the only one of its kind at the time, was ruled unconstitutional by a federal appeals court in 2003. Now, Moss wonders how the state will determine "suspicion" of drug use and whether using a broad criterion could still result in unconstitutional drug testing.
"While these bills talk about adults, as you know, the majority of those benefiting from cash assistance are children," Jacobs wrote. "Cutting off heat and the ability to pay rent will destabilize the households, leading to the breakup of families, an event that's particularly damaging to children."
Jacobs also questioned whether the state had adequate resources to treat addiction or even public transportation to get people to treatment centers.
"The companies we give tax breaks to are not required to be drug tested," Gregory said, according to the Detroit Free Press. "We give out tax credits to schools, students and police and fire [departments], and now the only ones subject to drug screening are the poorest of the poor."
In an earlier version of the legislation, an amendment introduced by Gregory allowed children to receive benefits through a third party if their parents failed a drug test. That amendment was stripped in the final law.
Michigan's Family Independence Program provides cash assistance for families with children and doles out about $400 monthly to 44,400 people, according to the Detroit Free Press. The drug-testing pilot program is to be created by next fall in at least three undetermined counties. Two months after it has been completed, the Department of Human Services will issue a report to the legislature.

Calling all HuffPost superfans!
Sign up for membership to become a founding member and help shape HuffPost's next chapter
BEFORE YOU GO
PHOTO GALLERY
Out-Of-Touch Politicians