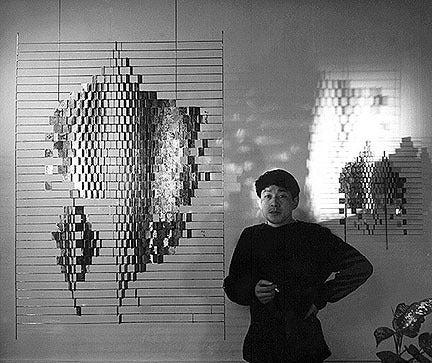 You may not know the name Michio Ihara, yet there is a chance you have seen one of his striking site-specific sculptures installed in a variety of public spaces. From skylight installations, to university auditoriums, to the lobby of a hotel Ihara has for over five decades created works of art throughout the United States, Australia, New Zealand, S. Korea, Japan, Singapore, Taiwan and Dubai that both engage with and project from the spaces they inhabit. They are often peaceful, thoughtful and always graceful yet there is a level of engagement that stimulates and uplifts the mind and spirit of the viewer.
Ihara's life experiences are extensive and in many ways exemplify the modern era with respect to the open-endedness of a new age discovery, design, aesthetic, purpose and content. Ihara was born in Paris, in 1928; earned a BFA from Tokyo University of Fine Arts, in 1953; obtained a Fulbright Grant to study with György Kepes in 1961 at MIT, followed by a position as Research Associate at the Department of Architecture at MIT IN '62.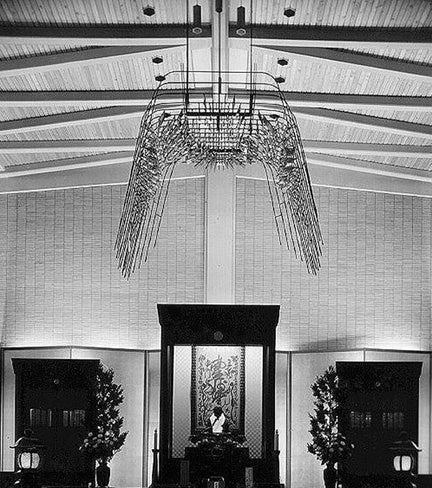 In 1964 he returned to Japan to pursue architectural commissions there, and briefly be an Instructor at the Musashino Fine Arts University in Tokyo. In 1970 he and his family moved back permanently to the U.S. settling in Massachusetts. Shortly afterwards, Ihara revisited the Pacific Rim in 1971 for an artist symposium in New Zealand and again in '77 for an art residency in Australia. His permanent studio finally came in 1981 when he moved to Concord, Massachusetts, where he obtained his U.S. Citizenship in 2001.
I recently had a chance to ask him a few questions about his life and work and the following is an excerpt from that conversation.
DDL: There is a palpable reverence in your work to the lyrical aspects of spatial relationships, while the use of what one could call hard and often beautifully surfaced materials suggests a greater interest in design and process. It is as if you are striving for a sense of permanence with the flexibility of movement and reflection. You are reminding us that with each day, comes a different kind of experience and that each and every (in this instance visual) experience dictates how we engage our surroundings. With that said, and assuming that each work has a very specific set of circumstances and intentions, would you say your work is meant to be as much an igniter of new thought as it is meditative and calming?
MI: I appreciate your question and how well it describes my intentions. When I had my first sculpture solo exhibition at the Steampfli Gallery in New York in 1977, George Staempfli wrote the following in the catalogue (you can find a copy at my website): "Michio Ihara works with stainless steel, with brass and copper, but mainly he works with space."
Whenever possible, after being asked to design a site-specific sculpture, I visit the future home of my work, often when the building is still under construction. I also ask for detailed architectural drawings of the space. And now that computer technology has become available, I recreate the space on the computer before beginning my design.
Being in the actual or virtual space is very important to me. Seeing the light in that space, feeling the air in the space, getting a feel for how people will move through that environment and all the possible points of view from which they will view the sculpture—all this comes first before the vision for the sculpture emerges. Often the viewers of the sculpture will be visitors in the space for a number of hours, or days, or years, and I want them to engage—to see that the piece presents a new face as they change position, that it incorporates light and shadow, changing throughout the day, and that, in the case of the kinetic work, it presents new faces as it moves.
DDL: It is so important that an artist, who is about to create a site-specific work, is thinking about the time visitors could potentially visually engage with the work over days, weeks and years. You have to leave room in your design and materials for a public work of art to expand thought and feed the spirit on a multitude of levels without being too direct or finite – it's a very difficult balance – a subconscious equilibrium that one must consider for a work of art to stand the test of time.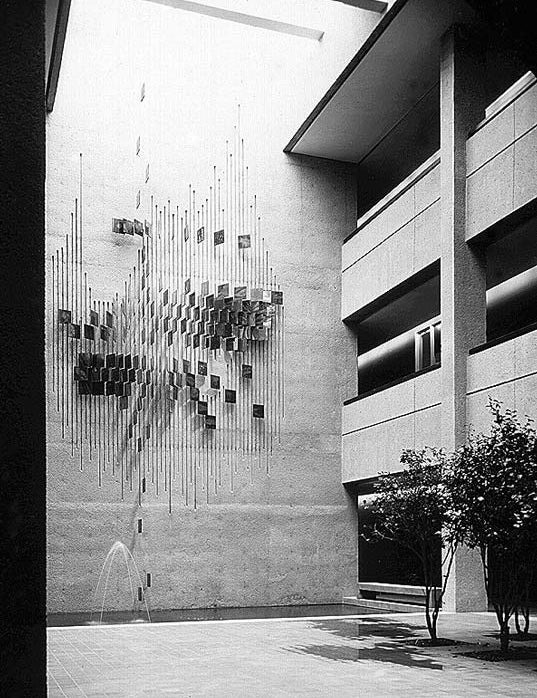 You mention in another conversation one commission in the Boston area – a wall relief at 275 Wyman Street Office Building in Waltham, MA. The building and the sculpture you had installed, which was a collaboration between you and the architects, your first such work in the U.S., was recently destroyed. This must have left a large void in your personal history as an artist. I know this has happened to you and to many other site-specific works by lots of other artists over the years but to have a work 'disappear' as you say, especially your first commission here in the U.S., must be quite devastating. How do you see this loss?
MI: The reason this particular work was so important to me, besides the fact that it was my first commission in the United States, was because I believe it was a product of an ideal collaboration between architect and artist.
Commissioning an artwork for a building is often an afterthought. For this building I was brought into the project very early on. The wall that was to be the site of a sculpture I had not yet been constructed. I designed a wall relief of squares of copper, the surface was 'painted' with flux then heated to create a rich multi-colored patina – all the squares fanned out from the concrete wall at gradually changing angles. Although it is not a kinetic sculpture, it appears to move or change as the viewer changes their position in the space. But an essential part of the piece are the grooves in the wall into which these square modules are anchored. My design of this linear element was incorporated into the wall when the concrete was poured, making the art a true part of the architecture.
I have, over my long career, worked with many fine architects and some of my most successful collaborations have been with designers who brought me into the process in its earliest stages.
An artist wants his work to be purchased, but losing control of your creation can be difficult. A painting may get taken off the wall and tucked away in an attic when the buyer tires of it, but in the case of public art work, the "tucking away" often means destruction. How can a sculpture on a forty-five foot wall be preserved when the building itself is being replaced?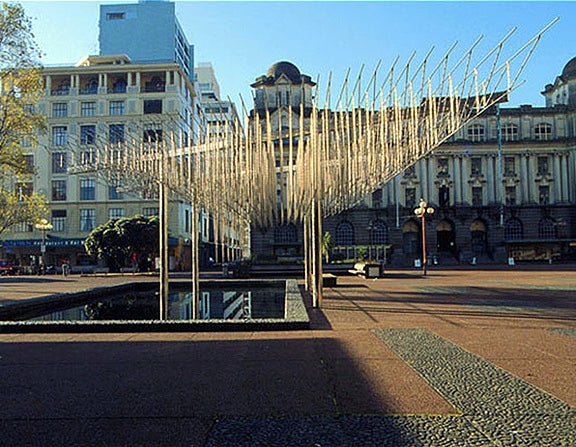 There is one nice tale to be told about preserving public art and that story comes from New Zealand, where I designed a piece during a Pacific Rim Symposium of sculptors in 1971. The other artists who participated all had their work fabricated and installed at sites in or around Auckland. My design was deemed too costly to produce. I went home and redesigned the piece. Seven years of fund-raising followed before the sculpture was built and placed in Queen Elizabeth II Square. Many years later the piece was to be removed for the construction of an underground bus terminal. Advocates lobbied to have it carefully disassembled and stored while they searched for a new location.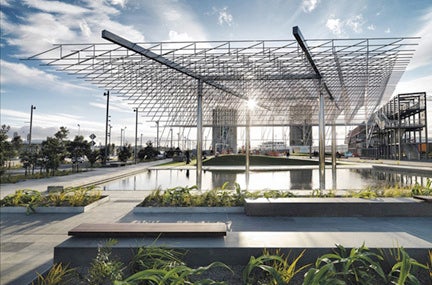 More years passed as the advocates had both budgetary and political battles to fight. The piece was finally completely rebuilt and installed at Auckland's Wynyard Quarter in 2011. I cannot express the degree to which I am indebted to all those who worked so hard for so long to save my sculpture.
DDL: That is an incredible story. It is always a pleasure to hear how important art is to so many people, how they, as a group, made it a priority to preserve and restore your work, a pursuit that never waned.
I think that passion from art lovers runs right to the core of what most artists desire, to be appreciated, remembered, to create works that have a timelessness that speaks to many generations.
When you design your works for a wall installation you know you have various lines of site that you can depend on whether someone is lost in their own world, distracted by life's ups and down, to someone who is totally fixed visually to their surroundings, always looking around and willing to discover something new. There has to be a very different train of thought when you are designing something that is suspended from a ceiling. There is a certain weight a work of art, a certain level of attention it commands when it is seen from below or way above the horizon from afar. St John's University Chapel in Taipei, Taiwan, comes to mind here – how powerful and alluring this work is even in pictures. Whether you are religious or not, it pulls you right up to the heavens. Was this a work that quickly came to you or did you go through numerous mental pictures and studies before you knew what you wanted or even needed to do?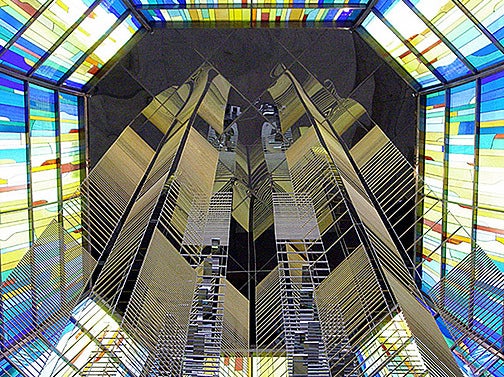 MI: This project came to me in an unusual way. Lyn Hovey, a stained glass artist who I had worked with before, wanted to collaborate on an installation for this university chapel outside Taipei. Although I designed the framework, I had very little input into the stained glass design. He chose the colors and shapes.
The chapel was not a new building, so we had to work with the form of the existing ceiling which resembles the inside of a volcano. Your description of the work pulling you right up to the heavens is quite accurate, because I chose to install an acrylic mirror at the center of the stained glass. It covers the supports for the sculpture and reflects the sculpture so that the viewer cannot be sure where the sculpture ends. The reflected image seems to rise infinitely. It is yet another example of what I mentioned before, how the space dictates the form the sculpture will take.
From the very start of the design process for this piece, I envisioned a ladder-like structure – the spaces between what might be called the "rungs" of the ladder varying – some closer together, some farther apart. The "rungs" are affixed to bead chain and each ladder section was rolled up in bubble wrap for shipping and gradually unrolled as the installation progressed. Early in the process they looked like a group of cocoons suspended in air. My son Akeo did most of the installation.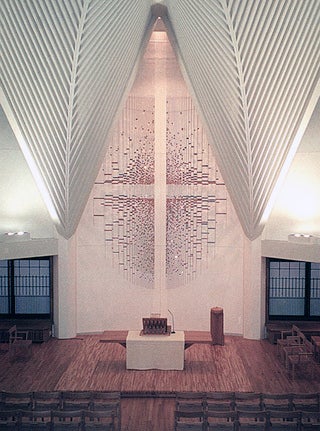 Although I am not a religious person, I have designed many works for religious spaces and find them ideal. Unlike a hotel lobby or an office building, the viewer in a church or temple is in the right place and, hopefully, the right frame of mind to focus on the work.
DDL: When I look at the images of the wind activated kinetic sculpture near the Harumi Municipal Pier Park piece in Tokyo, Japan, which you created in 1991, I am so profoundly aware of what you mean when you say: "the space dictates the form the sculpture will take". Here you have some of the architectural elements of the upper open framework of the nearby building's design repeated in the site-specific work, yet the space – the sea, which ends at the horizon, and the sky, which is endless – is the space. By making it kinetic (wind activated), polished and reflective, and suspending it over a pool of water you are, in a very succinct and literal way, joining or integrating nature's elements in the work.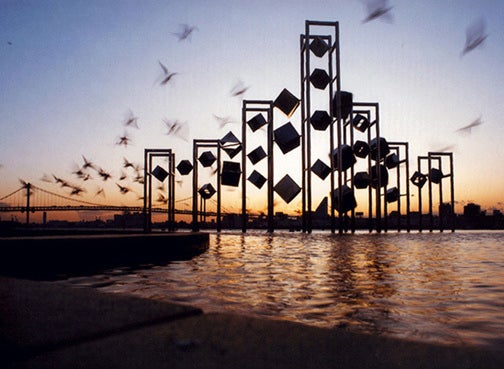 Twenty-five years earlier, in 1966, we have your stunning Imperial Theater installation in Tokyo, Japan. Here, you again use highly reflective material to mirror the luminous interior space creating a sort of dialog between you and the architect. Would you say that this aspect, the reflective element you often use, is in a way autobiographical as it suggests the artist's vision?
MI: In a way all artists' work is autobiographical, but reflectivity has been an important part of my work because it is characteristic of the material with which I have chosen to work. Light, shadow, and reflection are all extensions of the sculpture. I have one kinetic piece in the garden outside my studio in front of a wall unbroken by windows. The wall becomes a stage on days with sun and wind, the sculpture casting shadow and reflected light on the wall as it moves before it.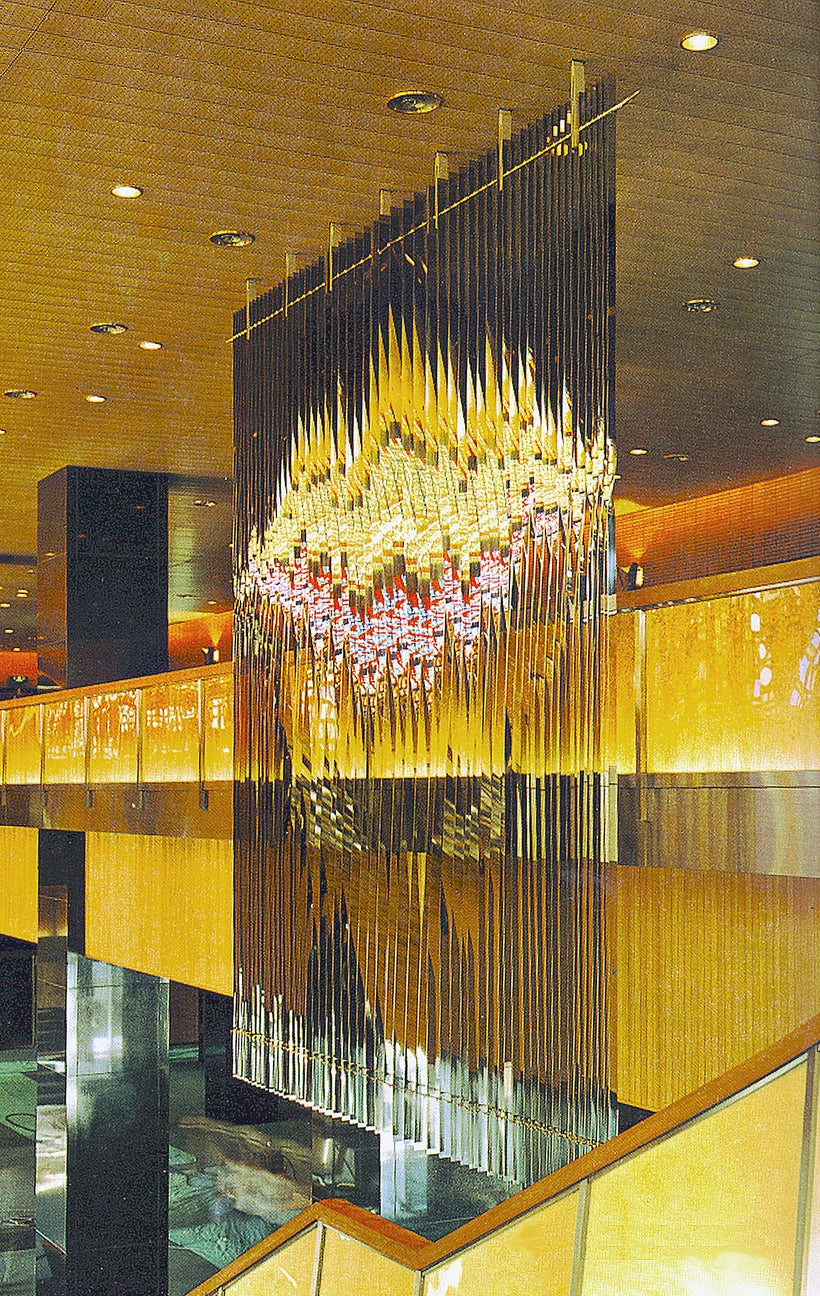 I previously mentioned finding success in being commissioned early on in a project. The Imperial Theater sculpture is an example of finding success in being brought into a project very late. When I received that job, the building was almost complete. I was asked to design something for a narrow space beside a staircase and another artist's stained glass wall was already installed on the opposite side of that staircase.
My piece reflects both the stained glass colors and the people walking up the staircase to the theater, but, unlike a mirror, the reflection is rotated ninety degrees because of the way I designed twists in the ribbon-like stainless steel elements of the sculpture. The movement of those climbing the stairs adds a kinetic element to a static sculpture.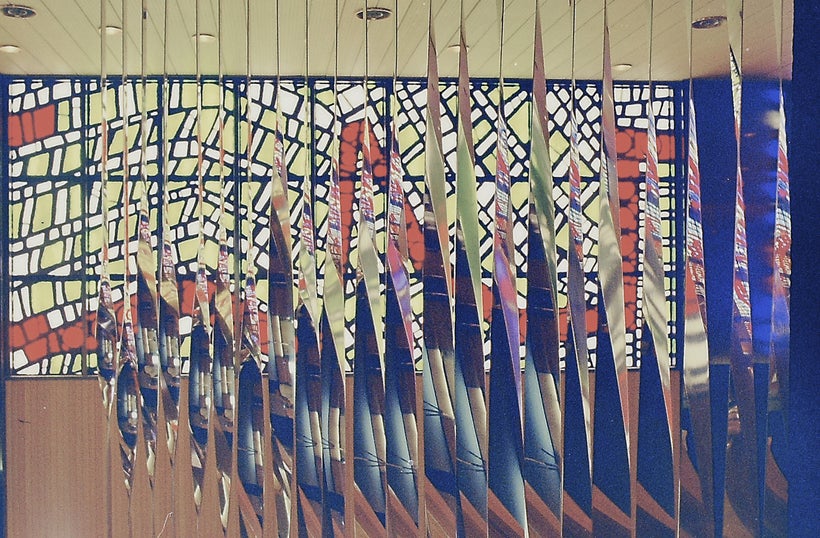 There is a Japanese phrase that refers to a traditional Japanese garden design—"shakkei 借景" Japanese gardens are sometimes designed for rather limited spaces, but some capture a wider vista and frame it so that it becomes a part of the garden design. So it is interesting that you have singled out two examples in my work of the concept. The Harumi sculpture "captures" the vista of harbor and sky, sometimes of a passing ship. The Theater sculpture "captures" the movement of theatergoers and the colors of the stained glass. So, although, I was not consciously aiming for "shakkei," you might say it is a part of my Japanese heritage and, therefore, autobiographical.
DDL: If we could, I'd like to focus a bit on your drawings from the 1950s, which I feel still look very contemporary. In some, there appears to be references to animals, or microbes or some sort of microscopic entities. In other works you can see a greater interest in non-representation where the work becomes more calligraphic or gestural, which in turn yields movement in design. What were you thinking about with these works?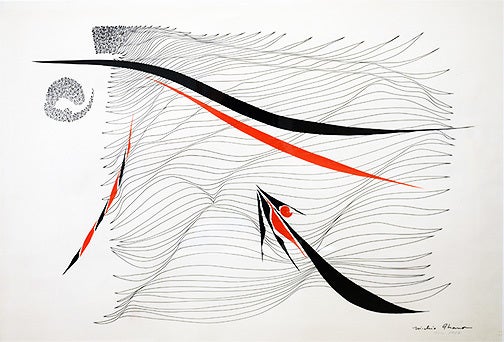 MI: It's interesting that you bring up my early work. Most of this work remained in Tokyo when I first came to the United States and was stored there when I returned to MIT as a fellow at the Center for Advanced Visual Studies and I decided to live and work in America. In the last few years, my brother has been shipping these pieces to me and I now have an exhibit at The Emerson Umbrella Arts Gallery in Concord of some of this work along with small sculptures I have completed in the past few years—my earliest and my latest work. The exhibit is called "Paper and Steel."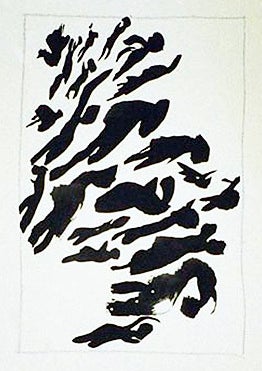 After four years of academic oil painting study I found that oil was not the material with which I wanted to express myself. Afterwards, I started to look for a more suitable medium. These gouache paintings and ink drawings are a record of my search for my own vocabulary on paper. Although viewers often comment on finding human or animal forms in these early works, I do not believe that was a clear motivation.
What becomes apparent when you see a body of my work, whether two or three-dimensional, is the way small units or modules, shapes or lines build into a larger whole.
The exhibition, Michio Ihara: Paper and Steel, runs through February 26. The gallery is open daily. The gallery address is 40 Stow Street, Concord, MA 01742. Admission is free. For more information please call 978-371-0820.
Calling all HuffPost superfans!
Sign up for membership to become a founding member and help shape HuffPost's next chapter
This post was published on the now-closed HuffPost Contributor platform. Contributors control their own work and posted freely to our site. If you need to flag this entry as abusive,
send us an email
.