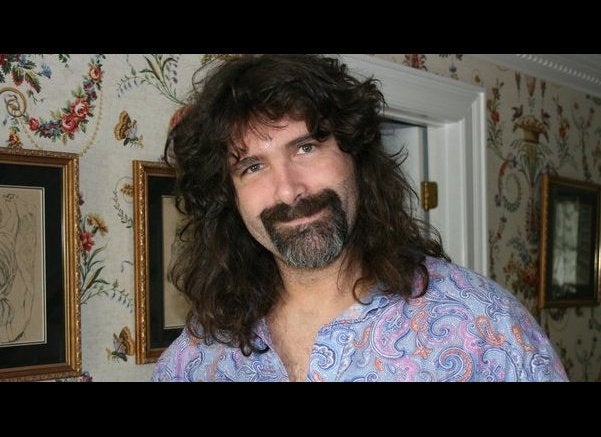 "One part hardcore badass and one part lovable dork had proven to be a successful formula." --from Foley is Good: And the Real World is Faker than Wrestling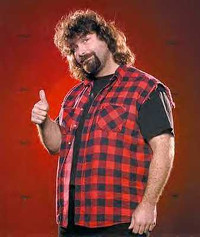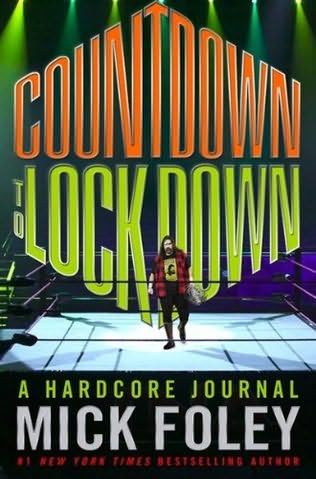 Mick Foley is a walking contradiction. He plies his trade in the world of professional wrestling, where storylines and feuds are scripted, the matches considered by many to be 'fake'--yet he is missing an ear, numerous teeth, and scars crisscross his body. His industry is dominated by oiled-up musclemen like Hulk Hogan and The Rock--yet he became a worldwide celebrity wearing a tattered red flannel shirt and pulling a sock puppet from his pants. Men (and often women) in his business make their bones by talking tough and acting tougher--yet the primary inspiration for his new book, Countdown to Lockdown, is...Tori Amos. He participated in the highest-rated segment in the history of Monday Night Raw--a "This is Your Life" sketch featuring Foley, The Rock, and...Yurple the Clown (go to the 6:20 mark). He retired from wrestling in 2000--yet will compete in a "Last Man Standing" match on October 7th, 2010 against Ric Flair, who also "retired" in 2008.
But these contradictions make Mick who he is: one part hardcore badass, one part lovable dork. He is a 'slightly left-of-center democrat', philanthropist, and crusader who donates tremendous resources supporting children in need and victims of sexual abuse--and a man who has been bloodied by barbed wire baseball bats more often than most people get paper cuts. I spoke to Mick about his fourth memoir, Countdown to Lockdown, his thoughts on former WWE CEO Linda McMahon's senatorial campaign, his work with charitable organizations RAINN and ChildFund International, and how he became Jon Stewart's personal ass-kicker.
Why did you decide to write Countdown to Lockdown?
I had no desire to write a book or anything until I just sat up in bed in Dublin, Ireland and felt like I had to write this chapter about meeting Tori Amos. And when I was done with that chapter I kind of remembered what it was that I loved about writing. And I thought I believe I have another book in me. And so I was probably the only wrestler in history to have meetings about the possibility of writing a book based on one chapter that really didn't seem to lend that easily to wrestling fans. I don't think anyone else will ever approach an editor with a wrestling chapter about singer Tori Amos.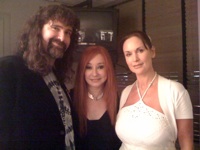 (Mick Foley, Tori Amos, Mick's wife Colette)
This is your first memoir written outside of the WWE (World Wrestling Entertainment) corporate umbrella. Did you feel that allowed you any more freedom writing it?
I actually had all the freedom I needed with the WWE. I was probably a lot more negative on that company with the last book I wrote (The Hardcore Diaries) which was a WWE book. I never felt restricted in any of the memoirs and I always fought for what I felt should stay in the book. And I usually got my way.
The book counts down to your match with Sting at TNA's Lockdown pay-per-view in April 2009, recounting the events and decisions that led up to it. You first feuded with Sting in 1991. How were the 2009 Sting and Mick Foley different from their 1991 counterparts?
Well we each move a little slower. And so we had to take into consideration our physical shortcomings in 2009. So we had to be realistic about what we could expect and given our limitations I think we did a pretty good job.
You have a lot of kind words for (Connecticut Republican senatorial candidate and former WWE CEO) Linda McMahon in the book. What are your thoughts on her senatorial campaign?
I was really kind of worried about seeing her because I hadn't seen anybody since I'd left the WWE. I think she makes a good candidate, a very interesting candidate, and I know that her opponents want to make the issue about wrestling itself, and I think that's a losing argument but it's their only argument because it's hard to refute somebody who's been so successful in a really rough economic climate. I think she's a good candidate because I think it's less likely that she'll participate in the partisan bickering that makes politics so frustrating for me to watch. She's not looking to be a career politician, she doesn't need the money, so she'll probably be rushing back to the grandchildren instead of political fundraisers, and I just don't think the McMahon in her is going to allow her to simply fall in line with party politics. Although she is running as a Republican, I don't think she thrived in the busuness she was in without a fierce independent streak.
Linda was criticized recently by the father of Lance Cade, who as you know is a former WWE wrestler who died at the age of 29. Linda had said she'd only met Lance once or twice despite him working for the WWE for five years, and Lance's father took umbrage with that. Obviously the world of pro wrestling has had its demons over the years--to what extent should the issues inside the WWE reflect on Linda's political aspirations?
Well I can understand Lance's father's frustration, but I think it's entirely possible that Linda only met Lance once. She was not on the road, most of the time she was in the office in Stamford, but I think if people want to blame Linda for everything they don't approve of, then they also have to give her credit for every good thing WWE has done. Every wish that's been granted over the last 25 years, every smile on the face of a service member when the company goes over to Afghanistan, Iraq, Kuwait to entertain and perform for free. And I think if you were to list the positives and compare them with the negatives, in political terms her approval rating would be tremendously high.
You've had several opportunities to go overseas and perform for our troops. What have those experiences been like for you?
Well you know what, you don't walk around wondering if you're appreciated, because the men and women in the armed services are so appreciative that people would spend the time in a dangerous situation to entertain them. There's a bond that's almost inexplicable between the wrestlers and the service members, although one form of combat is more legitimate than the other one.
You've been pretty politically active over the years and even taken part in organized debates. Is there any chance of us seeing Congressman or Senator Foley down the road?
You know, I was really thinking about it up until a couple of years ago, but you know politics have really gotten ugly, and I heard President Clinton talk about the fact that for a Congressman it's like one continual election cycle. It's a two-year term, so you almost have to start collecting money the minute you win the election. I wish something would be done about term limits and I wish our elected representatives would be able to do more work and less fundraising. These days I'm more concentrating on making a difference outside of politics, with the work I do with RAINN and ChildFund International.
The WWE's top dogs are John Cena and Randy Orton, and one of your first feuds in TNA was with Olympic Gold Medalist Kurt Angle. If you look at those three and compare them to Mick Foley, not a lot of people would believe you're all in the same business. How is it that people with such different looks, attitudes and styles have all been able to achieve success in the wrestling business?
I think in an odd way my look worked for me. I do like the current WWE product, but there's a lot of guys who look pretty much the same out there. So you've got to be a pretty discerning fan sometimes to be able to tell the difference. When I went out there, it was pretty clear that one of these things was not like the others.
Ever since the Chris Benoit tragedy, the wrestling world has been under a microscope in how it deals with substance and steroid abuse and the treatment of concussions. Do you feel the environment has changed since you first started wrestling?
I do. I think things are constantly changing for the better. Everybody in wrestling is looking at the information coming in on concussions. Everyone from the NFL to the WWE to TNA to the youth soccer groups around the country are realizing that there are dangers that weren't previously known. I think the environment is better, and I think people are more willing to admit when they're hurt so they won't be injured again.
Is it hard to look back at someone like Andrew Martin, aka Test, who was the victim of a lot of good-natured ribbing in your earlier books, and who recently passed away after a battle with addiction?
I did like Test, and he was a guy I kept in touch with for years after we stopped working together. One of my regrets is that he left me a message a few weeks before he died and I guess at the time I thought I was too busy to return the call. To tell you the truth I did not even know he had a problem with pills. I think that's by far the biggest problem facing wrestling, the painkillers and muscle relaxers, and because they are legal it's much more difficult to crack down on them.
You've made several appearances on "The Daily Show with Jon Stewart" (watch here and here) as their 'Senior Ass-Kicker'. What were the circumstances which led to that?
You know what? I'm sure Jon meets a lot of people every day, but he doesn't normally meet them at the Arlington National Cemetery which is where we met. And so we had a really nice talk at a USO event, and so I think when the idea of them using a wrestler came up, Jon specifically asked for me. Though I have no idea if he's actually seen me wrestle.
You've written four memoirs, three children's books and two novels with four different publishing houses. What have your experiences in the world of publishing been like?
You know, they've all been positive. I was told that the fact that I had nothing but good things to say about Judith Regan distinguished me. I enjoyed writing for Judith, I really enjoyed working with Victoria Wilson at Knopf, and Simon & Schuster, they've all been great experiences. I'm really encouraged by the group at Grand Central Publishing, they've been really supportive of the book despite the fact that it's something of a gamble on their part.
What's your current relationship with Vince McMahon like? And would you ever consider returning to the WWE?
I guess Vince was very appreciative of an article I wrote concerning Linda's candidacy. What do they say? Time heals all wounds? And I didn't really have that many wounds to begin with. The question is always, if you were asked, would you be willing to go to the WWE Hall of Fame, and up until a couple months ago I always hesitated to give an answer. But I would say, five years from now, if I got that call I would agree to it.
You've sponsored numerous children, helped fund a childhood development center in the Philippines, schools in Sierra Leone, a community center in Mexico and you're a weekly volunteer for RAINN's national sexual assault hotline. How big a part of your life is philanthropy, and what has it meant to you to work with RAINN?
It's probably the most important part of my life. I had to ask the representative from ChildFund if I qualified as a philanthropist, and she was like 'oh god, yeah.' I thought you would have had to give a lot more than I had. I'd always been a big believer in volunteering, and that's why being named RAINN's Volunteer of the Month this month has been as big of an honor as anything I've received.
On October 7th you'll be wrestling Ric Flair, who is 61, in a Last Man Standing match. You first "retired" in 2000. Flair also "retired" in 2008. Do you see a time in the future when Mick Foley legitimately hangs it up?
Well I thought I legitimately hung it up in 2000, and I did go four years without a match which is a lifetime in pro wrestling. At that time I really had this naive belief that the money I'd saved was going to make money, and a few years later I was like, 'wait a second, you don't even get to keep the money you saved?' With two economic downturns and four kids to put through college, I realized that I'd better take advantage of the wrestling world while there was still a market for watching me. I still have a few matches left in TNA. I do not want to wrestle any more than a handful of matches for whatever is left in my career.
So is there a chance we'll see memoir #5 in a couple of years?
I don't know if it would be a memoir. I have done a lot of writing for various groups, so maybe a collection of essays. So I don't think there will be another memoir per se. But I said that after the last one too.
Support HuffPost
The Stakes Have Never Been Higher
Related
Popular in the Community