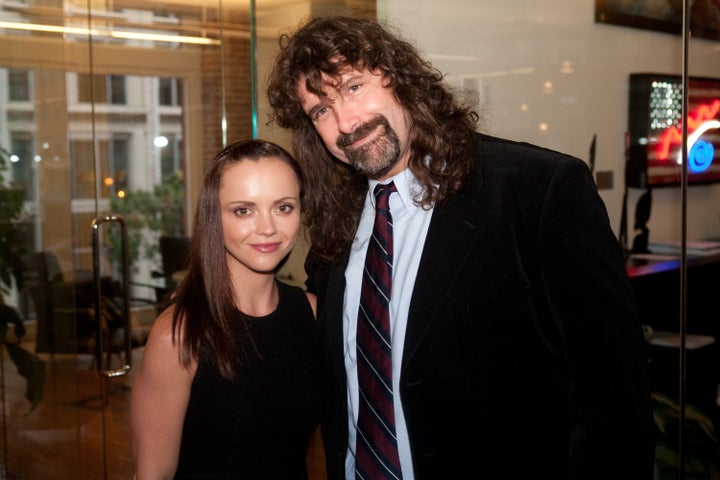 Mick Foley is missing part of an ear and a few front teeth. Known to some as "Cactus Jack" or "Mankind," the pro-wrestler's weapons of choice in the ring have included barbed wire bats, the mandible claw and a sock puppet aptly named "Mr. Socko," which often found its way down his opponents' throats. This bearded face, framed by haphazard curls, is not one that you would expect to proudly represent the movement to end rape and sexual violence.
But when Foley, 46, talks about sexual assault, which occurs approximately every two minutes in the US, he leans forward and his eyes ignite. As he makes his points, eloquently -- he has written New York Times best sellers without ghostwriters, after all -- the plaid-wearing wrestler makes sure that everyone in the room is listening.
"I remember being in seventh grade when I learned the definition of paradox," Foley told The Huffington Post. "It doesn't seem like a pro-wrestler would be able to lend much when it comes to a campaign against sexual violence, but for some reason I kept telling myself that it made perfect sense."
"A fan asked me if I was hard up on money, and I told him that RAINN was important to me, so I wanted to put my important stuff out there," Foley said.
Foley's interest in the cause began after what he calls "the best moment of [his] life" -- when he met his unlikely idol, Tori Amos, at Comic Con in 2008. After they met, Foley ventured onto the internet for the first time (a big heart and technological savvy do not always go hand in hand) to find a picture of the two of them on Amos' website. While perusing her page, Foley discovered that she was a co-founder of RAINN, which educates the public about sexual assault and prevention. It also maintains a phone hotline that partners with over 1,100 local rape treatment hotlines and online support networks.
"I was aware of the problems [RAINN] addressed, but until reading about it I assumed it was a problem that I couldn't help with," Foley said. "I had a really good friend who told me about her sexual assault about 25 years ago, and I didn't know what to say. I always thought that that was seen as not caring instead of not knowing what to do."
Foley decided to donate half of the advance he received for his book "Countdown to Lockdown" to RAINN. He then joined the organization's National Leadership Council. After that, in January 2010, he signed on to be an online volunteer. In his first year, he has clocked over 500 hours of counseling and has spoken to about 700 survivors of sexual assault.
"In some cases, the assault people have suffered is very recent, and sometimes it has been with the survivor for months or years or decades," Foley said. "In most cases, I am the first person that they are able to tell their story to."
The father of four is no stranger to community service. Foley has made monthly visits to wounded soldiers at Washington, D.C. military hospitals, and he famously appeared on "The Daily Show" threatening to beat up the bullies who threatened an elementary school student campaigning for marriage equality. Jon Stewart awarded Foley a Medal of Reasonableness for the hilarious public service announcement at October's Rally To Restore Sanity. Foley was even tempted to auction off his medal, along with other prized possessions, to raise money for RAINN, but his wife convinced him that some things were worth holding onto.
Foley volunteers because he sees sexual assault as an unaddressed but overwhelmingly prevalent -- and preventable -- issue. "When I look at an issue like bullying or sexual violence, they are 100% avoidable," he said. "So when I try to look at the larger puzzle and figure out where I can put my couple of pieces, I think putting it in a subject where conversation and education can lead to so much prevention, that it seems to me to be the perfect place for me to try to make a difference."
His fundraising efforts have even raised awareness and fostered unity within the wrestling world. Wrestlers have opened up about childhood abuse to Foley and both his current employer, Impact Wrestling, and former employer, WWE, have donated $10,000 to the cause.
"I was asked, does this mean you have to show up and mow Vince McMahon's lawn, and I said I certainly hope not," Foley said.
Foley has become fluent in the issues surrounding sexual assault. He has testified before Congress about the importance of eliminating the backlog of untested rape kits and spoken out against Fox News when the network criticized SlutWalks. At 6'2" and about 287 lbs, some survivors refer to him as their "own personal Hagrid."
While rape education has traditionally been geared toward teaching women about rape prevention, Foley believes the education of men is also critical. "Every father should talk to his son," he said.
Foley is hopeful that if he can spread the message that "this thing that you think of as a drunken exploit that you might brag to your friends about is shattering a life and the lives of people around [the survivor]," then maybe men will listen. "Everyone knows a survivor, whether you [are aware of it] or not, and I'm hoping that others, both unlikely figures and likely figures, will join the cause."
Popular in the Community