Mick Mulvaney, director of the White House Office of Management and Budget, said Sunday that existing legislation is enough to provide Puerto Rico with the debt relief it needs to get back on its feet.
Mulvaney's remarks on NBC's "Meet the Press," put to rest any hope for additional action that President Donald Trump inspired with off-the-cuff remarks on last Tuesday in which he said he would "wipe out" the debt Puerto Rico faces as it also struggles to recover from Hurricane Maria.
Although Mulvaney affirmed the need to reduce Puerto Rico's $72-billion debt burden, he argued that the PROMESA Act, passed by Congress more than a year ago, was sufficient for the task. PROMESA created a fiscal control board to oversee island budgetary decisions that critics charge has proven far more willing to impose new austerity measures than reduce Puerto Rico's unsustainable obligations to its creditors. 
The need to provide Puerto Rico with debt relief "does not mean that we're going to wave a magic wand and wipe out the debt, which is what many people interpreted the president to say, and it also doesn't mean we're going to bail them out, because we're not," Mulvaney said. 
Pressed by host Chuck Todd on what administration officials would do to relieve the debt, Mulvaney said, "We are going to, well, to mitigate the debt."
"We are going to work with them to rebuild the island," he added. "There is no question about that. How they deal with their long-term debt is actually part of an existing piece of legislation called PROMESA."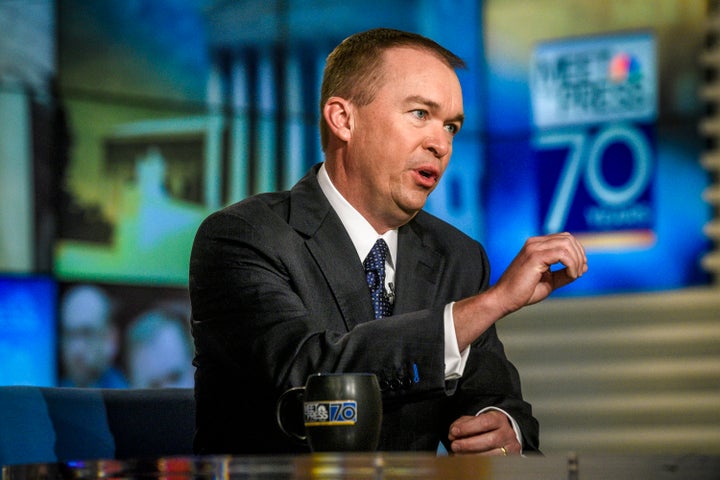 Earlier this week, White House officials already sought to dispel any impressions that Trump had intended to suggest that the federal government would simply force creditors to forgive Puerto Rican debt.  
Thus far, a group of big multinational banks that holds a major chunk of Puerto Rican debt have responded to Hurricane Maria's devastation of the island by offering its government new loans, rather than a discount on what is already owes.
Long before Maria, Puerto Rico had been suffering from a massive rise in poverty and emigration from the island to the mainland U.S. Spending cuts and tax hikes implemented to pay down the island's massive debt have plunged it into a prolonged economic slump with no end in sight.
REAL LIFE. REAL NEWS. REAL VOICES.
Help us tell more of the stories that matter from voices that too often remain unheard.
BEFORE YOU GO
PHOTO GALLERY
Puerto Rico Reeling After Hurricane Maria