WASHINGTON ― President Donald Trump's nominee to be director of the Office of Management and Budget all but admitted on Tuesday that former President Barack Obama drew a larger inauguration crowd than Trump did.
It is extremely unusual for a budget director nominee to answer questions about presidential inauguration attendance.
But given Trump's protestations that the media had misrepresented the size of his crowds, and transparent attempts by his staff to deflect against criticism of these claims, Sen. Jeff Merkley (D-Ore.) could not resist asking Rep. Mick Mulvaney (R-S.C.) about it at Mulvaney's Senate Budget Committee confirmation hearing.
Merkley held up enlarged aerial photos of Obama's 2009 inauguration and Trump's 2017 inauguration. 
"Which crowd is larger, the 2009 crowd or the 2017 crowd?" Merkley asked.
The photo of Obama's inauguration was on the left, and Trump's was on the right. 
"Senator, if you allow me to give the disclaimer that I'm not really sure how this ties to OMB, I'll be happy to answer your question, which was from that picture, it does appear that the crowd on the left-hand side is bigger than the crowd on the right-hand side," Mulvaney responded.
Merkley, not yet satisfied, asked Mulvaney to clarify whether he disagreed with White House press secretary Sean Spicer that the press had conspired to distort the size of Trump's audience and that in fact Trump's inauguration was the best attended inaugural ceremony in U.S. history. Mulvaney declined to comment on Spicer's remarks.
"Again, I'm happy to comment on the photograph. I'm not familiar with the statements. I do agree that the photographs are as you represented them," Mulvaney said.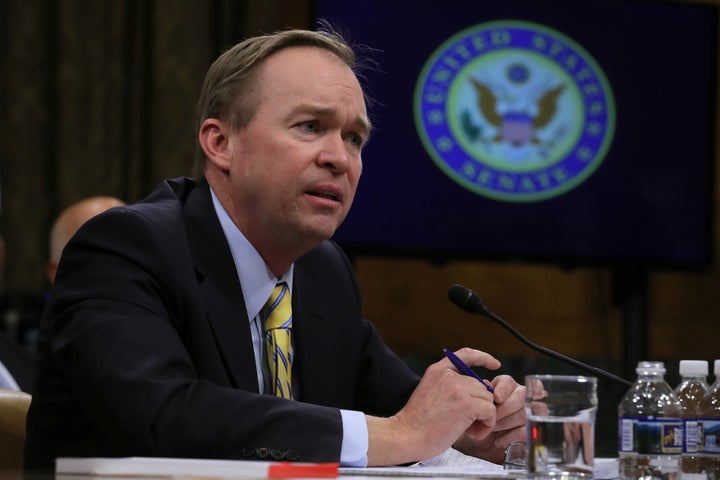 Merkley claimed that he was inquiring about the matter so thoroughly because as a top budget adviser to Trump, it would be essential that Mulvaney not share the same aversion to truth as some of Trump's top advisers.
He homed in on Trump senior adviser Kellyanne Conway's defense of Spicer's comments on Sunday as "alternative facts."
"Are you comfortable as you proceed as a key budget adviser presenting falsehoods as simply an alternative fact?" Merkley asked.
Here too, Mulvaney managed to reassure Merkley without addressing Conway's specific remarks.
"I have every intent and believe that I have shown up until this point, in my time in Congress, that I am deadly serious about giving you hard numbers and I intend to follow through on that," Mulvaney answered.
REAL LIFE. REAL NEWS. REAL VOICES.
Help us tell more of the stories that matter from voices that too often remain unheard.
BEFORE YOU GO
PHOTO GALLERY
2017 Scenes From Congress & Capitol Hill