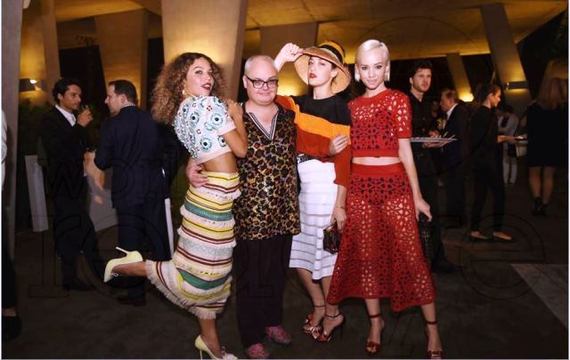 Mickey Boardman and swans Cleo Wade, Mia Moretti and Margot Moretti at the Paper Magazine Break The Internet party at 1111 Lincoln Road during Art Basel.
Photo credit: Seth Browarnik/WorldRedEye.com
We love Art Basel for many reasons, including the tidal wave of glamour that washes over Miami. And there was glamour in spades during the 13th annual Art Basel Miami Beach, where art, design, fashion, music, and celebrity blended into a deliciously decadent cocktail. The headliner superstars of Art Basel 2014 - and there were more than ever this year - were icons of pop culture: Peter Marino, Miley Cyrus, Jeremy Scott, Marina Abramovic, Dean and Dan Caten, Jeffrey Deitch and Kim Kardashian, the latter of whom was feted at a 200-person dinner thrown by Paper Magazine to celebrate its Break The Internet issue, which of course features the reality megastar and her ample attributes on its cover. Paper Magazine Editorial Director Mickey Boardman, a star in his own right, talked to us about that famous cover, his favorite Art Basel moments, and what he loves about Miami.
Tara Solomon: Mickey, many congratulations on Paper Magazine's Break The Internet issue and a cover that is famous around the world. Last weekend's Saturday Night Live mention of the cover and Art Basel party was genius, as was Nicki Minaj's send-up of Kim Kardashian. Did you ever think Paper Magazine's Break The Internet issue and cover would have such a global impact?
Mickey Boardman: We knew it would be big but never dreamt it would be so overwhelmingly huge.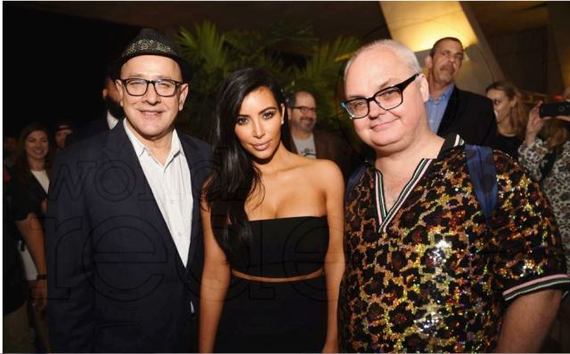 Paper Magazine editor/publisher David Hershkovits, Kim Kardashian, and Mickey Boardman.
Photo credit: Seth Browarnik/WorldRedEye.com
TS: How did the concept for the cover originate?
MB: Our chief creative officer Drew Elliott and I were in front of the office so Drew could have a smoke break. We were trying to think of how to shoot Kim K. in a very Paper way and Drew said half-jokingly, 'If we have Kim Kardashian on the cover it will break the Internet!' I said, 'Break the Internet? What a great concept for a whole issue.' So the editorial team worked on ideas that would create a sensation online.
TS: You were in Paris for the shooting of the cover. What was the tone on set?
MB: Yes, Drew and I were there. The tone was fun and excited. Kim was a dream and up for anything. She said if we were going to do this we should really go there. And we did. Jean-Paul Goude, the photographer, loved Kim's energy and attitude. He was super excited.
TS: How did the shoot evolve from an avant-garde fashion moment into avant-garde full frontal?
MB: Jean-Paul had originally suggested doing a shot that was partially nude. Kim liked it and we went from there.
TS: The Paper Magazine Break The Internet party during Art Basel was one of the most magical Art Basel moments in the fair's 13-year history, if you ask me, and I've been to my share of Art Basel parties! I absolutely loved the long Machiavellian tables laden with copious amounts of food, toys, and party favors, taking over the seventh floor of the 1111 Lincoln Road building. A seated dinner for 200 is very ambitious, but you, David, Kim, Drew, and the creative team pulled it off beautifully. What was the creative vision behind the event?
MB: Drew had the idea for it and wanted it to be a spectacle. As you know it's hard to make a splash at Art Basel because there are SO many events going on. We wanted to bring the issue to life and I think that happened.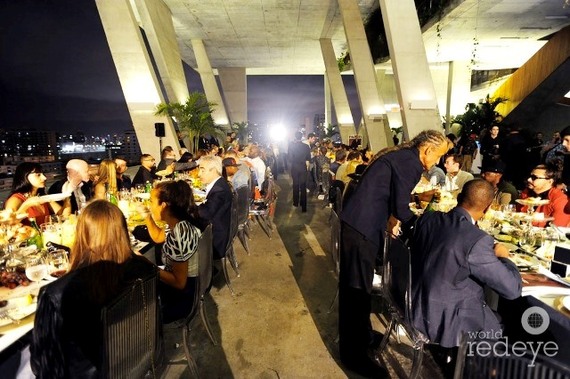 Paper Magazine's Machiavellian dinner for 200.
Photo credit: Seth Browarnik/WorldRedEye.com

TS: Other than the Paper Magazine Break The Internet dinner, what were some of your other favorite Art Basel moments this year?
MB: I had a great time at the Tumblr brunch with Marina Abramovic at The Standard. I love The Standard. It's so relaxed and cool. And I'm a slavishly devoted fan of Marina's. I basically went to the Edition every night. I'll go anywhere Ben Pundole goes. He's a genius. Also, the Moschino party at the Thompson Hotel was fun. It's always fun to see the new hotels and new clubs. Of course, the Miley Cyrus party with Jeffrey Deitch, V Magazine, MAC and Tommy Hilfiger was truly legendary. I'd never seen Miley perform and now I'm really a fan. It was incredible.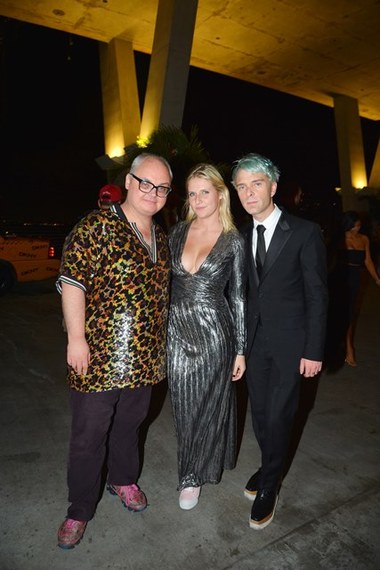 Mickey Boardman, Paper Communications Production Director Katie Karole and Drew Elliott at Paper Magazine's dinner. Photo credit: ©PATRICKMCMULLAN.COM
TS: What's your favorite thing about Miami in general?
MB: I love that it's so international and multi-faceted. Yes, you get gorgeous bodies and the beach, but you have great museums, restaurants, people from all over the world, and wild nightlife. Plus you have Twist, one of the best gay clubs EVER.
TS: Where do you like to go when you're in town? What are your favorite hangouts?
MB: Twist -- although I didn't make it this time, The Standard hotel, The Raleigh, and of course SoHo Beach House, which is great for breakfast or lunch meetings. Also, there's a little Cuban breakfast spot around 4th or 5th street that Michael Musto and I always go to when we're in town together.
TS: Who is your future Paper Magazine dream cover? Topping the Kim Kardashian Break The Internet cover would be a real feat!
MB: I have a real warm spot for the British Royal Family!
TS: Let's talk for a moment about social media. You've been a Twitter deity from the beginning of the platform's popularity, and you are a bona fide Instagram star. You also find time to post on Facebook. What's your favorite platform?
MB: I love Instagram the most right now but I still like Twitter also. For me, Facebook is only to keep in touch with high school friends.
TS: How many hours do you spend a day on social media? Do you use any scheduled posting apps such as Sprout or Hootsuite?
MB: I would say I spend a few hours a day on social media. In the morning, and before bed, and then here and there throughout the day. I don't use any scheduling apps. I'm all about real time!
TS: And by the way, I'm looking forward to your holiday Insta posts of the influx of glam gifts you receive. You are shameless, unfiltered and fabulous, and I adore you for it! Perhaps I'll come back as you in a next life.
MB: We can come back as each other! Although I don't know if I can fill out sexy lingerie as well as you can, Tara!
TS: If you could design any holiday windows in New York, where would they be and what would they look like?
MB: I would do Bergdorf Goodman and they would be European Royal Families between the wars, WWI and WWII. It's one of my favorite eras.
Related
Popular in the Community