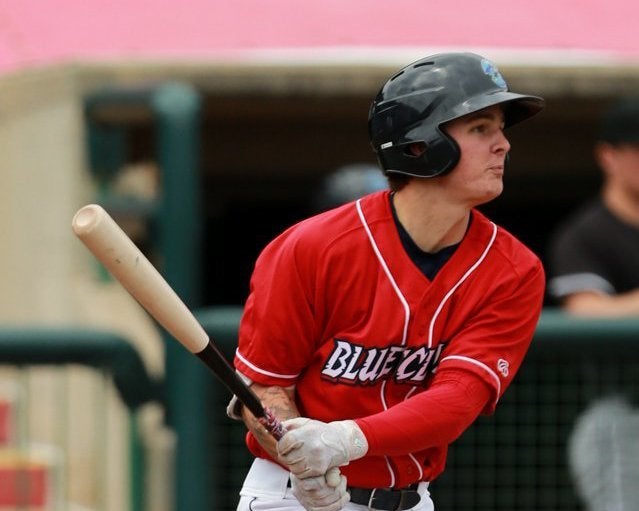 It doesn't seem like long ago that the Philadelphia Phillies were a perennial World Series contender, but the aging of a once-talented core led by Ryan Howard and Chase Utley made those days a distant memory, with a gradual swoon towards the bottom of the standings. Although their present outlook remains bleak, their reward may come in the form of outfielder Mickey Moniak, the first overall pick in the 2016 MLB Draft, whose natural ability will determine the course of a franchise.
Ted Williams redefined the art hitting during his iconic 21-year playing career with the Boston Red Sox and holds the distinction of being the last player to eclipse the .400 plateau in a single season (.406 in 1941). When his days as an active player concluded, he became a hitting instructor in the Red Sox' minor league system and mentored Moniak's grandfather Bill Moniak, who spent six seasons as an outfielder in the organization. Bill passed Williams' teachings to his grandson Mickey and installed an unshakable connection to the game.
"My grandpa taught me a lot. Growing up, I was always surrounded by big league baseball," Moniak said. "My family, cousins, and friends all played baseball. My grandpa and my dad also played baseball. The main thing my grandpa taught me was the right way to be about the game and it took off ever since."
Moniak began drawing national attention for his efforts in the 2015 WBSC U-18 Baseball World Cup where he helped Team USA capture a gold medal as one of seven future major league draft picks. He batted .286 in the tournament and began standing out among the finest amateur athletes. Moniak also led Team USA to gold in 2013 as a member of the U-15 team.
Moniak currently ranks as the Phillies second-best prospect behind shortstop J.P. Crawford on MLB Pipeline and has many characteristics that embody a five-tool player...
"Representing the United States is a whole different ballgame," he explains. "There is no greater honor. You are putting the letters U-S-A across your chest and you are playing for your families back home and the great people of this country. Winning a gold medal for them is no greater honor."
The euphoria of the 2015 WBSC U-18 World Cup carried over to Moniak's senior season at La Costa Canyon High School in California, where he emerged as the premier high school outfielder in the state, hitting a robust .476 with seven home runs and 12 triples. Moniak credits the efforts of head coach Justin Machado for furthering his development.
"Machado is always the guy to let you do your own thing," Moniak said. "He trusted me that I would perform like I could. It was a fun year and didn't really look at the draft and didn't put pressure on myself. I just went out there and had fun with my friends and it all worked out."
Unlike most drafts in recent memory, the 2016 MLB Draft lacked a true consensus No. 1 pick. Pitchers Jason Groome and A.J. Puk were the initial names rumored as potential targets at the top of the draft, but questions regarding their makeups caused their stocks to drop. In the days prior to the draft, Moniak's name began surfacing as a top pick and the Phillies eventually selected him first overall, agreeing to terms on a $6.1 million signing bonus.
"There was talk in the days before the draft that I would go pretty high," Moniak said. "There was interest from teams like the Rockies and the Phillies were always there. It kind of worked out for me. The last three days before the draft were pretty crazy. Thankfully, my agents were talking to the teams, so I didn't have to worry about much and it was fun. "
Fellow high school outfielder Blake Rutherford played with Moniak in the 2015 U-18 World Cup and was one of the names considered as a high first round selection during his senior year. Rutherford, also a California native, became the Yankees' first round pick and shares a close friendship with Moniak, extending into their minor league careers.
"Me and Blake are really good friends," Moniak said. "He is one of my best friends to this day. We became real close playing for Team USA throughout the high school year. When Lakewood visited Charleston, we hung out a little bit together. We have a really close relationship and I am excited to see where he ends up."
Moniak made his professional debut with the Gulf Coast Phillies before joining the Low-A Lakewood BlueClaws in the South Atlantic League for the 2017 season. To prepare for his first full season of professional baseball, Moniak spent the offseason lifting weights to add 20 pounds of muscle and grow into his frame. The training program commenced shortly after the end of the Gulf Coast League season.
"I went to strength camp with the Phillies last fall and we did a specific regimen they wanted us to do. It involves sprints, agility, and weightlifting, so it definitely helps on the field with a little bit quicker movements, especially on the agility side. It has benefitted me a lot."
Despite being one of the youngest players in the South Atlantic League, Moniak is already putting together strong figures with Lakewood, batting .278 with eight doubles and 16 runs scored. He also showcases above-average speed and the range necessary to play center field at a high level.
"It's been fun to get out and play in from of some fans and get out of the back fields of spring training, so it's definitely a first taste of what professional baseball is like and I have enjoyed the experience. We have a lot of great guys on this team and we are trying to compete for a title."
Moniak currently ranks as the Phillies second-best prospect behind shortstop J.P. Crawford on MLB Pipeline and has many characteristics that embody a five-tool player, such as making consistent contact and hitting for average. His attributes also extend to his defense where he makes strong reads with excellent closing speed. The areas that Moniak could look to refine are his power and the ability to drive the ball to the gaps, but given his makeup, he should improve with experience
"I am kind of an all-around guy," Moniak said. "I like to hit, play defense well, run, hit for power when I need to and the biggest adjustment for me so far has been playing every day. It is a little different coming from high school baseball, but I got used to it last year in the GCL and the main goal this year is to stay healthy and make sure my body is ready."
As the first Phillies' player taken first overall since Pat Burrell in 1998, expectations are high that Moniak will eventually make a great impact in Philadelphia. One primary benefit for a team in the midst of a rebuilding effort is affording enough time for prospects to develop their skills and identify pieces for the future. Moniak is one of the Phillies' most prominent young standouts as they seek a return to the glory of the recent past.
REAL LIFE. REAL NEWS. REAL VOICES.
Help us tell more of the stories that matter from voices that too often remain unheard.
BEFORE YOU GO