Even though today is Mickey Mouse's 85th anniversary, this Disney icon looks like he hasn't aged a day. Especially if you watch this classic cartoon character capering in his newest ground-breaking theatrical short, Get A Horse!
As you can see by the clip which accompanies today's article (which is a special anniversary present that Walt Disney Animation Studios is exclusively sharing with Huffington Post readers), the opening section of Get A Horse! deliberately replicates the look of the very first Mickey Mouse shorts that Ub Iwerks animated back in 1928.
"That was when Mickey was still new to the world. Back when there was a brashness to this character and anything seemed possible whenever he appeared on the screen," Lauren MacMullan, the director of this new WDAS production explained during a recent interview. "I really missed that version of Mickey Mouse. Those early synchronized sound cartoons that Walt & Ub poured their hearts and souls into. Those black & white cartoons had such a charm & an energy."
Well, as it turns out, just as Lauren was looking back with nostalgic fondness, WDAS was actually exploring new ideas for Mickey Mouse cartoons.
"Rich Moore -- my director on Wreck-It Ralph -- told me that 'You should pitch some ideas for that project,' Lauren continued. "So I re-watched a lot of the old black & white cartoons. And I just loved how Mickey could do anything in those shorts. How -- if he wanted to tip his hat to Minnie but Mickey wasn't actually wearing a hat at that time -- he'd just lift his ears clean off his skull. I wanted to tell a story that was set in that anything-is-possible universe. So I came up with a premise that I thought was kind of unusual."
And indeed it was. For as soon as MacMullan unveiled the piece of concept art that artist Brittney Lee had helped her create for this high profile pitch meeting, Walt Disney Animation Studios heads John Lasseter and Ed Catmull greenlit the film in the room.
"Which was pretty wild," Lauren admitted. "I mean, I've been in pitch meetings before. But I've never been in the room with the people who could actually greenlight a project. Much less have them greenlight that project right there in the room."
Mind you, Get A Horse! has a pretty unusual creative concept. So much so that it was immediately determined that this new Mickey Mouse short would need to run in theaters.
"Once that happened, Dorothy McKim -- who came on board as the producer of this short -- and I spent about a year developing a story for Get A Horse!, MacMullan stated. "We worked with some really talented people here at the Studio to make an authentic-looking Mickey Mouse cartoon from the late 1920s. Something that Walt & Ub would have put together, back when everything was done on deadline and Disney Studios didn't have a whole lot of time or money to spend on the production of these shorts."
And to produce an authentic-looking replica of a late 1920s Mickey Mouse short, MacMullan & McKim turned to a modern animation master, Eric Goldberg. Best known for his work with the Genie in Disney's Academy Award-winning full-length animated feature, Aladdin, Goldberg has long been celebrated for his ability to get inside other artists' heads. To be able to replicate the particular animation style of a specific artist with an often eerie accuracy.
"This is something that I learned to do while I was in London doing animation for Richard Williams Studios," Goldberg explained. "And when it came to Get A Horse! ... Well, I had to set my mental clock back to the late 1920s. For there are a lot of animation techniques that are used today that weren't invented yet or weren't commonly employed by people who worked in animation back then."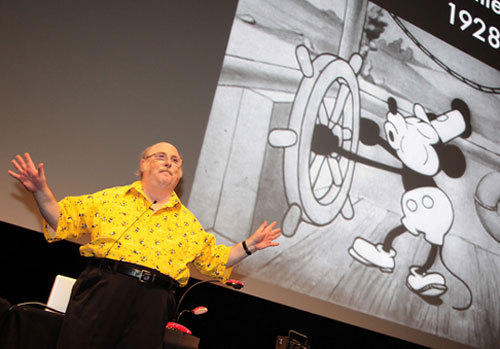 So Goldberg and some WDAS vets then jumped into production on Get A Horse! Employing every trick in the book in an effort to make this new cartoon look like something that had been made back when Mickey was celebrating his first anniversary, not his 85th.
"Part of the way that we made Get A Horse! look like something that Walt & Ub made while they were rushing these shorts through production is that -- once we'd finished animation -- we'd then go back in and deliberately insert mistakes," Eric said. "We'd tell Gina Bradley, our head of scene planning, that she needed to go back into a particular scene and -- for just two frames -- make the buttons on Mickey's pants go from being white to black. Oh, us hand-drawn guys had a ball working on the first two minutes of this short."
Ah, but given that Get A Horse! is 7 minutes long, what happens in the other five minutes of this Walt Disney Animation Studios production? Would you believe eye-popping, full-color 3D insanity? But in order to get the full experience, you're going to have to go to a theater next week and catch a screening of Disney Frozen. Where this new Mickey Mouse short acts as a curtain raiser for that new full-length feature.
But know this: Before MacMullan came to work at the Mouse House, she spent a lot of years working on The Simpsons and King of the Hill. And a lot of the irreverent fun that you find in those animated television series permeates Get A Horse! Which has Mickey doing things that -- in the 85 years that this Mouse has been in show business -- he's never done before. Which is why there's already quite a bit of Oscar buzz building around this new WDAS production.
Jim Hill is an award-winning entertainment writer who lives in New Boston, NH. Over the past 30 years, he has interviewed hundreds of veterans of the animation & themed entertainment industry and written extensively about The Walt Disney Company.
Jim is currently working on a behind-the-scene history of the development & construction of Disneyland. For his more immediate musings on movies, TV shows, books and theme parks, please check out his blog, jimhillmedia.com.
Popular in the Community