Although you may have been completely unaware of her existence before this moment, Felicity (or possibly Amelia) Fieldmouse is the older sister of Mickey Mouse and mother to his nephews, Morty and Ferdie.
The character has only appeared in comic books, and therefore not too much is known about her backstory, but according to The Disney Wiki, she works as a journalist. Although it may just be wishful thinking coming from a person in media, that is also a job her brother has supposedly occupied.
Below is a further examination of what we know about the character, aided by clarification from her graphic creator, Paco Rodriguez, who responded to The Huffington Post's inquiries.
Her first appearance supposedly came in 1932, where her relationship to Mickey was still unclear. Below is the English translation from an original Dutch version.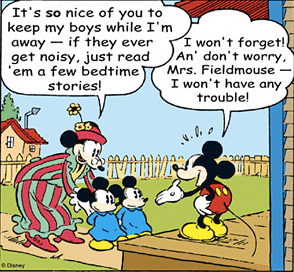 It seems that this Mrs. Fieldmouse, first name Amelia, may have not originally been intended to be Mickey's sister -- given the apparent age difference and Mickey's use of her last name. Then again, maybe the two mice just didn't get along all too well?
In any case, the character supposedly got a sort of reboot decades later when Egmont Publishing released a comic that involved her sons, with the company's Lars Bergstrom editing. In these versions, her name was changed to Felicity, a character created by Disney writer Paul Halas, according to the graphic creator Rodriguez.
It was specifically said at least in this version, that Felicity was the older sister of Mickey Mouse.
Rodriguez explained that he, Bergstrom and Halas (HuffPost was unable to contact the latter two) only spent a week in Copenhagen, Denmark, fleshing out the comic series' storyline. This series centered around a European football team called the "Riverside Rovers," along with Mickey's nephews and Goofy's nephew, Gilbert.
There is a gap of knowledge here, considering that although the Disney Wiki claims the Amelia character is supposed to be the mother of Mickey's nephews, it is unclear if this is explicitly stated in the comic. It is not entirely clear that Amelia and Felicity are definitely the same person and Rodriquez was also unsure.
HuffPost reached out to Disney, but had yet to receive clarification by the time this article was published.
The updated character was apparently married to Frank Fieldmouse, giving Mickey a brother-in-law, as well.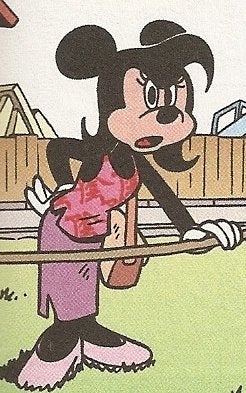 This husband has yet to be officially depicted, even in a comic, but his last name is why the Felicity character apparently has a different surname than Mickey Mouse.
Once again, it is not entirely clear whether Felicity is the original Mrs. Fieldmouse or if Amelia is her mother-in-law or a similar relation. You can clearly tell that the characters look very dissimilar and the ages are different, but this may be due to a reboot.
Disney Wiki claims the reboot is the cause for the changed names and looks, but HuffPost was unable to independently verify. Unfortunately, the original designer from 1932, Floyd Gottfredson, died in 1986, while the Felicity designer, Rodriguez, was also unsure.
Maybe someday this mouse will get her own movie and we'll learn more about her life in Mouseton, USA.

If she's truly a journalist, we'd certainly love to publish her next scoop. Maybe she can get to the bottom of why her brother almost never wears a shirt or even join our Entertainment section in covering Donald Trump.
At the very least, it'd be nice if she could verify whether her name is Amelia or Felicity, or both, and if they are two separate people. Whatever would get the Pulitzer.
UPDATE: A few days after this article was published, Egmont Publishing got back to HuffPost confirming Felicity was Mickey's sister, while adding that the two only interacted in the issue, "Role Model," and that the comic series was centered around European football.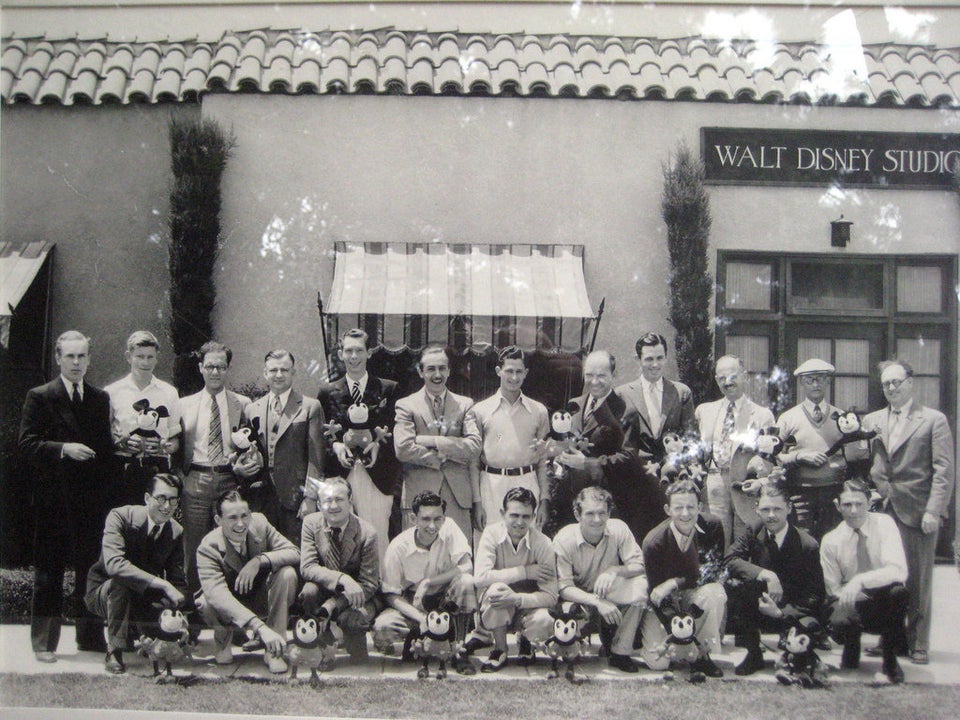 Vintage Disney
Popular in the Community