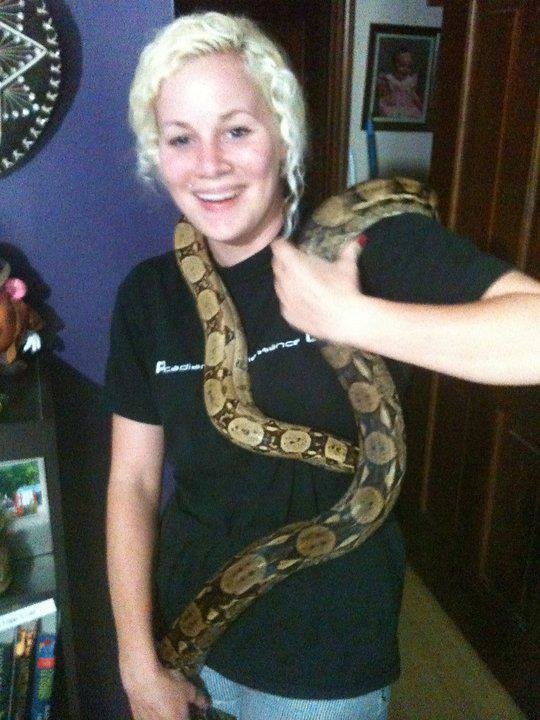 Authorities in Louisiana say they do not believe there is a link between the disappearance of University of Louisiana student Michaela "Mickey" Shunick and that of missing Indiana University student Lauren Spierer.
It has been almost two weeks since the disappearance of Shunick, a 22-year-old senior anthropology major. An avid cyclist, Shunick was last seen in the early morning hours of May 19, when she left a friend's home on Ryan Street in Lafayette. Shunick was cycling to her home on Gov. Miro Drive -- a distance of about four miles -- when she vanished without a trace.
Spierer, 20, was last seen on June 3, 2011, around 4:30 a.m. just a few blocks from her Smallwood Plaza apartment in Indiana. Earlier in the night, Spierer had visited a nearby sports bar that closes at 3 a.m. When she left the establishment, she left behind her shoes and cellphone, and reportedly went to an acquaintance's apartment before deciding to walk home. What happened to her after that remains a mystery.
MICKEY SHUNICK PHOTOS: (Article Continues Below)
PHOTO GALLERY
Mickey Shunick
Despite a distance of about 900 miles between the two cases, there was almost immediate speculation among armchair detectives and several media outlets that the two cases could be connected. The similarities between the young women and the circumstances -- two petite blond women who disappeared after nights out with friends -- were too coincidental to ignore, it was suggested.
Nevertheless, the two agencies investigating the cases -- the Lafayette Police Department and the Bloomington Police Department -- have compared notes and "found no connections," Lafayette police said.
With regard to Shunick, police have reviewed area surveillance camera footage, revisited the route they believe she took on her bicycle and have conducted multiple searches, all to no avail.
On Sunday, two fishermen found Shunick's black Schwinn bicycle beneath the Whiskey Bay I-10 Bridge, in a remote, swampy area of Iberville Parish. The location is located about 25 miles east of Lafayette.
According to Cpl. Paul Mouton, a spokesman for the Lafayette Police Department, the bike was almost completely submerged, with the exception of a small section of the frame. Once removed from the water, it was evident that the bike's rear rim and tire had been damaged. Authorities believe the bike was purposely dumped in the waterway on the day Shunick disappeared. The bicycle is currently being processed by the Louisiana State Police Crime Lab.
"We're waiting on the forensic experts at the state police crime lab to inspect it. Hopefully they can get some hard evidence," Mouton told The Huffington Post.
The discovery of the bicycle prompted searches of Iberville Parish involving air, land and water resources, but nothing more of interest was found. Those searches have since been suspended.
Prior to the discovery of the bicycle, authorities had released photos of three vehicles of interest that were seen in Lafayette shortly after surveillance cameras captured a cyclist, believed to be Shunick, peddling through the area. The vehicles have been described as a truck with a bed cover and tinted windows, a white four-door Chevrolet Z71 and an '80s or '90s four-door vehicle with body work on the right-rear quarter panel. Police said they are interested in locating the vehicles and speaking with the drivers.
Shunick's mother, Nancy Shunick, did not immediately return calls for comment from The Huffington Post on Wednesday. Last week, Shunick told HuffPost that she feared something terrible had happened to her daughter.
"I think that someone saw the opportunity and grabbed her," a tearful Shunick said. "She does carry pepper spray, but someone might have overpowered her."
Shunick is described as a white female, 5-feet-1-inch tall and approximately 115 pounds. She has shoulder-length blond hair and blue eyes. Shunick has a small tattoo of a bicycle on her right outer ankle and a nose ring on her left nostril. She was last seen wearing a pastel striped shirt, light-wash denim skinny jeans and silver ankle boots. She was carrying a light brown leather backpack, a black-and-yellow Vera Bradley wallet, a black Verizon slider phone and a small pink container of pepper spray.
Police in the Lafayette area encourage anyone with any information regarding Shunick's whereabouts to contact them at 337-291-8600. Shunick's family has created a website and a Facebook page devoted to the search.
REAL LIFE. REAL NEWS. REAL VOICES.
Help us tell more of the stories that matter from voices that too often remain unheard.
BEFORE YOU GO