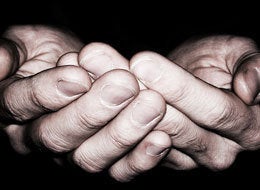 Thirty years ago, a young economics professor named Muhammad Yunus started a new kind of banking in Bangladesh -- tiny loans to small entrepreneurs. Few thought these dreamers in a dirt-poor country would ever repay. But most did --- and in 2006, Yunus won the Nobel Peace Prize.
Micro-lending has changed lives, built communities and created unlikely leaders.
Now a wave of friends and "loose ties" within the social media community are bringing the micro-lending concept and applying it to charitable giving.
Late last week Laura Fitton of Pistachio Consulting launched a new kind of fundraising drive: an effort to raise $25,000 for a nonprofit called charity: water, a cause that works to bring clean, safe water to developing countries. She chose Twitter as her platform for financial pledges. And because she was aware of the bleak economy bearing down on her friends, she didn't want to lean on them for significant contributions. "I asked for $25,000," she says, "which would be just $2 for each reader I have on Twitter."
In four days, @wellwishes had raised over $5,000. Average pledge size has been $8.50, the median is $2. And the beneficiary has taken notice. "I see micro-giving as the next stage of online fund raising," says Scott Harrison, founder and president of charity: water. "The idea of thousands of $2 gifts adding up to wells in Africa that impact thousands of lives is something everybody can get behind."
Though reminiscent of the Obama campaign's decentralized funding, @wellwishes is a whole new model because it incorporates convenient, tiny donations made right on Twitter -- the word-of-mouth powered social network and microblogging platform. Using payment service from a company called Tipjoy, it's both simple and social to give. Your pledge shows up on Twitter as "p $2 @wellwishes for charity: water to save lives" (This is shorthand for "pay $2 to the Charity organization whose user name on Twitter is wellwishes.") And that message goes -- instantly -- to all of the people who follow you on Twitter.
Laura Fitton (her Twitter user name is Pistachio) kicked off the campaign with an announcement of the experiment:
p $2 @wellwishes just to practice my hand at using micropayments on @tipjoy
In a later Tweet, she made her appeal:
I want something TOTALLY insane for Christmas: 12,500 people each to donate $2 for clean water @wellwishes.
And many did. Okay, these are pledges, not donations. But just as poor people pay their micro-loans, so micro-donors make good on their pledges -- so far, an astonishing 86% have come through.
And then there's the fact that the request gets personalized as people pass it on. Some add just a phrase: "very cool". Others say the same thing, but with more characters: "small bits via Twitter + big audience = good xmas".
The message is as important as the medium --- using Twitter/Tipjoy, everyone who participates is both a donor and a broadcaster.
That suggests we're entering a new era in fundraising and perhaps other social/political causes. What's new? Virtual tribes -- networks of caring people with more commitment than cash.
And that's what excites us about micro-giving: It takes so little. You might not have much to spare, but you've got a penny jar -- and we all know that if you reach in and remove a handful of change, you'll feel no pain. What's great about the new, frictionless online giving we're testing here is that, if you've got a good cause, you no longer need to spend a fortune on real-world marketing. Online, with word of mouth and simple technology, pennies can become serious money.
Muhammad Yunus says that we can create a poverty-free world "if we collectively believe in it." That's a lot of belief. It will be easier to create that world if good causes have adequate funding --- and if they can get that funding a few pennies at a time.
That, it seems to us, is a "very cool" idea. So give it a whirl. Give here and support charity: water, and be among the first to try what we hope is a new way to give online --- micro-giving. For which you get large thanks.
Maybe we should call it change for Change? Sorry, couldn't resist.
John Borthwick is CEO of betaworks, and Kenneth Lerer is Vice Chairman of betaworks (and Co-Founder & Chairman of the Huffington Post). (betaworks is an investor in Twitter and Tipjoy. Tipjoy waived all fees for this effort, and, with betaworks, is making a matching gift.)
Popular in the Community