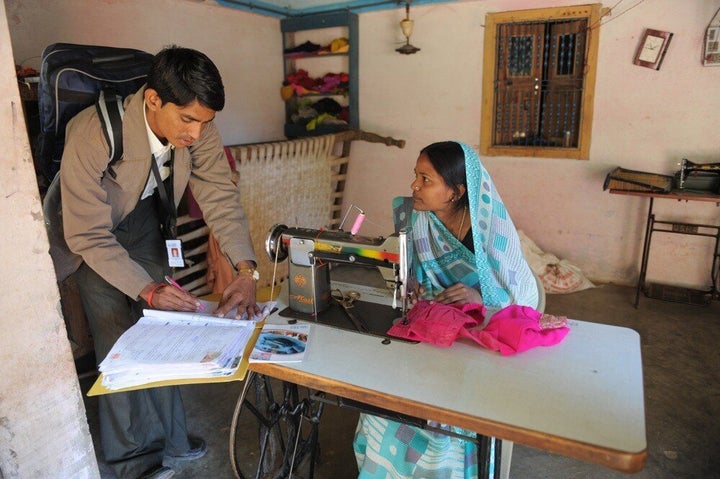 Judging from last year's lobbying by the financial sector to block the new Consumer Financial Protection Bureau, one would think banks are just plain anti-consumer protection regulation, almost by reflex. That's why it is so encouraging to see the global microfinance industry embrace a campaign to promote strong consumer protection principles.
Like the mainstream financial sector, the microfinance industry has come in for criticism in the past year. Problems of over-indebtedness among microfinance clients surfaced in India, Nicaragua and a few other countries. Given that their clients are among the vulnerable people of the world, providers of microfinance take such problems very seriously. Across the microfinance industry a deep examination of performance is underway, as well as work to create structures that will incentivize good practices.
Much of this work has been done through the Smart Campaign, a global effort to implement a set of Client Protection Principles and the practices that go with them throughout the industry. The Campaign now has over 2,300 adherents, including microfinance institutions (MFIs) that serve at least 40 million clients. In the last year, at least ten investment funds managing over $2 billion in loans and equity investments in microfinance have used Smart Campaign materials to integrate client protection into their due diligence, investee selection and loan covenants.
So it is that for its first annual report, "Implementing Client Protection in Microfinance: State of the Practice, 2011", the Campaign was able to crunch data from 479 due diligence reports and on-site, third-party assessments of client protection practices at more than 300 MFIs in five global regions. These assessments show that the industry has a base of good client protection practices on which it can build. The vast majority of MFIs (88 percent) received overall passing marks (3.0 or higher on a 1-5 scale). The results held for the two all-important principles, avoiding over-indebtedness and transparency. These results are a first cut, and although they provide a basis for confidence, future results could be somewhat lower as standards for assessments become more rigorous.
More interesting than the raw numbers, however, the report gives examples of MFIs dealing with specific shortcomings identified through the assessments. A glimpse at these reforms gives a good sense of the creativity and commitment required to truly serve the needs of poor clients. Below, a sampling. Ujjivan (India): Cautionary tales on film. Facing a growing incidence of multiple borrowing (clients taking simultaneous loans from different providers) and ghost borrowing (clients taking out loans for others, in return for a commission), Ujjivan developed an educational video highlighting the risks of these practices featuring the characters Sushila and Revati, rural women who represent typical microfinance borrowers in India.
In one segment, a respected relative visits Sushila and her husband. He convinces them to take out a large loan in Sushila's name and hand him the proceeds, which he promises to repay punctually. He then vanishes, leaving Sushila stuck with repayments she cannot afford. In another segment a microfinance client is bullied by her husband into taking out a second loan so he can buy a motorbike, and a third loan to make the repayments. Soon after, they find themselves unable to repay.
Ujjivan reports that clients watch the videos with unusual focus and follow them with highly animated discussions. Within its first year, Ujjivan showed the film to more than a million families, through local television as well as during its own client meetings. The video is now mandatory for all new Ujjivan clients and staff.
AccessBank (Azerbaijan): One Client, One Lender. AccessBank has strong credit underwriting and staff incentive practices to prevent over-indebtedness, but it recognized that action was needed at the sectoral level if worrisome trends were to be stopped. It has spearheaded a campaign together with the Azerbaijan Microfinance Association (AMFA), to promote a "one-client, one-lender" strategy, whereby a lender seeking to provide a second loan to another MFI's client would commit to pay off the client's existing loan - as U.S. mortgage lenders must do. If it takes hold, this initiative should provide a major barrier against client overindebtedness.
FMM Popayan (Colombia). In late 2008, FMM Popayan's management faced rising delinquencies. Field staff were reporting collection difficulties, and customer complaints were spiking. Looking for ways to improve the collections process, management decided to ask the clients -- and got an earful.
Clients didn't like collections visits after dark. They didn't care for the disrespectful attitude of some of the loan officers. But mainly, they said that they needed more payment flexibility when their own businesses were facing difficulties. FMM Popayan also consulted with its best-performing loan officers to learn the strategies they were using.
The outcome was a collections manual that clearly spelled do's and don'ts for field staff dealing with delinquent clients. Collections after dark were out. Dress suitable to the client's milieu was in. Collecting for delinquent loans in public spaces was out in favor of discussing repayment issues in private rooms at MFI branches. SMS texts to communicate repayment details was in, but only through standardized templates that treated clients with respect. Individual messages written by the loan officers were out, as were text messages after dark. FMM Popayan also revised its methodology for loan rescheduling, allowing for individualized evaluation of the client's situation rather than automatically increasing demands for repayment.
With the new policies, FMM Popayan kept delinquency levels low while substantially reducing recourse to judicial action and collateral repossession. In most cases a positive relationship with clients proved more effective than strong-arm tactics.
The clients of microfinance institutions do not always know that they have rights as consumers, and when they get into financial difficulty, their lives can be significantly affected. Knowing this, most microfinance institutions -- created after all specifically to benefit these clients -- are showing a great willingness to adjust their business models as markets heat up to prevent clients from experiencing harm. With the Smart Campaign's "State of the Practice" report, we have the first systematic evidence that this is happening.
Calling all HuffPost superfans!
Sign up for membership to become a founding member and help shape HuffPost's next chapter