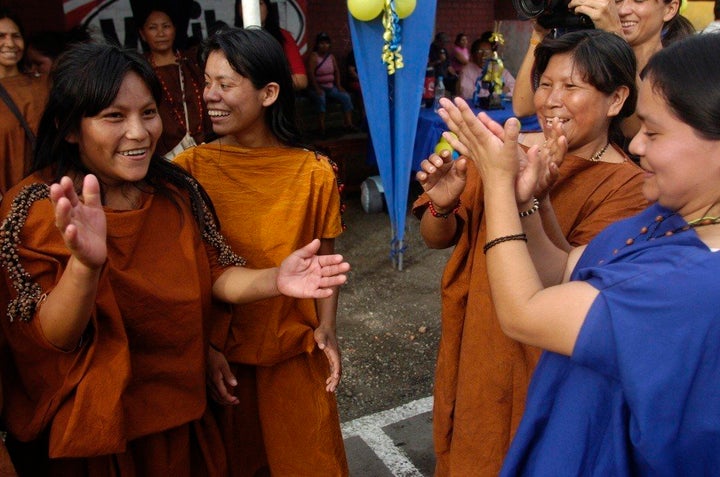 Bogota's red light district, zona roja, is gritty and grim. It teems with drug addicts, transvestites and menacing figures that circle heavily made up and skimpily clad women, some in see-through tops. Even at four in the afternoon, which was the only time it was safe for me to tour through the areas, they seemed to be doing a healthy amount of business.
I had gone to Santa Fe to visit Martha Holguin, a 37-year-old microfinance recipient. Martha lives in a small studio in a dilapidated building on a dead-end street. Somehow she has crammed a double bed and a bunk in the limited space. The space is decorated with stuffed animals hanging from sky blue walls. There is a Garfield, several Disney characters, a puppy and a blue rabbit.
Near the television set is a bar of soap, which the gregarious and dark haired Martha uses when she has to use the bathroom, which is down the dark and musty hall outside her apartment. The mildewed smell is so strong that when I look around, I notice mold in one corner of the room. Just below is Martha's new born grandson and 15-year-old daughter-in-law.
Martha brews and sells coffee. Waking early Monday through Saturday to combine sugar, cloves and cinnamon in a large metal pot, she makes several liters of coffee for 20 clients, who pay her several hundred pesos on a weekly basis. Around eight in the morning she delivers the coffee in newly bought plastic thermoses, with red and green tops, in near-by neighborhoods. Every afternoon, starting at 4:30, Martha collects the thermoses on tricycle that she says is secondhand, though it could easily pass for third. "I bought it with my loan and savings," she beams.
They are loans and savings made possible by Opportunity International, a Chicago-based non-profit organization that provides microfinance loans worldwide. Incidentally, Opportunity made its first microloan in Colombia in 1971.
Martha has been a client with Opportunity for four loan cycles, each lasting 16-weeks. She was introduced to the organization through her 57-year-old mother, Blanca. Blanca was once one of the girls on the streets near-by. Today she sells snacks: potato chips, ice cream and Jell-O. The chips are kept in a glass chamber, prized like the Sultan's jewels at the Topkapi Palace in Blanca's apartment, which is right above Martha's.
Both are enthusiastic about the micro loans, which average about 100 dollars or 200,000 pesos. That was the amount of Martha's first loan, which she used to buy coffee. The next loan was for 100,000 pesos more. The money from that was used to purchase an additional electric stove in order to brew larger quantities of coffee.
She pays off her loan on a weekly basis and puts away money in an Opportunity International savings account, which is mandatory for each microloan recipient. That is Martha's only savings scheme. Neither Martha nor her mother has a bank account. They keep what money they earn in plastic Ziploc bags; Blanca on her person, Martha underneath her bed. "It's okay," Martha apologies when she shows it to me.
She tells me that she's saving money to buy a motorcycle and a new apartment, out of Santa Fe. How soon that will be is unclear. Though Martha rattles off how much she pays for the coffee, cups, thermoses, sugar, cloves, cinnamon, soap, rent and electricity, there is no bookkeeping. "It's all in my head," she says.
When I ask Martha what she would like me to tell the world about her, she says, "Tell them Martha is a good person; that she wants to live a good life; that is happy; that she has four children and three grandchildren."
Martha also wants to let the world know that she's going to be a businesswoman. She wants to go beyond selling coffee to selling juice, snacks and empanadas. "I'm going to have four employees," she says. "Wait and see."
Part of me wants to believe Martha. Her enthusiasm and optimism, on par with Silicon Valley's techies, left me speechless. Indeed, at one point during our chat, I lost my train of thought and had to pause awkwardly. Martha just smiled. It was that smile that made me wonder whether she really understood the challenges of scaling up a business and being an entrepreneur.
Entrepreneurs need more than just an idea. They need to understand their market and competition. They need to have a sustainability and growth strategy. Martha notes that through Opportunity International's training workshops she's only just learned about being responsible with money.
Vivian, Martha's loan officer, tells me that Martha saves and pays back her loans on time. That's significant and confirms what I do believe about microfinance: Whether or not Martha is an "entrepreneur" the microfinance loans she receives are making a difference in her life. It's given her a purpose and drive. "I have a reason to wake up in the morning," she says, "And not depend on anyone."
Martha is standing on her own feet, but she still has a long way to go. "You'll come back to see me as a businesswoman?" she asks. I take a deep breath to hold back my tears.

Support HuffPost
The Stakes Have Never Been Higher
Related
Popular in the Community