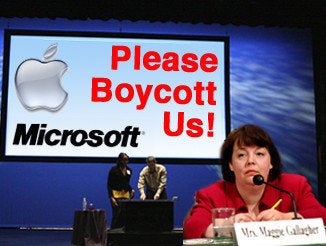 REDMOND, WA -- Longtime marketplace rivals Microsoft and Apple Corporations came together to hold a joint press conference today to demand that the National Organization for Marriage commence boycotting them both, effective immediately.
A spokesperson for Microsoft said:
Amidst all the "Dump Starbucks" mania, it appears many have lost sight of the fact that Microsoft Corporation, just like Starbucks, stood proudly with Washington United for Marriage to support equal treatment for all loving couples in Washington state.

On Jan. 19 we posted our support for Senate Bill 6239 and H.B. 2516, both marriage equality bills, on our official website. We said, "Marriage Equality in Washington State Would Be Good for Business." We explained the bill's passage would put Washington employers on an equal footing with employers in the six other states that already recognize the committed relationships of same-sex couples: Connecticut, Iowa, Massachusetts, New Hampshire, New York, and Vermont. This in turn will help companies continue to compete for top talent.

We reminded everyone that in 1993, Microsoft became the first Fortune 500 company to provide same-sex domestic partnership benefits.
Microsoft's spokesperson continued:
So what gives? The National Organization for Marriage singles out Starbucks, and those yuppie bean heads get all the attention? We have to read in the Seattle Stranger how "[t]here has been an incredible Facebook campaign of photos of people drinking coffee at Starbucks." Where are all the photos of happy people tapping away on Windows machines knowing that they, too, are supporting equality for all? What about us? We've even got a rainbow in our logo. Boycott us, National Organization for Marriage! Now!
Apple's spokesperson said:
(Starbucks closed at $53.73 the day before the NOM boycott was announced. On Monday it is trading at $56.57.)
Apple's spokesperson continued:
The spokesman added, "People should remember why they need the free WiFi in Starbucks: for Grindr! And without Apple, Grindr wouldn't even exist. Even our CEO is gay! Just how gay does Apple have to be before the NOMbies fire up their hate cannon and aim it at us? Bring it on, already!"
It is speculated that Apple's CEO, Tim Cook, may be too powerful, or perhaps too popular for NOM's Maggie Gallagher and Brian Brown to dare consider crossing.
NOM has a website, a Facebook page, and other social media presence. It isn't clear how the organization would continue to maintain a digital presence should their "sacred values" compel them to commence boycotting both Apple and Microsoft products. NOM is rumored to have explored the possibility of returning to painting on cave walls and sending smoke signals to communicate with their supporters.
Reports are also surfacing that Google, Nike, American Apparel, Concur, Group Health, RealNetworks, Vulcan Inc., and Alcoa are considering joining the growing coalition of companies who are asking that they, too, be included in the National Organization for Marriage's holy boycott campaign. In 2010 Google began compensating their coupled LGBT employees for the added tax burden that the Defense of Marriage Act creates.
An insider with Google who did not wish to be named said:
We built our company on a philosophy of equality for all, and frankly, we find it offensive and shameful that the National Organization for Marriage is practicing what is a discriminatory boycott. Singling out Starbucks for attack unfairly discriminates against so many other good, marriage-equality-supportive companies -- like us. NOM should end the discrimination, or we may consider taking action.
Attorneys with Lambda Legal said, "While there is no existing legal precedent for suing an organization and compelling them to boycott you, our organization has a proud history of breaking new legal ground, and we are happy to consult on how we can help address this group's discriminatory policy."
NOTE: This piece is satirical. All quotations are fabrications for the purpose of satire.
Popular in the Community