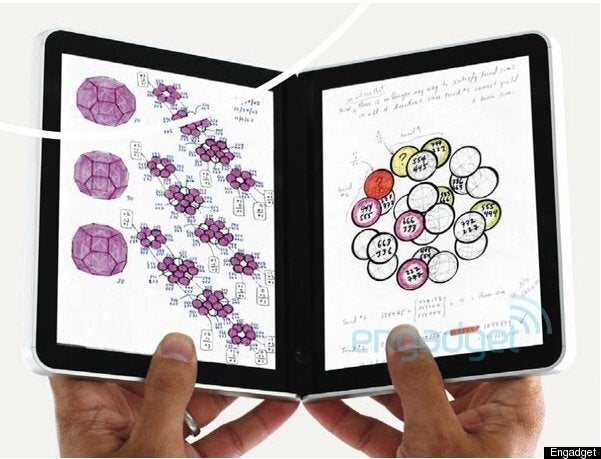 UPDATE 4/30/2010 8:54 AM ET: Will Microsoft be tablet-less?
New reports from Hewlett Packard suggest that HP has scrapped the HP Slate, a tablet unveiled by Microsoft CEO Steve Ballmer earlier this year.
Hewlett-Packard has killed off its much ballyhooed Windows 7 tablet computer, says a source who's been briefed on the matter. ... But our source tells us that HP is not satisfied with Windows 7 as a tablet operating system and has terminated the project (something CrunchGear mentioned months ago).
---According to reports from Microsoft employees, the mysterious and innovative Microsoft "Courier" tablet, which would have been a rival to the iPad, is not to be.
Leaked video, photos, and specs suggested the tablet would be a two-screen, touchscreen "digital journal," weighing just over a pound, measuring less than an inch thick and about the size of a book.
But the "iPad Killer" has been killed. "Microsoft execs informed the internal team that had been working on the tablet device that the project would no longer be supported," writes Gizmodo.
VP of corporate communications for Microsoft, Frank Shaw, told the press:
At any given time, across any of our business groups, there are new ideas being investigated, tested, and incubated. It's in Microsoft's DNA to continually develop and incubate new technologies to foster productivity and creativity. The "Courier" project is an example of this type of effort and its technologies will be evaluated for use in future Microsoft offerings, but we have no plans to build such a device at this time.
So what are we missing out on? See the video below, via Engadget, for a look at what the Microsoft Courier might have been.
WATCH:
Related
Popular in the Community