Back in December, Microsoft's chief executive publicly vowed to do better at diversity. The company, like its rivals in the tech industry, is overwhelmingly white and male. "We will make progress every year towards building a more diverse workforce," CEO Satya Nadella told shareholders.
One year later, the company is even more male-dominated -- and ever-slightly less white -- according to Microsoft's latest report on demographics, released Monday afternoon. 
The overall percentage of women the company employs declined to 27 percent from 29 percent in 2014, according to the report. And 8.9 percent of the company's workers are either black or Hispanic, up from 8.5 percent last year. Asian employees comprised 29.3 percent of workers, up from 28.8 percent.
Yet, because Microsoft did place a couple more women in leadership roles and because much of the decrease in female employees comes from overseas layoffs, the company is actually framing the news as positive overall.
"If we're seeing gains at the top, we're technically progressive," Gwen Houston, Microsoft general manager of global diversity and inclusion, told The Huffington Post. "The trend is moving in the right direction, but we still have a long way to go."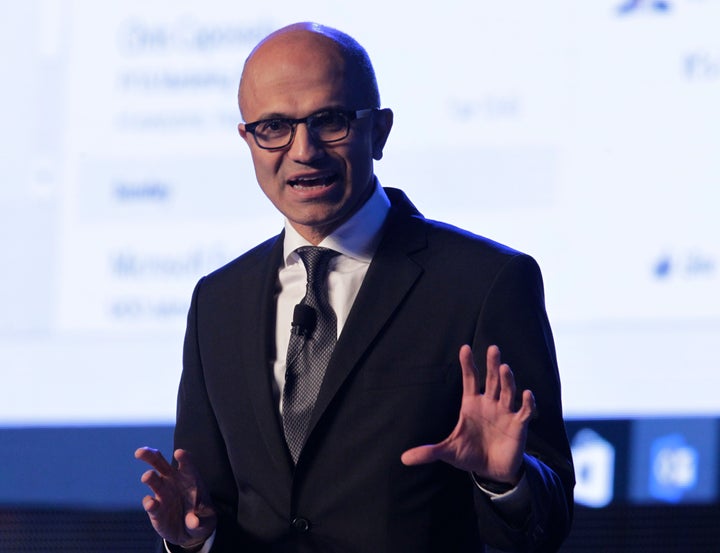 Tech companies are under increasing pressure to diversify. Publishing an annual diversity report is now a standard practice in the industry, though the reports typically contain depressing news. Facebook, Google and Twitter's diversity reports all revealed a similar level of blinding white-dudeness.
Though the numbers aren't getting much better, tech companies' increased attention and openness to diversity has certainly moved the needle in certain ways. Many tech companies are now doing training on unconscious bias, and some -- including Microsoft and Facebook -- are insisting that managers at least consider at a diverse slate of candidates before they choose someone to hire. 
At least people are talking about this stuff.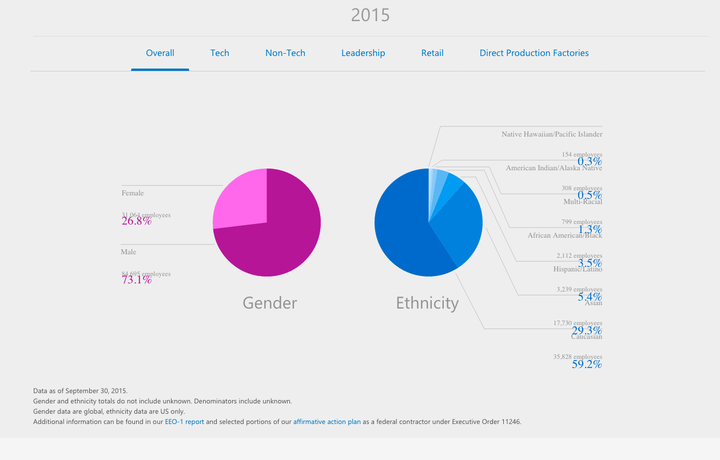 The drop in female employees at Microsoft this year was a direct result of the company's decision to restructure its smartphone business, Houston said. The company laid off 7,800 employees on the struggling phone side -- a disproportionate number of whom were women working in overseas factories making the phones, she said.
Houston emphasized that three of the 11 people who report directly to Nadella are women, up from two last year. In the boardroom, if shareholders approve, three of Microsoft's 11 directors will be women, up from two out of 10 a year ago.
"The goal at the leadership level is to dial up the numbers, so women and people of color can see their presence affirmed at the top of the house," Houston said.
At the lower end, 31 percent of the company's interns are women, up from 28 percent last year. And 30 percent of entry-level hires were women, up from 27 percent.
A big problem in tech is the so-called "leaky pipeline" -- women leave tech in higher numbers then men because, the theory goes, the culture is overwhelmingly male and often hostile to women.
Earlier this year, Microsoft increased the amount of parental leave it offers to workers to 20 weeks -- a move that may help retain more women in the long run, though Houston said it was too soon to tell.
"All our efforts to hire is for nothing if we can't retain folks," Houston said.
And more than a year ago, the company got rid of its famously harsh annual performance review system that pitted workers against one another. Studies have found that performance reviews can often be biased against women.
The new system is more inclusive and drives collaboration between workers, said Houston. And that helps retain women and people of color, she said.
For the past 15 years, Microsoft has been sponsoring a program to get more high school girls interested in tech careers, and it's just now paying off, Houston said. "They've finished high school and college and now they're working inside Microsoft," she said.
She said the company has also instituted mandatory unconscious bias training, which is also available to the public. 
Nadella faced criticism last year for saying women don't need to ask for raises and should simply have faith that the system will deliver fair pay.
Since then, he's been more mindful about what he says. 
Houston said Nadella initiated a new practice to check in with people at the end of a meeting to see if everyone feels their voice was heard. "He'll ask, 'How did we do? Did people feel heard?'" she said. 
Now, other managers are also doing this at the end of meetings.
It gives employees a license to speak up, Houston said. "It sounds little but was powerful."
Calling all HuffPost superfans!
Sign up for membership to become a founding member and help shape HuffPost's next chapter