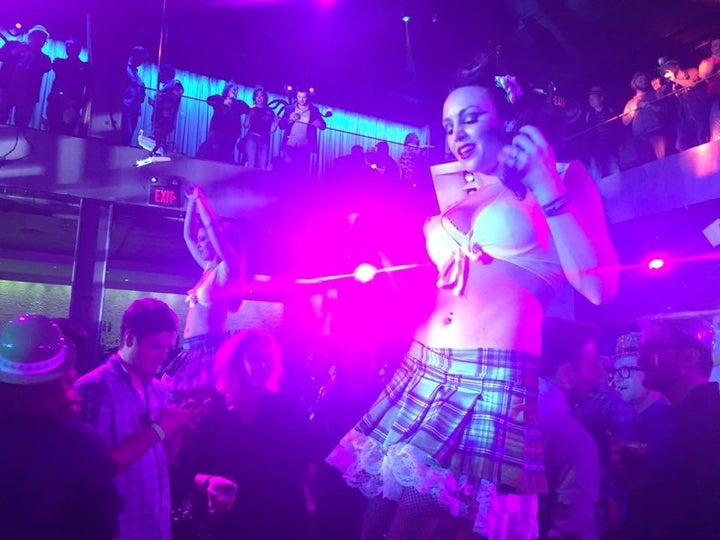 Women, who are routinely disrespected by the video game industry, took another hit Thursday night, judging from photos and other reports out of a Microsoft-backed event.
Women in matching scanty costumes were hired to entertain guests at Microsoft's Game Developers Conference party in San Francisco, attendees alleged on social media. GDC is an annual industry event where thousands of professionals gather to talk about new developments in the gaming space -- so you can imagine some people weren't thrilled by the display.
Kamina Vincent told The Huffington Post that she was present for the event. She provided photographs that she said were taken by a friend.
"I arrived at the GDC 16 Microsoft party and saw two women who stood out," Vincent said. "They were immediately noticeable from their outfits because they seemed dressed completely differently to everyone else for the event, wearing a cleavage enhancing crop top and short miniskirt."
"She introduced herself and asked if we were having fun," Vincent continued. "I asked what her role was at the party. She told me that they had been hired to speak with attendees and encourage them to the dance floor."
You can read some of Vincent's tweets from the party below:
Game designer Farah Khalaf and artist Henning Ludvigsen also shared photos of the party:
Phil Spencer, head of Xbox, apologized for the event in a statement to HuffPost.
"At Xbox-hosted events at GDC this past week, we represented Xbox and Microsoft in a way that was not consistent or aligned to our values. It was unequivocally wrong and will not be tolerated," Spencer said.
"I know we disappointed many people and I'm personally committed to holding ourselves to higher standards," he added.
Game developers and the media were swift to eviscerate Microsoft on Twitter.
This article has been updated to include a statement from Microsoft.
Related
Popular in the Community