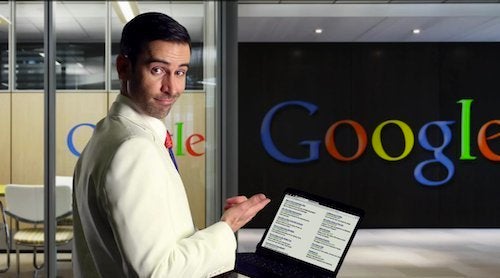 Microsoft has taken yet another blatant stab at Google, this time in relation to its cloud collaboration and productivity software, or Google Apps.
The computer software company posted this anti-Google video February 20 on its YouTube account in an obvious effort to continue its assault on the web giant.
The two minute-long ad, entitled "Googlighting," is a spoof of the 1980s TV show, "Moonlighting," according to BetaNews.
Microsoft employee Tom Rizzo describes "Googlighting" on the company's blog as something that happens "when the world's largest advertising business tries to sell productivity on the side."
He continues later, "Many businesses find that Googlighting also means taking shortcuts, making assumptions about how people should work, and generally failing to build and deploy solutions which meet a wide range of business needs."
The video (see below) follows a smooth-talking yet obviously unreliable fictional salesman named "Googen Apperson," who attempts to promote Google Apps after showing up an hour late to his meeting with an equally fictional company. When his prospective client questions his sales pitch ("Wait, you want us to be your lab rats?"), Googen cleverly replies that the client should instead think of itself as the "pioneers" of the service.
The rest of the video continues to portray Apperson attempting to sell software that's questionable at best. Along with a somewhat catchy theme song, the ad ends by inviting the viewer to visit WhyMicrosoftProductivity.com, where you can compare its productivity offerings (Microsoft Office, Microsoft Web Apps, and more) to Google's.
It's obvious that Microsoft has no qualms about getting its hands dirty when it comes to pushing its own products while deriding Google's. But how is this reflecting on the company's rep? This latest anti-Google release garnered 2,506 "likes" on YouTube, compared to 5,690 "dislikes" -- so perhaps not so well.
Microsoft recently launched several ads attacking the search engine. The Next Web reports that earlier this month, Microsoft posted anti-Google ads in several newspapers, including the New York Times and the Wall Street Journal. These "Putting People First" ads were meant to stoke the fire sparked by Google's upcoming privacy changes, which are set to go into effect on March 1.
Back in July, a different, yet equally scathing video depicting a character named "Gmail man" was leaked to ZDNet by a Microsoft Global Exchange sales conference attendee. The message of that video? "Your email is your business. Google makes it theirs."
Last week, a Wall Street Journal story revealed that Google (and other web companies) had collected insight about web surfers' browsing habits by bypassing security features built into Apple's Safari browser. Microsoft's general manager for Internet Explorer business and marketing, Ryan Gavin, ripped Google in a public blog post, writing, "Apparently, Google has been able to track users of Apple's Safari browser while they surf the web on their Apple iPhones, iPads and Macs. This type of tracking by Google is not new. The novelty here is that Google apparently circumvented the privacy protections built into Apple's Safari browser in a deliberate, and ultimately, successful fashion."
Watch Microsoft's newest attack (below), and tell us: What do you think of Microsoft's anti-Google campaign?
Calling all HuffPost superfans!
Sign up for membership to become a founding member and help shape HuffPost's next chapter