Thinking of how the future will look in the upcoming years, it all leads to one notion - "Artificial Intelligence." At the 2016 Microsoft Ignite conference Microsoft CEO Satya Nadella explained his vision of how the new four pillars will transform the company and democratizing AI: Agent, Applications, Services, and Infrastructure. How this transformation is currently happening at Microsoft and what I have learned at the conference is more than fascinating.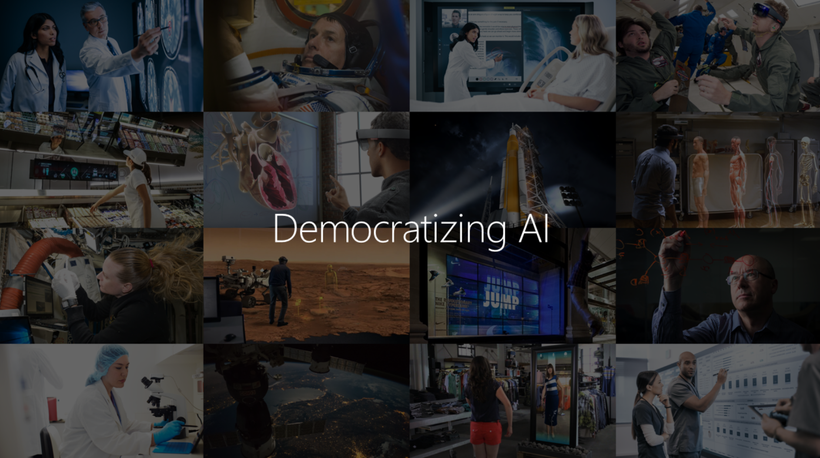 Thanks to the Microsoft Student Partner Program, I was able to attend the Microsoft Data Science Summit and Microsoft Ignite on September 26th and 27th. The Summit – which featured breakouts and lab sessions delivered by leading experts – was my opportunity to learn about the latest advances in data science, applied Machine Learning, and how these techniques can solve real world problems. I discovered the next generation of cool, intelligent data-driven apps being built by Microsoft and its customers on new data platforms.
On September 26th, I started the day with an easy introduction to data science led by Brandon Rohrer at his session "Data Science for Absolutely Everybody." His seminar was a comprehensive overview of how absolute beginners can do data science with no math, programming, or previous experience required.
What was fascinating about his session is how we can use simple tools and data to make predictions and create business models. Rohrer discussed a few conclusions on machine learning algorithms such as their assumption of an unchanging world, the requirement of learning many examples, and the inability to determine causation. These aspects led to controversial discussions within the audience towards proposed solutions.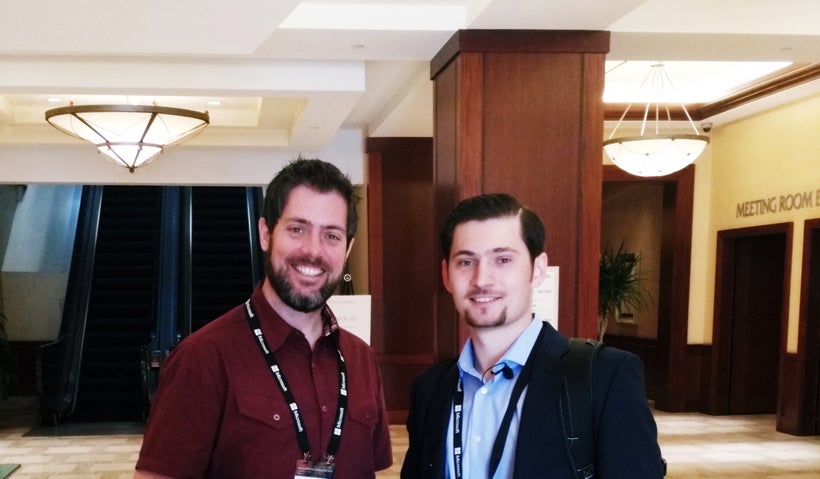 Next, I attended Rafal Lukawiecki session "Putting Science into the Business of Data Science", explaining how data science relies on the scientific method of reasoning to help make business decisions based on analytics. He provided a demo on how his customers apply the trusted processes and principles of hypothesis testing with machine learning and statistics towards solving their day-to-day, practical business problems. What I found useful at his session was how he referred his professional experience to the real life problems of his customers and showing how to make business predictions to increase productivity.
The last session gave me an excellent idea on how the development of AI will progress. Titled "Cognitive Services: Making AI Easy", Jennifer Marsman introduced the Cognitive Services APIs providing many capabilities such as object recognition, face detection and identification, emotion recognition, Optical Character Recognition, computer vision, video services, speech and speaker recognition, language understanding, text analytics, sentiment analysis, knowledge exploration, search services, and more.
What impressed me the most in her presentation are the real-life examples of these APIs making an impact in people's lives, such as Seeing AI which helps the visually impaired to better understand who and what is around them.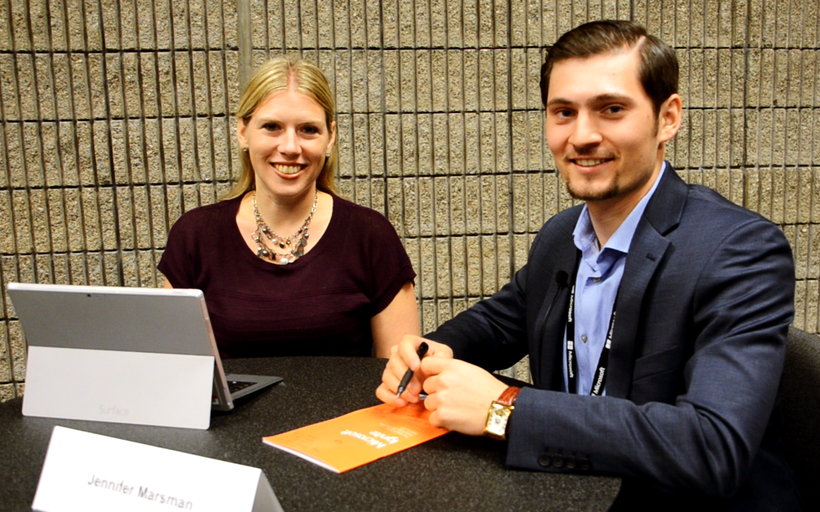 The moment of the day happened at Philips Arena where Satya Nadella addressed some of the most important news on how Microsoft is Democratizing AI. The first pillar that Nadella was referring to is the intelligent agent (IA), like Microsoft's Cortana. It will be the new "organizing layer" that helps to facilitate the interaction of a human and a computer.
He mentioned that, in terms of application, the company is focusing on helping to improve applications with better intelligence. One of the example he gave was the Swiftkey, to which Microsoft is adding neural networks to help better predict the next words that a user may want to swipe. Nadella said that it's no longer the keyboard that is attached to the device but "the keyboard is attached to you."
"We need to turn to technology to democratize creation and access to intelligence." - Satya Nadella
As for services, Nadella explained how the bot framework helps make it easier for users to create bots for apps like Slack or Skype. A good example was about how Uber is making drivers verify their identity with image recognition by taking selfies, thereby improving safety.
In the infrastructure, Microsoft is making a major investment in such called "FPGAs" – field – programmable gate arrays to build a supercomputer cloud. On the stage, Doug Burger demonstrated how a neural network with FPGA boards brings time efficiency in real time by translating "War and Peace" from Russian to English in under three seconds which had taken a half-hour before. The investment in the FPGA is helping them to create a "AI supercomputer" in the Azure cloud.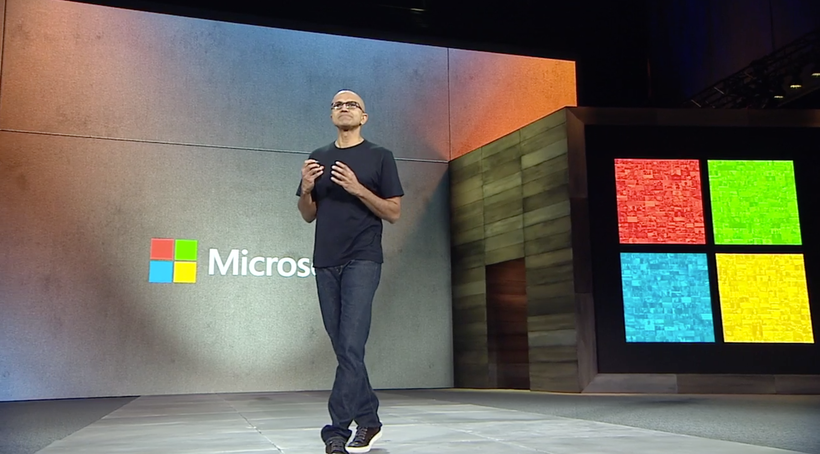 The next day, I couldn't pass over the most dynamic and diverse place - The Ignite Expo Hall. The Expo brought together Partner Solutions and Microsoft Product Groups to create an interactive space for attendees to network, learn, do business, and to engage in more than 150 product demos. I was introduced to the current and soon-to-be-released products and services, met and discussed with experts and peers where we shared expertise on how to expand our professional network, share knowledge and build communities.
I was able to reconnect with local professionals as Joe Darko - whom I met at the Microsoft Most Valuable Professional back in May and Kerry Herger who introduced me to the MVP community's plan for development. I have to recognize that by engaging with professionals I understood how valuable is the contribution to the community. Later on, I attended some demos at different booths such as Microsoft Translator Speech API, Microsoft Graph, and Microsoft Dynamics CRM.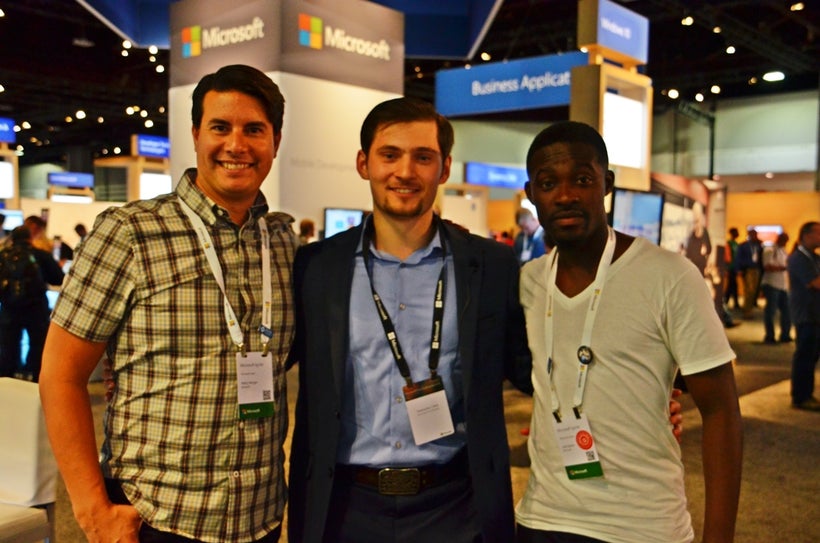 By infusing intelligence into all services, Microsoft is democratizing AI in a way that changes lives and the world around us for the better. From Microsoft's perspective, AI must be designed to assist humanity, be transparent, maximize efficiency without destroying the dignity of people, and be accountable for the outcome of a computer-generated diagnosis or decision. The company's deep focus on AI is accelerating the process of delivering new solutions to every person and every organization across agents, apps, services, and infrastructure. In other words, every one of us will have the potential to act on all that data and maybe soon we will be learning from the AI's models.
Calling all HuffPost superfans!
Sign up for membership to become a founding member and help shape HuffPost's next chapter
This post was published on the now-closed HuffPost Contributor platform. Contributors control their own work and posted freely to our site. If you need to flag this entry as abusive,
send us an email
.