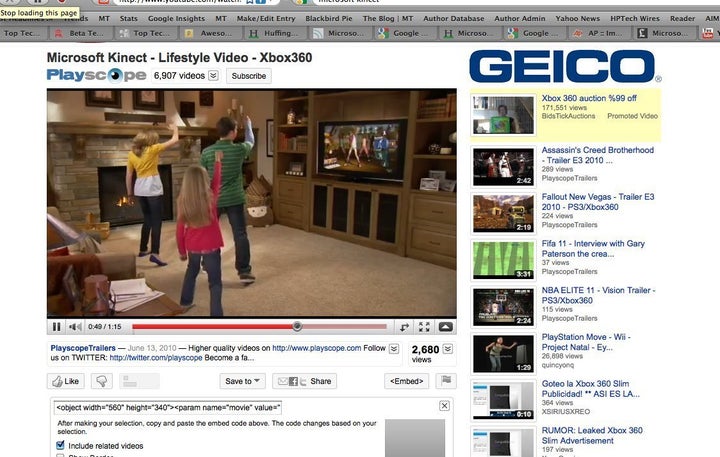 *See Microsoft Kinect video and photo below*
Microsoft took the wraps off of Microsoft Kinect (formerly known by its code name, "Project Natal"), its highly-anticipated controller-free gaming system for Xbox.
Forget memorizing button sequences, drop the joystick, and put down the Wiimote: Microsoft Kinect, which can "recognize faces, obey voice commands, and track body movements," according to the LA Times, will enable users to control their video game avatars just by moving their bodies in front of the Kinect (see video below). Kinect users will also be able to control movies just by speaking commands, such as "play" or "pause."
Kinect's built-in camera and microphone (due later this year, no price set) uses facial and voice recognition to let you, for instance, log onto Xbox Live, start games and pause movies. And a new menu lets you choose games or services such as Netflix by simply reaching out and pointing toward the screen selection. Video chat lets Xbox 360 homes connect; the smart camera widens when another person enters the room.

The Kinect's price and release date have yet to be announced, although Engadget speculates the device could run up to $150.
Kinect games currently in the works include Joyride (a racing game), Star Wars, Dance Central, Kinect Sports (which will offer six sports, including boxing, bowling, and soccer), Kinect Adventures (with an obstacle course and river rafting "adventure"), and Kinectimals (care for one of among 20 types of virtual cats). (More about them here).
Wie'll update with more information it becomes available. Microsoft and Sony will be offering more details on the Kinect at the Electronic Entertainment Expo (E3), which kicks off tomorrow.
See a demo of Kinect in the video below. What do you think of the device? Is it a "Wii-killer?" Would you get it?
WATCH:
Popular in the Community