As Microsoft works through the final approvals of one of the biggest acquisitions in their history, welcomes a new CEO and prepares for Convergence 2014, I had the distinct pleasure of talking with Kirill Tatarinov, president of the Microsoft Business Solutions Group and responsible for the Microsoft Dynamics business across development, sales, marketing and operations.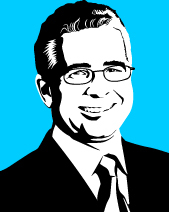 Kirill Tatarinov, President, Microsoft Business Solutions
Historically viewed as a consumer company, Tatarinov points out that Microsoft sells billions to the enterprise and MS Office spans both consumers and the enterprise - the consumerization of the enterprise at its best. His group has the unique opportunity to tap into the technology in Microsoft and engage deeply with customers to solve unique scenarios and deliver end-to-end solutions for people in business.
Drawing on 30 years of experience in enterprise software, Tatarinov shares with us his thoughts on how businesses can thrive in this "era of the customer" and offers advice to CIOs on how to become a "modern CIO".
Build software designed for user experience - We live in a world where the gap between people's personal lives and business lives is fast diminishing, causing technology megatrends to break into the mainstream. A recent IDC study shows that ninety two percent of workers believe their smartphones should be enabled for both work and personal use, causing a massive impact of consumerization in IT and business. On a journey to build software designed for people, Microsoft is focused on building a user experience that moves away from "tools of oppression" to tools that help people to do their job better. By simplifying the workflow and process they go through, software can be role-driven and personalized for everyone from teaching the novice to aiding the super user. Tatarinov recommends that enterprise software organizations think deeply about how workflows need to be decomposed to help people perform them without cluttering their device with unnecessary information, but at the same time giving them analytic and business insights to help them make decisions.
Designing software for people and broad consumer adoption that will lead to broad enterprise adoption is something that Microsoft is talking about as a company. By 2015, IDC predicts there will be 1.3 billion mobile workers. Today, the average worker carries more than three devices while travelling, a fact that Tatarinov says will have to change and Microsoft may be the first to market with a solution. This week at Convergence 2014, Microsoft is launching an all-in-one device that can be used for professional and personal lives.
CIOs must drive digital transformation from the top - Tatarinov feels that as the enterprise grows to be more social and more collaborative, everyone is now responsible for CRM. In this new connected environment, it's not one person. It's not just about technology; it's not just about business process. It's about every single person in the organization who really needs to work together to serve that customer. He adds that it is important for the CEO to champion the digital enterprise and to play the role of CDO because if everyone is going to be involved in CRM and customer care and creating a digital enterprise, the change needs to be driven from the principal leadership at the top of the organization. "This also means looking hard at how your employees are motivated and making sure that your people truly connect with customers and your people are incredibly customer friendly and customer-centric is very important in this today connected world," says Tatarinov.
CIOs must be chief promoters of digital - There has much talk about the rise of the Chief Digital Officer and LOB executives as IT power brokers. Gartner predicts that by 2015, 25 percent of large global organizations will have appointed Chief Data Officers. The role of the CIO, which Tatarinov in his 30 years in enterprise software has seen transform time and time again, is changing more rapidly than ever. But he says that unless the head of the business really embraces the idea of a digital enterprise, the CDO will not be successful. He finds that some of the more advanced, modern CIOs are already playing this dual role effectively and says it's a huge opportunity for the CIO to move into the future. CIOs can elevate themselves by embracing the role of a modern CIO by being the chief promoter of digital in the enterprise and becoming a trusted advisor to other executives in the organization and the go-to person for all things technology. "At the end of the day the trend of line-of-business executives playing a significantly bigger role in technology buying decisions is an indication that technology is maturing and getting to a place where it is more understood by more people in the business," he says.
CIOs must understand and partner with the business - Tatarinov emphasizes that the best CIOs are closely connected with the business and deeply understand the business and, more importantly, the customers they are there to serve. He says the CIO has the opportunity to drive the culture shift to making the enterprise a digital enterprise not only in their department but in the entire company. "The role of technology in business is to help people in business engage, connect with and serve their customers better. It is imperative for a modern CIO to get to a state where they can understand it, implement it and promote it, in conjunction with the CEO and other LOB executives. The CIO will not be successful in isolation but in partnership with the business."

As technology matures and the conversation shifts from technology to non-technical drivers, IT organizations will be spending more time with LOB executives and decision makers than they ever have in the past. Tatarinov says that "LOBs are interested in speaking with us and hearing what technology we have that can help them to be more productive and achieve concrete business outcomes."
CIOs must feed their curiosity engine - Tatarinov leaves us with this priceless advice on how CIOs can learn, evolve and respond to this changing digital age. He says the number one thing that would feed into the future is to have curiosity about what's going on. To keep abreast of new technology trends he recommends reading a lot and immersing yourself in technology innovation (reminding us that the "I" in CIO stands for "Innovation") and having a good grasp of what is happening around you. By taking this broad understanding of what is going on in the world and translating that into the needs of the organization a CIO can successfully become a modern CIO.
You can watch the full interview with Kirill Tatarinov here. Please join me and Michael Krigsman every Friday at 3PM EST as we host CXOTalk - connecting with thought leaders and innovative executives who are pushing the boundaries within their companies and their fields.
Calling all HuffPost superfans!
Sign up for membership to become a founding member and help shape HuffPost's next chapter