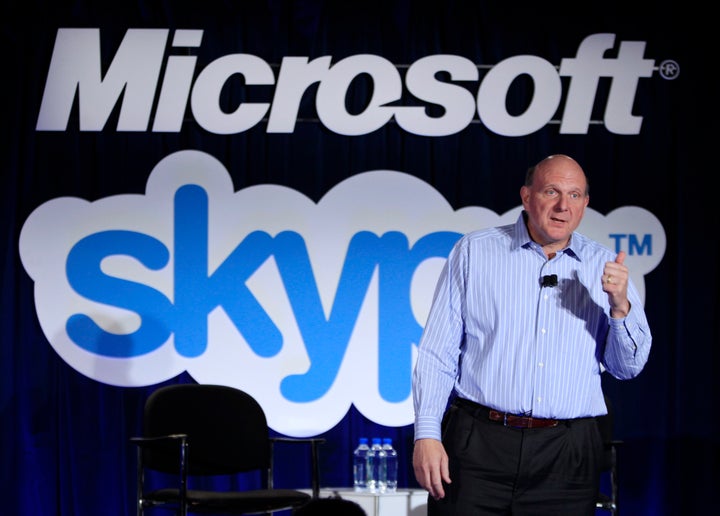 In 1974, a young Bill Gates would lie on the floor to brainstorm, in an office located next to a vacuum cleaner store and a massage parlor.
These days, Gates' Microsoft is a multi-billion dollar company with over 80,000 employees, a corporate behemoth that this Tuesday acquired Internet phone service Skype to the dizzying tune of $8.5 billion dollars.
Amid the fanfare, Microsoft proclaimed it would take a giant leap into the voice and video market by integrating Skype functionality into an assortment of its products, ranging from smartphones to game consoles.
Given the unprecedented speed with which technology is developed, consumed and, oftentimes, disposed of these days, any company taking on such a mission would face a healthy dose of skepticism and debate about the feasibility of its endeavor.
For Microsoft, such skepticism comes with an added layer of uncertainty. Strategy aside, this giant, slow moving company must confront persistent doubts about whether it can still summon the mojo to do what Gates and his ragtag team did all those years back, on the floor of an office sandwiched between vacuum cleaners and massage accoutrements.
Namely, can Microsoft still innovate?
The core concern revolves around the company's ability to integrate Skype into both its managerial structure and technological DNA, and, in turn, develop an innovative, profitable product, one that would both account for the sizable expenditure and reinvigorate the Microsoft brand. But for a company plagued by a reputation as a graveyard for once-hot properties, it may be an uphill climb.
According to Trip Chowdhry, a senior analyst at Global Equities Research, Wall Street's biggest worry "is that internal politics are killing innovation at Microsoft." Chowdhry explained there are "politics at almost every level" of the company.
As a result, he posited, "Great ideas are getting hammered."
According to Chowdhry's analysis, the notion that Microsoft can no longer recruit top-tier talent persists. Until 2000, employees received stock options, and the company had a reputation for attracting tech's biggest and best minds. When this practice discontinued, Chowdhry said the quality of the talent markedly deteriorated: Many of the industry's brightest left for Silicon Valley, where stock options are in full swing.
"Stock options," he postulated, "alleviate a company from internal political dynamics." Employees no longer need to curry favor with superiors in the hopes of a receiving a bonus, so they can think "more in terms of the customer and the company."
These days, according to Chowdhry, Microsoft is seen "as a place to retire -- a '90s company in the framework of 2010."
But Microsoft has lately proven it can still create innovative products. The company has seen particular success with its Kinect console, a 3D module that works with its Xbox gaming platform to allow users to control the screen with their bodies and without a remote. So far, over ten million Kinects have been sold.
As tech companies vie for the vaunted "living room space," a mythic area where technology seamlessly integrates into lifestyle activities, Kinect holds considerable potential for Skype-Microsoft innovation. The dream, according to a recent Citibank analysis of the acquisition, is for Kinect to combine with Skype to "become a 'killer' home video conference system."
In particular, what sets Kinect apart from other Microsoft offerings -- including bread and butter products like Microsoft Office -- is how the company has open sourced uses for the device, and, in the process, created a potential new model for innovation.
After Kinect's launch in November of 2010, engineers Limor Fried and Phillip Torrone independently announced a prize of $3,000 for the best open-sourced Kinect drivers. "We wanted to inspire and encourage people to 'hack' the Kinect," said Fried, "so we reverse-engineered the device and published the protocols."
"Within 24 hours we had a winner," she explained, though "within the week there were dozens -- and now hundreds -- of examples of creativity, from interactive puppets to medical applications to robotics."
Initially, when the contest to hack the Kinect was announced, Microsoft was not pleased. Fried said she did not have any interaction with the company, but as reporters contacted Microsoft, "their PR [representatives] gave pretty uninformed responses that escalated things pretty quickly."
Microsoft declined to comment for this article.
Gradually, however, the company reversed its stance, claiming to be "inspired" by the crowd-sourced innovation. At the WIRED Business Conference in New York on May 3, onetime Microsoft engineer Johnny Chung Lee, a driving creative force behind the Kinect, made a presentation featuring highlights from the hacking competition, lauding the user-driven applications from around the world. Chung Lee has since left Microsoft and now works as a "Rapid Evaulator" at Google.
For Microsoft, forgoing internal politics and instead embracing outside innovation may be its best bet. Eric von Hippel, a professor of Innovation Management at MIT's Sloane School of Management, recently authored a paper arguing the future of technological development depends on user-driven innovation.
As part of his research, von Hippel determined citizens in the United Kingdom spent 2.3 times more money on product research and development over a three-year period than all British firms combined. "Things that are functionally novel come from the outside," he said. "Therefore it's important that companies enable users to hack their products. Microsoft didn't intentionally do this [with Kinect], but they are in a position to profit from it. They should consciously do that in case of Skype."
Von Hippel does not think the key to success will come from Skype's elite team of developers and engineers, a group Skype investor Marc Andreessen called the company's "secret sauce," currently located in Talinn, Estonia. "It's critical to realize that new features and new applications come from users," he said. "They're not coming from Estonian programmers. That team might help Microsoft do what they would do anyway, which is to make products cheaper and better."
Though most analysts have focused on potential innovation within the Microsoft ecosystem, options also exist for Skype to leverage successful relationships with other companies. According to Andreas Bernstrom, CEO of RebTel, a Swedish internet-based calling service, Skype has wanted to cement a partnership with Facebook, which Microsoft could help broker, given its $240 million share of the company.
If such a union were created, "Facebook users would presumably be able to use Skype without a Skype client," said Bernstrom. "They'd be able to use the API," -- the interface between software programs -- "to connect through friends, and there would be a Facebook chat platform." Considering the breadth of Facebook's user base, this would be no small development.
Bernstrom also sees a changing relationship between Skype and the telecommunications industry. "Rather than be an ambassador of the consumer and trying to disrupt the industry," he said, Skype might be able to develop premium partnerships with operators using Microsoft's assistance and connections. According to Bernstrom, "For $45 dollars instead of $40, you'd have VOIP [voice over Internet protocol] as much as you like."
Ultimately, the Microsoft-Skype merger -- and whatever unique, discreet innovation results -- is but one fight in the larger battle for broader market domination. As Philip Delves Broughton, an author and former Apple consultant, explained, "The platform war goes on, with photo, email, IM services, social networks, video sharing and productivity suites." He wondered whether the Skype acquisition will "tip anyone" to Microsoft, but fundamentally questioned whether "winning," as such, is even possible.
In a world where technology has given us myriad ways to do the same thing, whether watching a video, connecting with friends or sitting on the couch, companies engage in heated competition to add services that create enough connective tissue to make users reluctant to switch. Those who load their email addresses into Gmail might be inclined to stick around. Individuals who automate payment of their monthly cell phone bills may not want to switch to another carrier. These days, brands want to be sticky enough that users won't shake them loose.
Microsoft's goal may be to fold Skype into its group of products in such a way that the telephone, the ultimate social connector, cements its relationship with the customer. "I have an iPad, use Gmail and have a Microsoft desktop," said Delves-Broughton. "I move between things."
"For tech companies, that's a nightmare," he added. "It's all about increasing the stickiness of your platform -- and Skype increases stickiness."
Regardless of what comes from this new union, he said, at least "we now have another reason to use Microsoft more often."