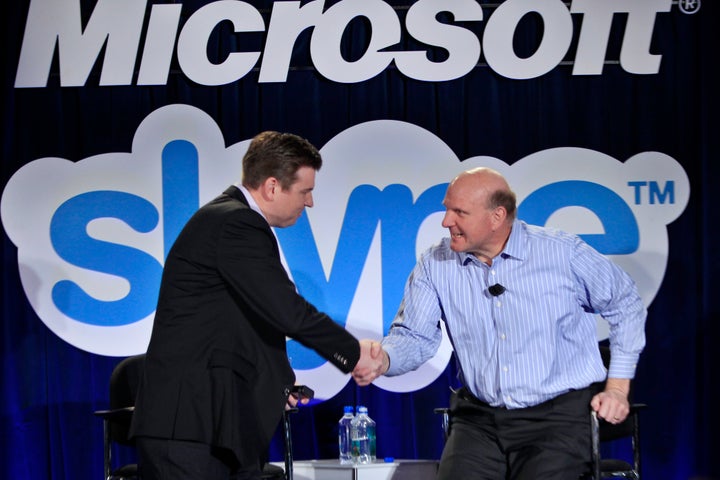 As Microsoft agreed to hand over $8.5 billion to capture the voice and video online calling company Skype, the computing giant essentially bet its future on its ability to integrate conversation and video into the company's myriad services already familiar to millions of consumers.
In the vision now pursued by Microsoft, owners of smartphones, video gaming consoles and even basic computer software will be invited to speak to other people through voice and video services delivered by Skype. The purchase -- the biggest in Microsoft's history -- also brings the technology goliath access to 600 million registered customers around the globe.
But as industry experts absorbed the potentially game-changing deal, many doubted whether Microsoft -- a name synonymous with the early years of the Internet -- still has what it takes to refashion itself for a moment increasingly dominated by mobile devices such as smartphones and tablet computers.
"There's a lot of potential but we'll have to wait and see if they can allow it to grow or if they can innovate," said Jeremiah Owyang, an industry analyst with Altimeter Group, a tech consulting firm in the San Francisco Bay Area. "The concern is that Microsoft is too big to innovate."
Others suggested that Microsoft had been sucked into a bidding war with major competitors like Facebook and Google, and agreed to pay an exorbitant price for a company that, despite growth and much-admired technology, has had trouble making money.
"When I look at the price tag, I go 'What?'" said Harry Wang, director of mobile research at Parks Associates, a tech research and consulting group. "$8.5 billion for revenue less than $1 billion a year? The long term, incremental value makes sense but it's not exactly a match with the price tag."
But the primary doubts about the deal focused on strategy, and whether Microsoft will be able to use Skype to carry itself back to the prominence it enjoyed when computing was still tethered to the desk.
Microsoft has lagged noticeably behind competitors like Apple and Google when it comes to establishing an online presence and providing communications services, especially with consumers. The Windows Phone 7, though well-received by critics, has not yet managed to get into firing range of either the iPhone or the Android phones.
The Skype purchase is aimed at closing the gap by supplying Microsoft a connection to an established brand with voice and video communications. Skype services could also be integrated into the future generations of Windows Phones, giving Microsoft a product comparable to Apple's FaceTime service.
Microsoft has sought to reach an expanded online audience with its search engine Bing (announcing a partnership with Facebook last year to bring social search results into the picture), its web presence is hardly comparable to Google's.
Google has effectively leveraged its dominance over search to direct customers to a host of other services -- not least its online word processing program, which has emerged as a threat to Microsoft Office, a key moneymaker for Microsoft.
By securing Skype's 600 million registered customers, Microsoft aims to scale up its range of online services to take on the Google threat.
"The user base will definitely boost Microsoft's online presence," said Wang. "That's one of the key battlegrounds for them to gain in the future and they have to be there."
Microsoft touted Skype's "real-time video and voice communications" in a press release, noting that Skype capabilities will be injected into devices including Xbox, Kinect, Windows Phone and more, and will also connect Lync (an email, instant messaging and voice communications service), Outlook, and Xbox Live with Skype users.
According to Skype, the company will become "a new business division within Microsoft," with CEO Tony Bates becoming the president of the "Microsoft Skype Division."
Microsoft's history of acquisitions is spotty. Its last big purchase was in 2007, when the Redmond company paid $6 billion for aQuantive, an online advertising company. As with the Skype purchase, many believed Microsoft overpaid.
Three years ago, Microsoft put in a $44 billion offer to buy Yahoo -- the deal fell apart, and today, Yahoo is worth about half what Microsoft offered.
Microsoft's latest foray in the acquisitions realm has again raised eyebrows, with some experts suggesting that the deal was a defensive play made more out of concern that Skype not fall into the hands of a competitor than reflective of a coherent strategy.
"It looks like Microsoft got into a bidding war, that Google and Facebook tried to acquire Skype," said Wang. "To use the Mastercard tagline, keeping competitors away from your key asset is priceless."
As the Wall Street Journal emphasized, Skype has been owned by four different owners in eight years. The online auction destination eBay bought the company for $2.6 billion in 2005 before selling 70 percent to private investors. Last summer, Skype filed papers with the Securities and Exchange Commission announcing intentions to issue shares to the public, with expectation that the IPO would be completed by early this year. But delays were announced this January. According to GigaOm, investors were getting increasingly antsy over the stall and were promoting the idea of a sale.
Skype has not been especially profitable in its eight year history. Last year, the company posted revenues of $860 million, but still lost $7 million, while carrying debts of $686 million.
But some analysts say Skype's profitability, or lack thereof, is beside the point for Microsoft, which is so enormous and well-financed that it afford to swallow a tiny loss in order to take on crucial services that could reinvigorate its products.
"They have plenty of money," said Owyang, the Altimeter analyst. "They can tie this into so many things right away."
The Skype brand itself could signal a fresher iteration of Microsoft that centers on where the online experience is headed: to mobile and multimedia.
"Microsoft has been struggling to be the hip young technology company they used to be in the 1990s," said Owyang. "Now when people think hip and cool they run to Facebook and Twitter. Skype has that fresh young brand appeal."
The question is whether Microsoft has it in its DNA to absorb what Skype brings without undermining the vibrancy of the younger, swifter company, and whether the individual pieces will yield a larger whole that makes sense.
"The risk here is that Microsoft cannot dismantle the teams too quickly," said Owyang. "They make a lot of acquisitions and the product folds into the Microsoft architecture and the cool part disappears."
Microsoft's designs on adding Skype to gaming consoles like Kinect and XBox, and services like Lync and Windows Live drew praise from analysts as a concept, but also prompted doubts about the execution: Will consumers take to having video calling services included as a part of their gaming experience?
Skype is already offered on a wide variety of devices, including Android phones and iPhones, Mac computers, and tablets. Microsoft may simply be too late to this party to have Skype make a difference.
"They don't have a history of supporting computing platforms," said Al Gillen, an IDC analyst. "They have to support Skype across a wide variety of devices. There's the technical challenge of supporting it, but the philosophical challenge of supporting that too."
But the deal prompted near universal agreement from analysts in one key regard: For better or worse, it seems likely to shape how Microsoft manages the unfolding developments reshaping the Internet; whether it will go down as a fading power that never managed to adapt, or instead uses Skype to propel itself back into the conversation.
"The deal reminds me of the eBay purchase of Skype about six years ago," said Wang. "You draw a nice picture, you hope it will turn into reality, but maybe it'll turn out Microsoft has made another dumb move with this acquisition."
Related
Popular in the Community