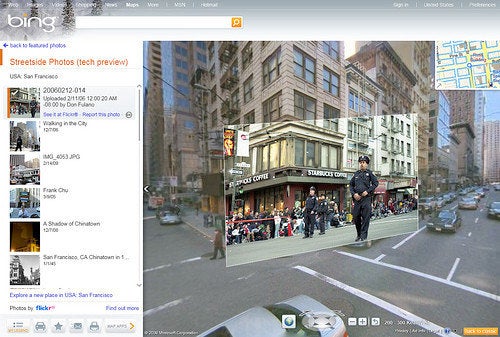 *Scroll down for update.*
Microsoft has equipped cars with mapping cameras and turned them loose on the London streets, with Paris and Barcelona to follow.
A feature of Bing Maps, Streetside gives users a 360-degree ground-level look at public roads and thoroughfares, similar to the view afforded in Google's Street View.
But Streetside's directors are taking several precautions to avoid the potholes Google hit along its mapping tour of Europe.
"We're not setting out to record every street. We believe it is most valuable in urban centres where people want to find services," Bing's U.K. director, Dave Coplin, told BBC News.
Streetside will integrate location-based services and advertisements into its 3D views. For example, when a London user looks up his favorite street, he may see a promotional offer overlaid onto his preferred coffee shop. To make this possible, Streetside's mapping cars will also collect Wi-Fi data as it gathers images.*
According to a statement made to the BBC, Microsoft claims it will collect only the necessary amount of information to create relevant, interactive maps for urban residents. The Streetside website assures users that Microsoft will notify governmental and non-governmental privacy officials of the locations it plans to map and will also post notices informing residents.
When Streetside comes to Germany, Microsoft will grant residents the option of requesting that their property be blurred before the photos are published.
In 2010, thousands of Germans citizens spoke out against Google's retroactive opt-out policy of blurring photos after they were online. The row prompted German officials to establish a preemptive opt-out standard.
The Streetview website currently touts a similar policy to Google's, though the BBC writes that Microsoft will abide by Germany's opt-out request.
Bing Maps already displays Streetside data in 56 U.S. cities. You can explore this service (here) and read about the steps Microsoft will take to guarantee users' privacy.
*UPDATE: 2:35 p.m. A Bing spokesman contacted The Huffington Post with the following information regarding Wi-Fi data collection: "At this time Bing will not be collecting Wi-Fi data. Bing plans to consult further with regulators and privacy groups before collecting any Wi-Fi information."
Popular in the Community