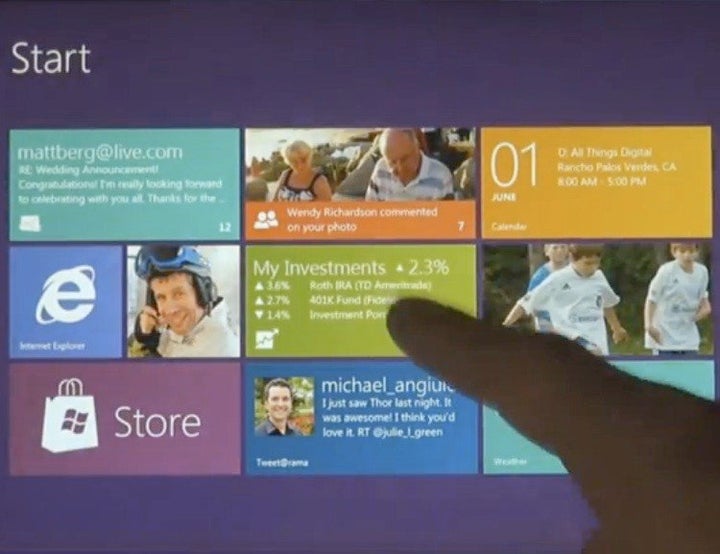 Microsoft's Windows 8 will look dramatically different from the Windows operating systems that preceded it.
Steven Sinofsky, president of Windows and Windows Live, sat down with All Things D's Walt Mossberg at Wednesday evening's D9 conference to preview the upcoming OS, which will power laptops, tablets, desktops and more.
Optimized for touch, the new Windows 8 home screen will look much like a Windows Phone 7 home screen, featuring sliding tiles that accommodate finger gestures rather than cursor clicks (though it'll be perfectly fine to connect a keyboard and mouse to a Windows 8 system). To navigate through programs, the user simply slides through the tiles on the home screen.
"Windows 8 essentially supports two kinds of applications. One is the classic Windows application, which runs in a desktop very similar to the Windows 7 desktop," writes All Things D's Ina Fried, who was granted an exclusive look at Windows 8 prior to the conference. "The other type of application, which has to be written in HTML5 and Javascript, looks more like a mobile application, filling the full screen. Internet Explorer 10, which is part of Windows 8, has already been configured to run in this mode, as have several widget-like apps for checking stock prices and weather."
Other features include live tiles with notifications, multitasking, customizable and scalable apps, social networking integration, hardware-accelerated Internet Explorer 10, and much more.
"We colored outside of the lines with this release, and we're excited about it," Sinofsky said onstage at D9.
When will the revamped Windows be ready for release?
"Right now, we're focused on getting the [developer] release done, and the next milestone is the developer conference in September," Sinofsky said, according to Engadget. "We're aiming to keep new Windows builds coming every two the three years. I can tell you it won't be this fall."
Sinofsky also insisted that "Windows 8" may undergo a name change before the final version is complete.
You can view screenshots of the OS running on a prototype tablet (below).
PHOTO GALLERY
Windows 8 Preview At D9
Calling all HuffPost superfans!
Sign up for membership to become a founding member and help shape HuffPost's next chapter