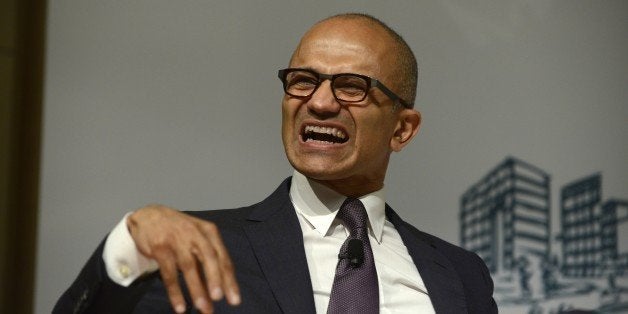 Microsoft CEO Satya Nadella just discovered karma.  No, it's not a negotiating strategy. How karma plays out goes like this: Nadella as a boss and a leader is tone-deaf to gender issues. Eventually, that inner belief system meets the outside world, as Nadella advises a group of 8,000 women techies at the Grace Hopper Celebration that they shouldn't ask for a raise. And as karma would have it, at just about the same time, Melinda Gates is tweeting about #EmpoweringWomen, and Bill Gates is announcing their Foundation's newest challenge, "Putting Women and Girls at the Center of Development."  That, Mr. Nadella, is karma.
Not to be confused with women being paid fairly in the workplace, which is an issue of basic human rights.
The reality is Mr. Nadella described his personal experience, which he assumed was shared by all. That being, for men, things generally work out (especially, if they're white men).  Our culture expects that men will aggressively ask for a raise and get it or switch jobs, and that men will ask for and take any promotion (qualified or not), and so men's pay scale will commensurately rise.  Contrast that with women employees who are supposed to be good girls and take the bread crumbs.  This has nothing to do with karma, but everything to do with our society's expectation of how men and women should behave.
The socialization process starts early.  In the past two decades, as forms of media have grown exponentially and become omnipresent, so too have young girls been increasingly bombarded with negative messaging of what they can't do.  Limitations.  A notion which is insidiously reinforced again at college.  A recent troubling Princeton Study revealed that fewer college women want to speak up or take leadership positions (one student noted, "People, including faculty, are turned off if we seem over-zealous").  Oy vey! Another byproduct is that our young women are self-segrating into fewer majors, and subsequently careers. Take tech for example: when I graduated college in the mid 1980s, 38 percent of computer science majors were women, now it's 18 percent! With fewer women pursuing careers in high paying fields, and the ones who do afraid to ask, it's no wonder there's a gender gap at graduation (82 percent), which widens with age.
These unfortunate patterns quietly fester until we get a poke -- like Nadella's noxious comments -- which cause us to pause and re-evaluate.  For example, when Jill Abramson was unceremoniously fired from The New York Times, the stated reason was that she was "pushy" for, amongst other things, asking to be paid in-line with her male counterparts.   How dare she!   I was heartened to read this post on Facebook accompanying an article on Nadella:  "Only with my reluctance to support the NYT Jill pay thing did I realize I had Stockholm Syndrome, acting as though she was uppity. Now I know better."  
I just love a good wake-up call.
But it's not only that we've judged women who ask, there's also been widespread apathy by our leaders to address the gender pay gap.  The Grace Hopper event also hosted an all white male panel (the quote-unquote allies) composed of leaders from Facebook, Google, Intuit and GoDaddy (yes, that GoDaddy).  Similar to Nadella, these men were unprepared, and offered warmed-over, reconstituted drivel for which they were unceremoniously, and quite deservedly, heckled.  One attendee marked up a chart of challenges facing women, and mockingly cried "BINGO" midway through this farce.
It's always darkest before the dawn.  Or perhaps more apropos, Gloria Steinhem's words, "The truth will set you free, but first it will piss you off."
Stockholm Syndrome may be an exaggeration, but many of us, unwittingly, have a high level of internalized sexism.  How else could we have ignored and justified something so blatantly wrong. Women -- our daughters, wives, mothers, friends, grandmothers -- yes, our fellow human beings -- deserve equal pay for equal work.  It's just that simple!
How do we get there?  Frankly, we can't afford to wait on our dysfunctional government to pass basic fair pay legislation, nor will it necessarily remedy all inequities.  And as to the Corporate Dude Nation at the Grace Hopper event, after the media criticism subsides, their main take-away will likely be to avoid speaking at women's conference, rather than suggesting their companies address the gender pay gap.  The solution is for women to empower themselves!
Parents, speak to and empower your daughters (if you need a model on how, read I Am Malala).  Ladies, of course you deserve to be paid fairly for what you do!  This is a wake up call, and it's time.  You are on the right side of history!
Here are some tips on how to ask for a raise, lifted from a presentation I give to college and young professional women, Making it in the Real World:
Do Your Homework - gather pay data on your industry and company, and possible job opportunities.
Make Bullet Points - projects, revenue, client relationships; why you deserve a raise (or promotion).
Determine Your 'Ask' - in one sentence, what are you asking for?
30 Second Pitch - combine the 'ask' with bullets; ask must be the first or second sentence (skip the wind up).
Practice - stand in front of the mirror and practice out loud.
Practice Again - until the written words converge into your spoken words, and you can commit them to memory.
Your Demeanor - confident, collegial, unapologetic - decide ahead of time your fallback position if your boss is noncommittal this go round.
Keep me posted, ladies.  We're in the battle, together!
REAL LIFE. REAL NEWS. REAL VOICES.
Help us tell more of the stories that matter from voices that too often remain unheard.